(Note: Part 2 is published. Check it out for another 10 cool things)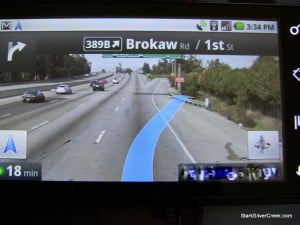 Even though I still long for the slick Sense widget-based UI offered on the HTC Android phones, I am really enjoying the Motorola. It runs Android 2.0, so it has a few new tricks and refinements abound.
Last night, I finally had a few minutes to play with the new, and much talked about Google Navigation. At first I didn't think it could touch a dedicated GPS unit, such as those available from Garmin and Magellan. And while I still think the Droid is not a perfect replacement yet, it is surprisingly good—and, in the case of the 3D views including satellite and street level maps, just flat out spectacular.
After digging around the settings, pushing buttons, downloading apps, and playing with widgets, I discovered a bunch of things that I thought were, just, well… cool about the phone. Below are the first 10 in this two part in-depth look a the Droid and Android 2.0.
1. Pattern security to unlock the phone – yes, I know, not exactly groundbreaking. But I like the idea of swiping a pattern to unlock the phone. It works extremely well, unlike fingerprint or eye/facial recognition systems which are spotty at best. (One thing to be cautious about: because the touch screen picks up fingerprints easily, someone might be able to identify your swipe pattern thanks to some pizza finger grease. Just a heads up!)

2. Barcode scanner lets you pretend to work at CVS – scan away! Just choose the Barcode Scanner application, then use the camera to pickup up the code from just about any product UPC label. It works without a hitch (except when I tried it on a Diet Coke). The product will then pop up on Google search screen where you can research it, or look up online pricing.

3. Droid has built-in, but almost hidden, tutorial – most new devices and software offer a tutorial up-front. But not with the manly Droid. What, you need to read the manual?! I find it easy to use. But there is an included tutorial: Settings -> About phone -> System tutorial. See, easy right? By the way, it's very basic.

4. Battery draining to quick? Find out why – Settings -> About phone -> Battery use, provides a convenient way to see what resources on the phone are draining your juice. On mine, the large, bright, gorgeous screen is usually the top culprit.

5. Gmail keyboard shortcuts work on Droid – another advantage of the physical keyboard is the ability to use Gmail shortcuts, which (as far as I know) are not available using the virtual keyboard. This is really handy for flipping quickly through mail. I especially like using 'j' and 'k' to scan across messages.

6. Set Droid to automatically switch to your wi-fi network when at home – as soon as I arrive home (possibly even on the street in front of our house), the Droid automatically switches from 3G to our home wi-fi network which usually provides faster connection rates. Just activate wi-fi and input your settings. Droid does the rest. You can in notification bar which network the phone is using. This has worked perfectly for me, every time.

7. Visual bookmarks in the browser – eye candy. Works great.

8. Navigation is superb – as I already mentioned above, the built-in Google Maps Navigation is brilliant. In many ways it's better than dedicated units since you have the perpetually updated Google Maps, not to mention all the points of interest. The voice entry works extremely well "Navigate to nearest Fry's." The rendering speed blew me away. Wow, impressive for a phone, especially the street level view where a flick of the finger allows you to scan around the area with nary a delay. How'd they do that?

9. Apps are a snap to install… and uninstall – talk about easy. Any app can be installed with one click. It can also be uninstalled with one click. It makes trying out new apps actually fun and addictive.

10. Google Voice – I've said it before, this is probably my favorite Android feature. It integrates perfectly. I have mine set to use Voice all the time for all calls, both in and out. My new Google Voice number can follow me. Plus I can access voicemails online, read transcripts, etc. I would not be able to work without this feature. For me it's a killer feature.
(PS – I'm still on the fence about swapping for HTC Droid Eris. I like it's smaller size. But wished HTC would confirm it will receive 2.0 upgrade. Also not sure it will ever have the navigation capability)