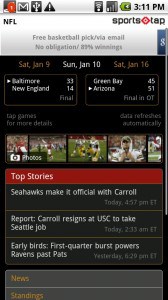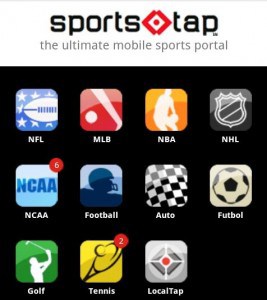 With the NFL playoffs in full swing you'll want to keep up on the latest news, scores and updates on the road. So we're looking at one of the best mobile sports apps around; available for both iPhone and Android, it's called SportsTap. For sports fans, it has just about everything you'd want in the palm of your hand, including all 4 major professional sports leagues: NFL, MLB, NBA and the NHL. Plus it has coverage of NCAA, Auto, Futbol, Golf, Tennis. In addition you can keep tabs on all your local teams by clicking the convenient LocalTap button.
Game projections are provided by AccuScore. For example, when I click on the widget on the Droid home screen, the program launches a preview of tonight's San Jose Sharks game. Here I can see that Joe Thornton is projected to score 1 point (a safe prediction) and that the teams are evenly matched (50/50).
Clicking on the "Matchup" tab provides a history of match-ups and results over the past few years, in addition to game notes ("San Jose won won six of the last 10 meetings" against the Los Angeles Kings). Finally, the "Preview" tab provides a decent write-up on the game via Sports Network.
The interface is fast, and well laid out.
A neat alert (to me, not Loni) rings out time-to-time signifying certain events related to your favorite teams (which you can configure in the settings) such as the start of a game, a goal, and the end of a game.
After clicking on a sports category, you're presented with a summary page. On it you can see the day's schedule, plus some photos, top stories and links to standings, transactions, and stats.
A small mobile Google ad runs across the top of some of the pages, but is not a distraction. Considering this application is free, it's perfectly acceptable.
SportsTap
Android Market
4.5 out of 5 stars
Free