Above video: Canon C100 II "test" in Union Square. No backyard flowers for me eh.
Stark Insider. Now in Super 35. What could go wrong?
After shooting video for so many years on DSLR, I finally made the move to a pro Super 35 camera. I went with a Canon C100 Mk II.
The decision wasn't easy. There was the cost, of course. Even though it's a business expense, it was a huge chunk — far more than I ever anticipated spending on a camera. And, here I was thinking that the 5Ds were pricey!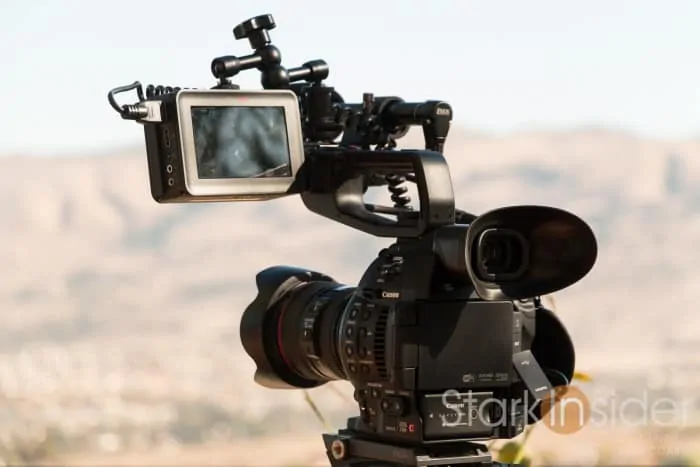 Earlier this year, I made the "decision" to go Sony. A Sony FS7 for the "A" cam and a beautiful little A7S for "B" cam stealth and low-light stuff. Then NAB came along, and Blackmagic (once again) stole the show. The URSA Mini promised to be a compact, killer cinema camera. Promised is the key word. It still hasn't shipped. Then RED came along last month with  its new entry level Raven 4K camera. And, on and on… paralysis-analysis anyone?
In the end, I wanted an ergonomic run-and-gun camera. One that could record high quality XLR audio (great for backstage theater and Broadway shoots), have ND filters built-in for shooting outdoors (as I often do in San Francisco, Napa, and the Baja), and provide all those feel-good features such as dual-SD card recording (for instant data backup), long battery life, and focus assist tools.
You can see that reviews on B&H — and across the forums and from video pros — are uniformly glowing for the C100. Plus, Crystal Moselle achieved greatness with the C100 on Sundance darling The Wolfpack, no thanks in part to some tremendous story-telling.
Canon C100 First Impressions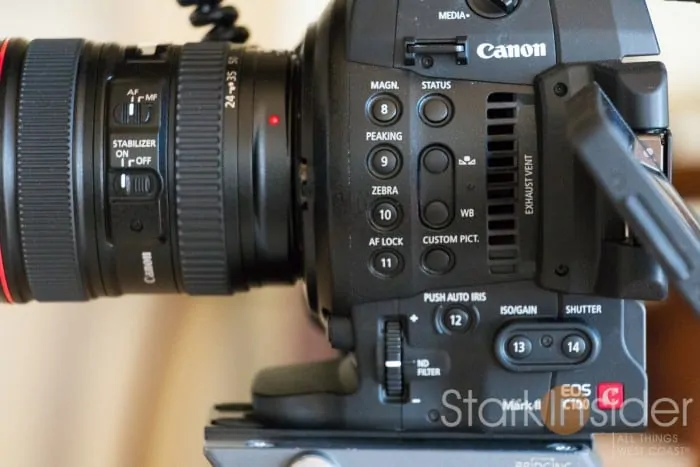 Picking the camera up for the first time I felt right at home. There's just something about the way that Canon builds cameras that feels absolutely natural. My hand falls easily into the grip, and from there I feel in complete control. Yes, there's far more heft here as compared to the (incredible) EOS 70D. But it feels completely manageable. The left hand cradles the lens, operates focus and zoom, and — boom — Bob's your uncle, handheld in a snap.
The menus can be daunting. In fact, I spent the better part of a weekend tweaking all the settings — the Canon tutorials on YouTube help immensely. The good news is once you have everthying locked and loaded (23.98fps, C-Log)  you'll seldom need to dive into the menus again.
Ninja Blade Monitor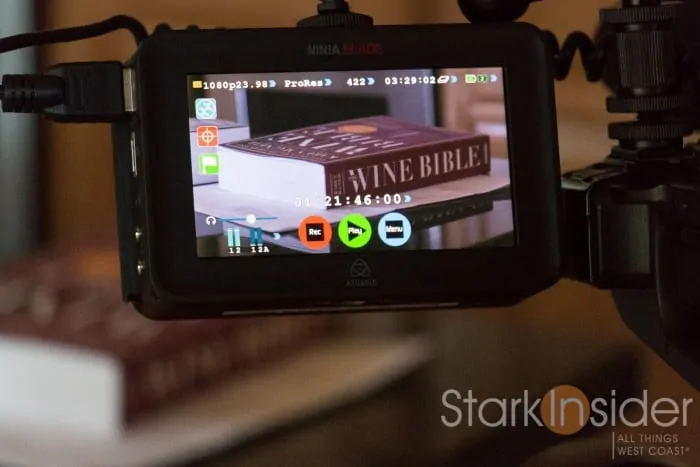 I also picked up an external monitor, a heavily discounted Atomos Ninja Blade. Though the built-in LCD is perfectly fine I wanted an external recorder for a few reasons: (1) at 5-inches I can better see stuff; (2) the Blade records ProRes at higher color bit depth which should result in easier/better color grading; and (3) I prefer the monitor to be positioned a the front-side of the camera (like the Sony FS5/7, Blackmagic URSA Mini and Canon C300).
So far the Blade rocks. I can see why Atomos gets a lot of love. One trick when I use it is to turn on peaking and use the Blade for framing, while using magnify on the built-in monitor to help with critical focus (a real blind spot for me):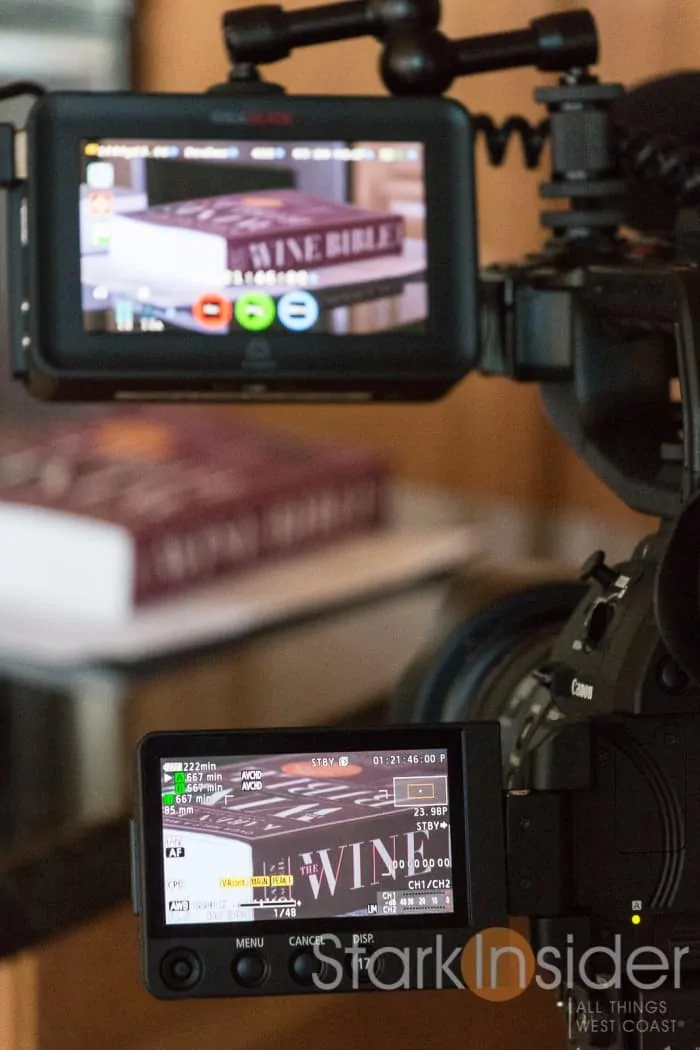 Having the Blade swinging off an arm does add weight and bulk to the rig, but I think I'll use it as much as possible. In stealth scenarios I will likely remove the top arm completely. Break down the C100, and it looks completely inconspicuous, almost like a DSLR — this can be very handy for doc-type situations.
Canon C100 Test Shoot
After playing around with the camera, learning the menus, and rigging up some accessories, it was time for a test shoot. Around Stark Insider that can only mean one thing: paging Loni! Supportive spouse. Halloween. Union Square. And, off to the races:
Okay, not exactly a shining example of cinematography. Exposure? Story-telling? Composition?
Regardless, mission accomplished.
Lessons Learned: Canon C100 Test Shoot

1. Don't be afraid to boost ISO

Clearly the Union Square scenes in the above test video are underexposed. I tried my best in post to correct, but with limited success as C-Log typically likes slight over-exposure. I suspect my paranoia of shooting over 1600 ISO on the 70D influenced my thinking in the heat of the moment.

2. The C100 draws far more attention than the 70D

Too bad, I like to be stealthy. That's harder to do with the C100, especially with that top handle and external monitor. Several times people stopped me, one guy asked if I was shooting for the Discovery channel. Are you crazy? This. Is. Stark Insider. (lol)

3. Battery life is stellar

Included battery runs easily for a few hours. Great stuff!

4. Focus peaking changes everything

Finally, I can use manual focus, and cine lenses/primes.

5. Auto-focus (Dual Pixel) works quite well

But I miss the touchscreen on the 70D, handy for tapping a subject to track.
I wanted to see how the camera handled, especially relative to the 70D, my workhorse for the last two years. I'm happy to report the C100 is a snap to operate. If you too are coming from a DSLR, don't expect much transitional angst. I'm oh-so-paranoid, and until I get the footage from the camera into my RAIDs I'm constantly obsessing about losing it. Being able to pop out an SD card from the "B" slot and pop it into my wallet — just in case — is the feeling of utopia for sure.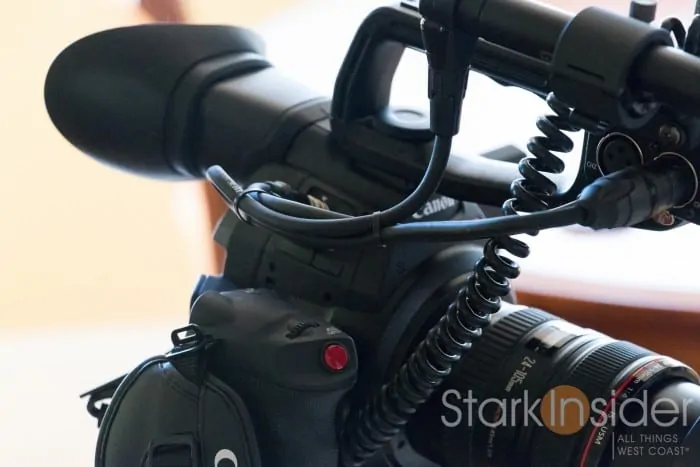 The top handle is wonderful. Shooting low on the ground is easy as punch. And just using it to carry the camera makes hauling the rig around quite convenient (I still use a tripod though, and fold it down on location to use as a makeshift monopod for stabilization).
Will the Canon C100 Replace the 70D?
No doubt, I will endeavor to use the C100 wherever and whenever possible. I don't want that investment sitting on the bench — like a certain 49ers QB?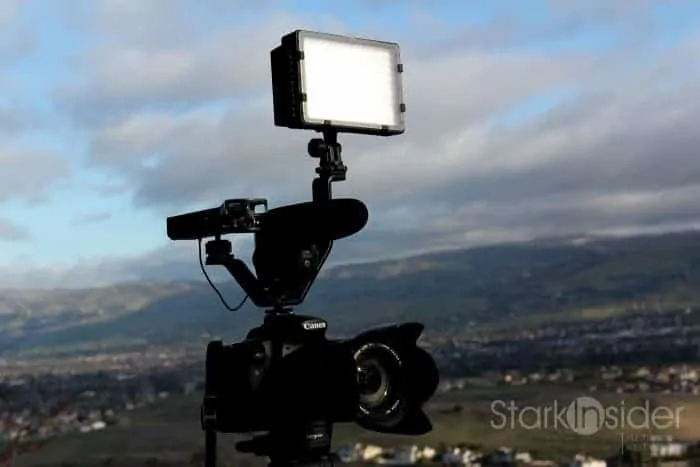 So C100 will the proverbial "A" cam. And the 70D will get plenty of use too. After all, what on earth would I use otherwise to take photos of the C100? I expect, seriously, the 70D to get plenty of action as a second camera on interviews. Also, if the elements are really bad, I made not want to risk damaging the C100, and use the rugged little 70D instead. Let's not forget, too, that the 70D is a pretty remarkable DSLR. Dual Pixel AF is a treat, even more so given the touchable LCD (something the C100 sadly doesn't have).
Oh: One More Thing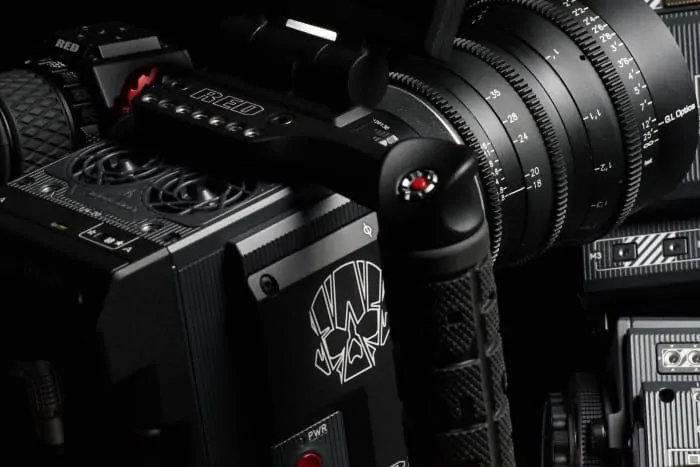 I sipped the crazy juice folks. Yep, I pre-ordered a RED Raven. I couldn't help myself. You can read more here on the Cult of RED, and the irrational thought process behind my decision to drop a $1K deposit without even knowing the full specs (or final cost) of that 4K digital cam.
To Be Continued…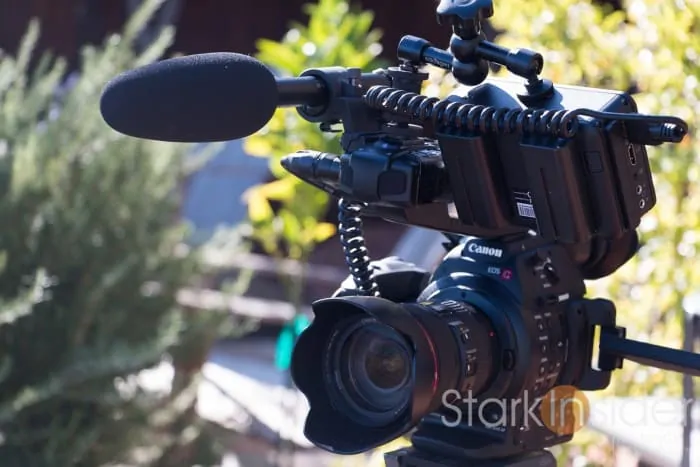 It took a few years of research, spreadsheets, and almost buys (BMCC/BMPCC), but finally Stark Insider is now, for better or worse, in Super 35.
MORE: Pro Video by Clint
2015 saw incredible camera innovation in the sub-$10K market. There's many new models that excite us on the forums: Sony FS7 (gorgeous), Sony FS5 (C100 killer?), Blackmagic URSA Mini (filmic! but when will it ship?), and even the all-in-one Panasonic DVX200 (great event cam I think).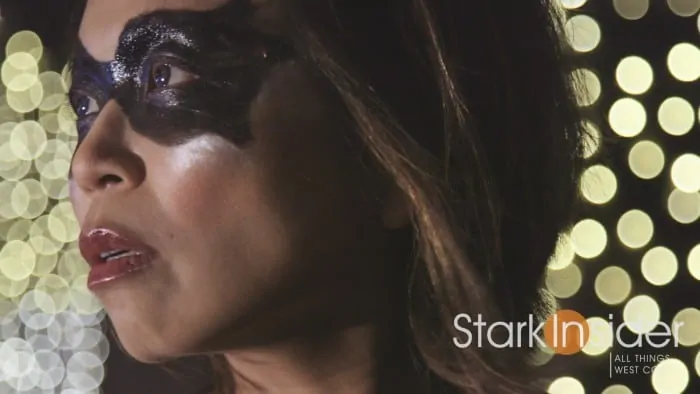 But, in the end I went with the tried-and-true Canon.
I admit, I did have momentary buyer's remorse… I should've got an FS7! Then my wife texted me and reminded me these are just tools, that the creative process is tantamount. That Harley Quinn, so smart!
To be continued…