Alert: potential spoilers ahead. If you haven't seen The Wolfpack I recommend you see it first, before reading this or any other review. The less you know, the better!
If you ever wanted a 90-minute, constant reminder of your receding hairline, The Wolfpack is your ticket. There will be hair.
By now the Angulo brothers are well recognized, even enjoying a new life of minor celebrity — at least across the indie film circuit. In Wolfpack first-time filmmaker Crystal Moselle chronicles the lives of the six Angulo brothers, and their hair, as they grow up in a dingy apartment, isolated from the world thanks to a domineering father. From time to time they steal a view of New York City below, a seemingly distant (and expansive) universe for them to merely dream about. Meantime, Hollywood gives the teenage boys their perspective on life. Films like Evil Dead, Pulp Fiction, and (especially) Reservoir Dogs prove to be unusual babysitters indeed, and things get really interesting when the brothers re-create scenes from the films, delivering each line with surprising precision, and employing creative costumes, sound effects, wigs, and props (usually guns). Yes, these are those neighbors. The ones making a rukus at midnight. Now you know: oh, it's just the Angulo boys re-creating a scene from Pulp Fiction … again!
"If I didn't have movies, life would be pretty boring. And there wouldn't be any point to go on."
The story goes that director Crystal Moselle ran into the six brothers while they were on a rare outing, roaming the streets of Manhattan. In black suits with skinny ties, slicked back hair (hair!) and Raybans they looked a motley crew, like extras right out of Reservoir Dogs. She approached them, and eventually befriended the Angulo family, including the soft spoken mother who longs for connection with her own mother, and the strict father who embraces Hare Krishna (which explains the hair), homeschooling, and wine. Surprisingly Moselle was given intimate access, allowed to bring her camera into their apartment, interview the family, and follow their lives, for several years. In a sense, what resulted could be Boyhood, the imprisoned years.
It's a fantastical journey. But…
How do these boys stay so slim and in such good shape when confined to a tiny apartment (granted, they do run up and down the main hallway a lot)?
How is it possible for them to be so articulate, well mannered, and seemingly well adjusted given their extraordinary circumstance?
Why don't they leave the apartment? The father doesn't like the idea, but the past suggests he won't physically stop the boys from doing so.
How does the family make money to support feeding and clothing 9 people?
There's a lot of questions that arise when you watch Wolfpack. It's one of the many qualities I enjoyed about the film. It makes you think. It also makes you wonder about verité vs. reality TV vs. staged non-fiction — as does the superb Nightcrawler and its look at media morality and citizen journalism.
How does the family make money to support feeding and clothing 9 people?
After six years of producing short videos here on Stark Insider, I've come to realize the power (and pain) of editing. Timelines can be altered. B-roll shots can be used to create a mood, or reaction shot that may or may not represent exactly what happened. Folly, sound effects, and a dramatic score (Wolfpack leverages all of these) can significantly heighten drama. Perhaps add an ambitious filmmaker just out of school to the mix, and partially manipulated, or at least semi-calculated scenes, along with multiple takes, doesn't seem entirely preposterous. I'm reminded of L.A. filmmaker Cullen Hoback and his fourth wall, twist-laden "documentary" Friction. That may explain my heightened suspicion. However, from what I can surmise, Wolfpack appears to be a straight shot.
Regardless of where the truth lies, the Angulo brothers charm. It's impossible not to root for all of them — Bhagavan, Govinda, Jagadisa, Krsna, Mukunda, Narayana. Their sister receives little screen time, and remains a bit of a mystery; though, I later learned that she has a disability.
Then there's the other story.
That of Crystal Moselle.
She seemingly breaks a lot of filmmaking rules. The camera pans back and forth, recklessly at times, shots are over-exposed then over-exposed. All quite Blair Witch. But, ultimately, if anything they strengthen the candid nature of the material and all our done in service to the story. Early in the documentary, a brother acknowledge the camera "Oh, hey!" and later it seems that Crystal and her gear become transparent, quietly transforming into another member of the tribe.
I watched Crystal give a talk at Sundance, where this film won for best documentary (you can watch that panel on Vimeo). The session was sponsored by Canon, and the idea was to talk about the camera, lenses, etc. used to shoot the films. It was fascinating stuff. It also reminded me of the power of story. That story trumps all. Forget 4K. Forget fancy rigs. Forget uber-budgets. If you can grab attention, hold onto the viewer, and take them on an unexpected, memorable ride, that's the thing. And on all accounts, Wolfpack succeeds magnificently at that. With such an intriguing set-up — 6 boys growing up with no access to the outside world except via their DVD collection — all Crystal needed was a simple Canon C100 camera, and the ability to win her subject's trust.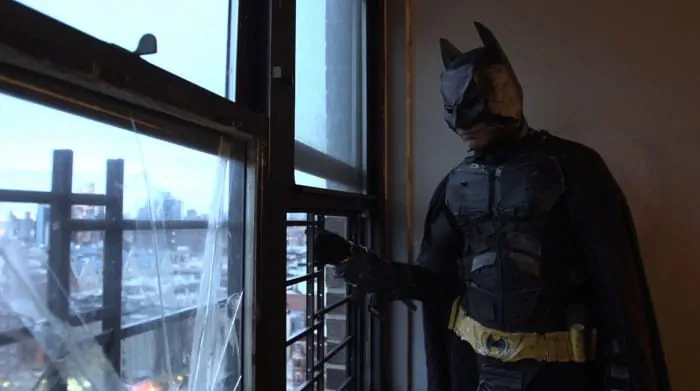 Did I mention the hair?
As time progresses, the Angulo boys go from looking like members of the rock band The Cult, with long flowing black hair, to something kind of anime inspired, and somewhat shorter and slightly spikey, like Ric Ocasek, lead singer of the 80's band The Cars.
The second end credit goes to the editor, Enat Sidi. Hiring him to cut together years of footage was a wise choice. With about a dozen docs under his belt, he clearly has refined skill at helping piece together a complicated, wide-ranging story. The editor is often the unsung hero. Who remembers best editor at the Oscars? But it's often in that dark edit suite where the magic happens. Your story either crashes and burns, or, as is the case with Wolfpack, transforms into gripping greatness. Crystal's vision combined with Sidi's acumen with the timeline surely resulted in something greater than the sum of its parts.
Who remembers best editor at the Oscars?
I won't give away the ending, but I loved it. Though it did raise another question: how does this poor family source a Canon 5D Mark II, one with no less than a high-end "L" series (red ring) lens? And, how on earth does all that stuff (I'll just call it stuff) fit into that tiny room?!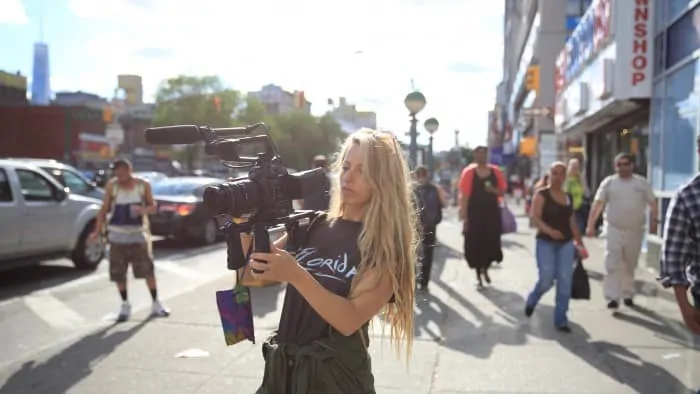 Wolfpack is awash with hope, heartbreak, and dreams. When we watch the brothers tirelessly re-create scenes from their favorite movies, we can't help but smile — we've all done that before, at one point we've all dared to act out our dreams in the friendly confines of our family rooms. One scene later in the film sees the family together enjoying the beauty of a hill, the expanse of a pumpkin patch. It's a touching moment (and a reminder to a technical guy like me that there had to be lavalier mics of some kind on the family members).
I suspect following the Angulos will be fascinating for years to come, and could make future viewings of this documentary even more interesting depending on contexts yet to be revealed. I'll also be rooting for Crystal Moselle, a filmmaker to watch.
If you're around the San Francisco Bay Area you can see The Wolfpack at the following locations:
San Francisco: Landmark's Embarcadero Center Cinema
Berkeley: Landmark's Shattuck Cinemas
Highly recommended. You won't find it (yet) on Netflix, so maybe consider an outing to the cinema with some friends (you can watch official trailer below). Dressing like a Reservoir Dog: optional.