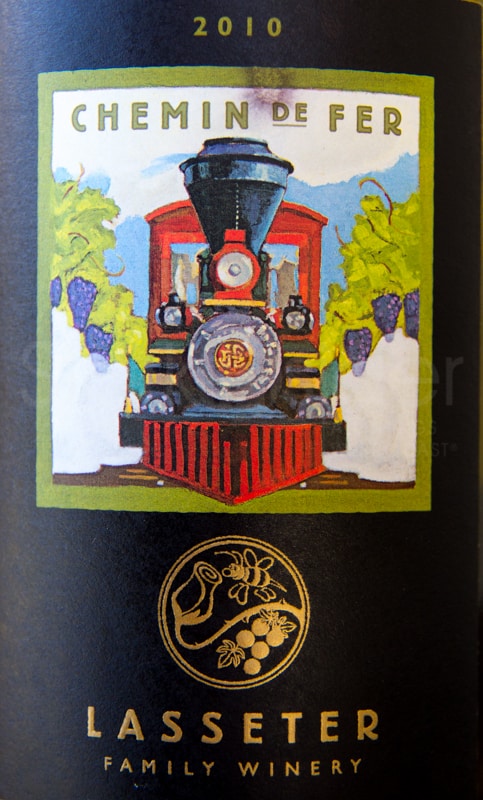 You might know John Lasseter as the creative force behind the wildly successful Pixar animated films. Toy Story, Finding Nemo, The Incredibles, Up and Brave are but a few of the ground-breaking works he and his creative team have produced out of the Emeryville-based animation studios.
But you may not know that the affable, hard-working creative genius is also a huge fan of trains and wines. That the two would meet on this bottle of "Chemin de Fer" ('railroad') the Stark Insider wine of the week, is somewhat unsurprising.
ALSO: Harrison Ford, Salman Rushdie to be honored at Cinequest Film Festival
John and his wife Nancy founded the Lasseter Family Winery in 2000 at a 50-acre site in Glen Ellen, Sonoma (formerly Grand Cru). They've been expanding their wine operations ever since.
Local Sonoma artist Dennis Ziemienski contributed the whimsical label seen to the right, featuring a steam train meandering through Syrah vineyards in southern France. It's very fitting given the inspiration behind this red blend is based on a trip the Lasseters took to explore wines of the region.
The 2010 Chemin De Fer is a blend of 49% Grenache, 38% Syrah, 13% Mourvédre. Interestingly, in a blind taste (the bottle was randomly selected and opened by someone else while I whistled dixie), I could tell it wasn't a Cab (my favorite varietal) and ultimately guessed that it was a Syrah, missing the primary Grenache notes completely. Oops. Decant it and give it a go. It's a small production wine with only 325 cases produced, but if you appreciate your wines laidback, with aromatic raspberry notes, and smooth finishes, you should definitely seek out this France-inspired blend. Recommended.
Lasseter Family Winery 2010 Chemin De Fer, Sonoma County
89 points, $40
325 cases produced
STARK SIPS: Recent Wine Reviews