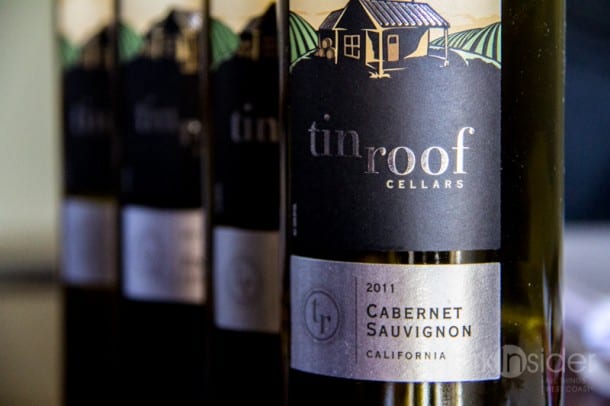 Chances are you've seen Tin Roof wines around local shops, especially if you live in Northern California. They can be found just about everywhere. When they say "We've got you covered" I guess they really do mean that in more ways than one. But are these low cost, widely available wines any good?
Tin Roof sent me their latest portfolio and I had a chance over the past few months to let them sit and settle before tasting through the wines, which included the following: 2011 Cabernet Sauvignon, 2011 Chardonnay, 2009 Merlot, 2011 Red Blend, 2011 Sauvignon Blanc and 2011 Zinfandel.
I've tasted them previously, several times in fact over the past few years, but this was the first time I tasted through their entire lot in one sitting.
There's an undeniable convenience factor with screw-tops – I really appreciate not having to tussle with a foil cutter, twist and shout, before getting to chugging.
These are what I would consider casual, daily drinkers. You're not likely to find these served at the White House anytime soon – not that they aren't quite respectable mind you. Rather, I think the goal here is different. Wines priced under $20 represent a huge market. Though boomers still buy the most wine, according to the SVB Annual Wine Report that came out earlier this week, almost 1/3rd of all sales are made to Gen Xers (35 – 46 year olds) and Millennials (21 – 34 year olds). No wonder, in this economy we can't all afford to drink Harlan and Screaming Eagle or even Silver Oak and Opus every day.
Winemaker Mark Rasmussen is a veteran of the trade, and savvy shoppers would do well to seek out some of these bottles. In absence of a big brand and big marketing budget to match, you can often find gems outside of Napa and Sonoma us oenophiles delight in discovering.
MORE STARK SIPS: Chateau Montelena Chardonnay – A Napa Valley Classic (Review)
I admit that the screw-top found on these Tin Roofs is a turn-off (literally) for me. I know that goes against every bit of evidence that suggests that they, along with other modern enclosures, are far more reliable than corks, and virtually eliminate any chance of spoilage. But they also eliminate any chance of romanticism. I'm a bit old school that way. Then again, there's an undeniable convenience factor – I really appreciate not having to tussle with a foil cutter, twist and shout, before getting to chugging.
Ranking the Tin Roof Cellars Wine Portfolio

#1. Tin Roof 2009 Merlot California

In this round-up Tin Roof's Merlot comes out on top again; this coming from a guy that's not a huge Merlot fan. This is a well made wine, and a bargain for the price. In the past I've rated it my favorite among their offerings, so I'm not surprised to see it at the top of the heap here. There's lively cherry, smoked plum (is that possible?) in the mouth. But I especially like the peppers and spices. It's all expertly put together, and easy to drink. Highly recommended.

#2. Tin Roof 2011 Zinfandel Lodi

Value play here too. I like a lot of Zins out of Lodi (this one is made from 100% grapes sourced from the Lodi appellation), including this one, which comes out on the lighter end of the spectrum. Loads of red berry. A sensory feast. Yes, I hate to say it, but get your grilled meats going with this one (I know, how original of me!).

#3 Tin Roof 2011 Chardonnay California

Decent. Keeping price in mind, I'd snag this here and there for a casual glass or two with friends. Nothing fancy, but above the fray when compared to similarly priced bottles. Thankfully, this Chard is steely, minerally – with just enough texture to keep things interesting. I've been tasting through a lot of California Chardonnays these days, and this one holds its own against some big names priced two or three times higher.

The rest:

Tin Roof 2011 Red Blend

Tin Roof 2011 Cabernet Sauvignon

Tin Roof 2011 Sauvignon Blanc
Someone once said people don't make "un-shopping" lists (if someone knows who originated this expression please do share). Tell me what to buy. Not what to avoid. I can't recall the last time someone came up to me and said, "Clint, man, what's the worst Napa wine you recently tasted?!" (gazing at me, bated breath).
So with that I'd say look for the Tin Roof Merlot, Zin or Chard – all are about $8-9. Definitely enjoyable wines. And incredible values.
I'm off to Napa for the weekend, see you Monday!
Keep it dialed in to Stark Sips, the wine column for all things west coast. We have more wine coverage on deck including wine reviews from La Rochelle, Steven Kent, Michael David, Lasseter, Mumm, Ravenswood, some wines from Oregon and more. Also, Team Stark will be on location to cover wine country events, big and small, across Napa, Sonoma and Northern California. Stay tuned to Stark Insider TV for more.