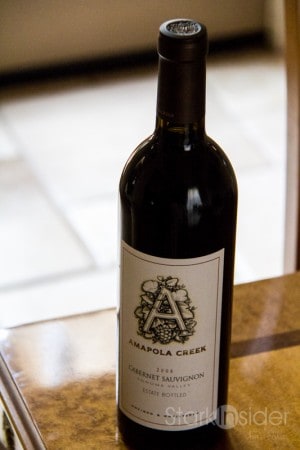 Our Stark Insider wine of the week is a very special one.
Unfiltered, and outstanding in all regards, this '08 Cabernet Sauvignon by Amapola Creek exemplifies the best of Sonoma County.
I particularly love the nose. Take a whiff, and you're bowled over with sumptuous earth tones, tobacco, and — dare I say — that brambly/farmy action that so many of us seek out. If I were wearing a smoking jacket, I might even mention "terroir" and "expression" in reference to this wine.
ALSO: Stark Sips: Silver Oak Cellars
In Napa, on the other side of the Mayacamas Mountains (which we encountered earlier this week with a look at the Mount Veeder Cab) this bottle might sell for twice the price.
Hands down, Sonoma produces some of the best Cabs and Chards anywhere.
Amapola Creek 2008 Cabernet Sauvignon, Sonoma Valley
1190 cases, $60
Highly Recommended.