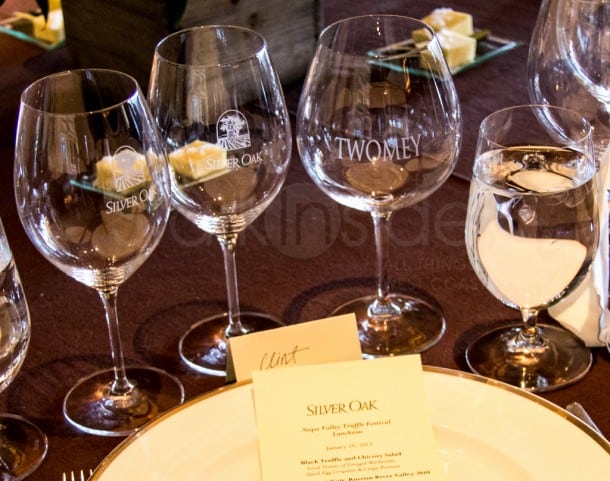 Over the weekend I tasted through the latest releases from Silver Oak Cellars in Napa, and their sister winery Twomey (co-founder Ray Duncan's middle name). That, of course, means I was tasting only reds. After all, as they like to say, "Life is a Cabernet." White wines are no where to be seen on their gorgeous grounds though it's impossible to miss that iconic white water tower.
Admittedly I'm on a California Chard kick these days, and after tasting these sumptuous reds I was reminded at how well they represent the best of Napa – robust, fruit forward, earthy, smooth as silk. Winemaker Daniel Baron, the cool dude with the earring who still gives off a Brooklyn vibe after all these years, has been at the helm for a while, and his deft hand, expert at balance and structure, is immediately evident.
A few years back we bought a few verticals for our cellar. That was the good part. The bad part was that we didn't buy enough. Now opening one becomes an exercise in hoop jumping akin to getting a bill pushed through Congress. My better half, the Little Loni, is a steadfast collector, while I'm the one more likely to pop one, even mid-week (why not, for heaven's sake?). But dare I touch those Silver Oak and there'd be hell to pay. Tip (really a note to self): when buying wines, buy enough – a case is good – so that you can uncork them without guilt; better still, you can enjoy one every year or so to see how the wine develops over time.
Dare I touch those Silver Oaks and there'd be hell to pay.
By Napa Cab standards, the prices ($70 Alexander Valley, $110 Napa Valley) aren't earth-shattering expensive. Sure, they're likely not daily drinkers for most of us. But you get tier 1 quality here at not necessarily tier 1 prices.
ALSO: A Cover-Up in Napa (and an incredible Shiner)
Silver Oak is one of the wineries I routinely recommend. I'll come right out and say that. That doesn't mean they get a free pass when tasting. The opposite in fact. I've had tremendous expectations for their wines every since I first tasted one of their Cabs in Napa in 1998. They've since joined the ranks of Caymus, Etude, Turnbull, and Ridge as some of my favorite Napa Cabs that don't break the bank (though can seriously dent it if you're not careful!).
Stark Sips – Silver Oak Cellars

Silver Oak Cabernet Sauvignon, Napa Valley, 2008

A great wine. No two ways about it. That first sniff tells you right away this Cab is something special – a "terroir explosion" of earthiness, dust, tobacco and leather (cliche I know, but damn, man try this stuff and tell me you don't agree). So far as I can tell the '08 is as on par with the quality of the '00/'01/'02 I've previously tasted (and that Loni has forever locked up in our small cellar). Highly recommended. $110

Silver Oak Cabernet Sauvignon, Alexander Valley, 2008

The fruit's a little more forward on this one – and it's likely the better wine for food pairings. There's perhaps less nuance and layers here. With the Napa Valley each mouthful is an adventure of oenophile proportion while here it's more of a known quantity. Splitting hairs? Yes, no doubt. Comparing these two is like having deep philosophical discussions about the qualities of the 2013 Porsche 911 C2 and the C4. Both are stellar. Don't fret. Give them both a drive (er, taste) if you get a chance. Highly recommended. $70

Twomey Pinot Noir, Russian River Valley, 2010

All I could think of was the title track to David Lynch's epic film "Blue Velvet." Bluuue Vellllllvet. Lush, intense. A refined Pinot, though a little pricey compared to others in the Valley. Recommended. $50.