Harrison Ford and Salman Rushdie are among the top stars scheduled to attend next month's Cinequest Film Festival. The event, which is expected to draw about 90,000 ("maybe 100,ooo!") film-goers to downtown San Jose is recognizing the iconic actor and renowned author with Maverick Spirit Awards. Past winners have included Kevin Spacey, J.J. Abrams (who is directing the next Star Wars film), Spike Lee, and Elliott Gould (2012).
Sally Potter's new film Ginger & Rosa, starring Alice Englert, Annette Bening, Oliver Platt, and Christina Hendricks, will open the festival on February 26 at the California Theatre.
Midnight's Children, based on the 1980 book by Salman Rushdie that deals with India's transition from British colonialism to independence and the partition of British India, has been selected as the closing night film.
In keeping with the spirit of mixing food, film and wine, Cinequest will again this year honor a "Maverick Chef." Last year Michael Mina (San Francisco) received the inaugural edition of the award, and as we just learned at the media preview today at the Silicon Valley Capital Club, Dominique Crenn (Atelier Crenn, San Francisco), will be this year's recipient (March 8 at the Fairmont).
ALSO: Sundance announces awards, local film 'Fruitvale' named best drama
"Imagine a world without film"
Halfdan Hussey, who along with Kathleen Powell co-founded Cinequest in 1990, reminded us of the influence film has on today's world. As for what makes the festival standout, he said, "It's the meeting of audiences and innovators in Silicon Valley … people who have five dollars or five billion dollars … it's the connection that is the empowerment."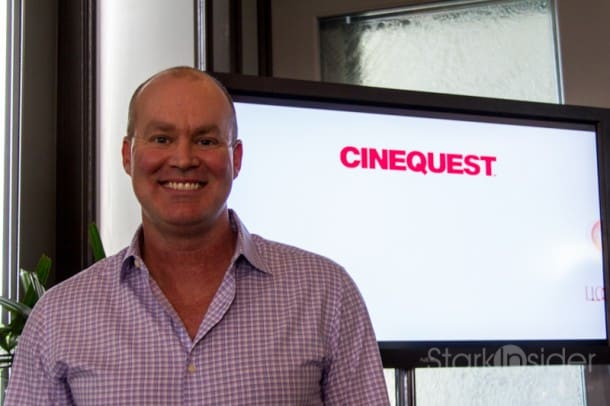 Cinequest 23 By the Numbers: 85 World, North American and U.S. premieres from 48 countries; 700 presenting artists and innovators; and $50,000 to be allocated between top dramatic and documentary features.
As in past years, venues will include the California Theatre, Camera 12 Cinemas, and San Jose Repertory Theatre, plus local hotels, all within four blocks of each other.
4K Film
Of particular interest to those following the movement to 4K ("Ultra HD"), a new technology with resolution approximately four times greater than regular HD, are the restoration screenings. Taxi Driver, Lawrence of Arabia, and Dr. Strangelove will all be screened at 4K using the latest the projection technology from Barco and Sony.
Tickets
Cinequest 23 runs February 26 to March 10. Tickets run $10 and up. Packages are available: Film Lovers Pass ($145), Mavericks Pass ($250), VIP All Access Pass ($500), and Express Line Access ($100).
Follow Team Stark
Stay tuned as we bring you inside coverage, film reviews, and our popular Stark Insider TV segments with host Loni Kao and featuring actors, directors and the creative minds that enrich our lives through independent film. Also be sure to follow Stark Insider on Twitter and Facebook for the latest news and scoops.
WATCH: Cinequest Red Carpet Highlights
IN ACTION: Chef Dominique Crenn
CINEQUEST FILM FESTIVAL – KEY DATES

TUE. FEBRUARY 26 – Opening Night, California Theatre
Film: Ginger & Rosa

Sally Potter's new film Ginger & Rosa opens CQ 23. Inseparable best friends Ginger (Elle Fanning) and Rosa (Alice Englert) ditch their studies to engage in passionate discussions about politics, gender, sex, religion, and hairstyles.

SUN. MARCH 3 – 4K Screening, Camera 12 Cinemas
Film: Lawrence of Arabia

SUN. MARCH 3 – Maverick Spirit Award, California Theatre
Who: Harrison Ford (panel moderated by Jennifer Siebel)

WED. MARCH 6 – 4K Screening, Camera 12 Cinemas
Film: Taxi Driver

FRI. MARCH 8 – Maverick Spirit Award, The Fairmont San Jose
Who: Chef Dominique Crenn

SUN. MARCH 9 – 4K Screening, Camera 12 Cinemas
Film: Dr. Strangelove

SUN. MARCH 9 – Maverick Spirit Award, California Theatre
Who: Salman Rushdie

SAT. MARCH 9 – Closing Night, California Theatre
Film: Midnight's Children