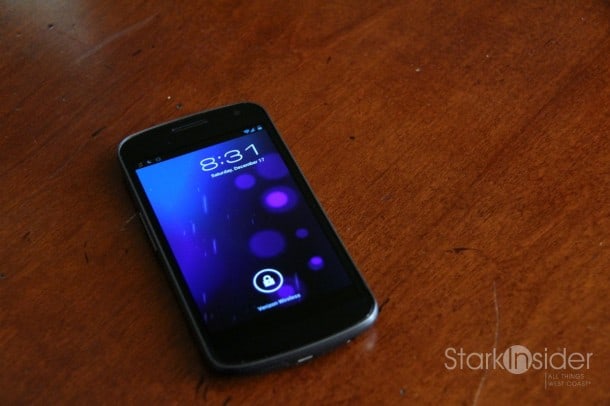 With the Samsung Galaxy Nexus, Google is proving that its upstart mobile OS–now dominating the market with 53% share–can also dress the part. Android 4.0 (Ice Cream Sandwich) is pretty sweet stuff. While there are minor rough edges here and there, it speaks volumes to not only the here and now of Android, but also its future ability to go toe-to-toe with iOS and the Apple iPhone in terms of aesthetic appeal. ICS is gorgeous. Galaxy Nexus, the first handset to run the hot new OS is not too shabby either. I've been testing one for a few weeks now, despite my stubborn refusal to give up on my OG Motorola Droid (circa November 2009), and here's my take on the Ferrari of Androids.
I'm a huge fan of larger displays. Nexus features a sharp Super AMOLED 4.65-inch display. While some may find it awkward to use the phone with one hand (reaching across the screen with a thumb is much harder, if not impossible, compared to a 4-inch iPhone for example), I found the trade-off worth it. Surfing the web on Nexus is surprisingly comfortable. The device slips into my pocket with no issue whatsoever, even though it's markedly larger than my Droid. Design-wise there's been a lot said about the curved glass. It's OK. I didn't notice any improvement in comfort when holding the phone to my ear. It looks nice, but there's also a plasticy feeling to the rear of the phone that underwhelms. Here, the Motorola Droid RAZR takes top prize, easily. Its Kevlar backing and razor thin design are striking by comparison. Still, the Nexus is well built, easy to hold, and should withstand the day-to-day rigors of a two-year contract.
Related Android and Nexus Stories

Top 10 Tech Trends for 2012: Flexible displays, Tablet bonanza, Android crushes it

10 Things You'll Love About Galaxy Nexus and Ice Cream Sandwich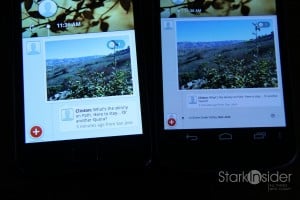 Samsung's nextgen display supports 720p HD at a resolution of 720 x 1280. That's quite impressive. With a pixel density of 316PPI fonts look smooth, crisp. One potential difficulty of working with such a hi-res display is that some apps aren't properly tuned, and as a result show minuscule characters that can't be sized. See photo to right of Path, for example. On the Samsung Galaxy S II I can easily read the timeline, whereas on the Nexus everything looks sharp, but tiny. To be fair, this is an app issue, not an issue with the handset itself – it just might take time for developers to adjust to the next generation of high resolution displays.
One design feature of Nexus I'm particularly keen on is the absence of physical buttons for navigation. While you still find a volume rocker, and power button on the sides, you won't find the standard array of Android navigation (home, back, menu, search) buttons below the display. Instead, thanks to ICS, these are now virtual softkeys. This is a huge leap forward and an opportunity for context aware functionality – expect competitors to emulate Google's approach. The downside is that most apps aren't coded for the new setup, often requiring a stop gap extra softkey to be provided to access menu items. It's not a big deal, and will improve over time. We've seen this design before on Honeycomb for Android tablets.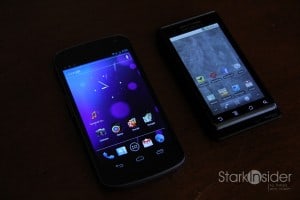 About ICS then. I love the new font. (Mr) Roboto was designed specifically for Android. It's clean, modern. In tandem with Google's emphasis on monochromatic (cool blue) icons and text, the whole aesthetic can be best described as Jazzy Neptune Hip. To boot, a dual-core processor 1.2GHz processor gives Nexus plenty of zip. I rarely noticed lag, and screens flew past just about as fast as I could swipe, touch, or pinch.
Welcome improvements have been made all around to stock apps such as Gmail, Calendar, Contacts and Settings. My favorite is the multi-line email preview. iPhone has employed this helpful feature for ages so it's welcome relief to finally have it on Android.
Once again, Android is the kind of sync. After entering my Google credentials, Nexus synced with all my data in the cloud. The upgrade days of yore–manually backing up data, then taking hours to re-enter phone numbers–are so very done.
Another standout for Nexus and ICS is the notification system.  Nexus review continued…