NOTE: I've added a hands-on review of the self-service platform below. Read on to find out how to set-up your content on Google Currents. So far it's great.
UPDATE: Actually, it's amazing. It's the best I've seen yet for publishers who want to get their content into the hands of tablet consumers. If only we could run ads on it…
Google continues to strives to give us "beautiful and simple ways" to experience all the web has to offer, and today announced a new app for iOS and Android called Currents. With a Flipboard-like navigation aesthetic, over 150 publishers are providing content, including high profile magazines and newspapers such as Fast Company, Forbes, Huffington Post, and AllThingsD. In addition, like other popular news discover apps, like Flipboard and Pulse, you can add your own custom content including RSS feeds, Google+ streams, and, the ever popular, Google Reader.
Currents is free and available today on the Android Market and Apple App Store. So far the early reviews are positive. Though early, Currents currently holds a 4.5 star rating for Android.
Google's Self-Service Platform for publishers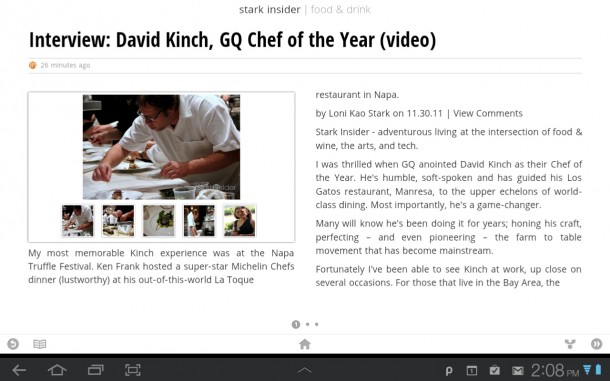 Even more interesting, though, is the self-service platform that Google has made available. It gives smaller, regional publishers–such as Stark Insider for example–the ability to "design, brand, and customize their web content."
The platform, and making our content as presentable as possible across as many devices is an idea I'm keen on continuing to explore.
More on Digital Magazines and News Apps

In-depth reviews and opinion:
As content moves to social networks and into tablet-based news aggregators and readers, a few things are happening to publishers: (1) current ad models (drive traffic to your site, monetize with impression/CPC-based ads) are morphing since readers of our content aren't always necessarily accessing it via starkinsider.com for example; (2) the bar has been raised for design and presentation, largely due to the success of the iPad; and (3) Social Networks are both huge challenges and opportunities – how do publishers maintain brand control, or should they even care as much just so long as the content is "getting out there"?
Hands-on Currents: Producing a magazine-like edition of Stark Insider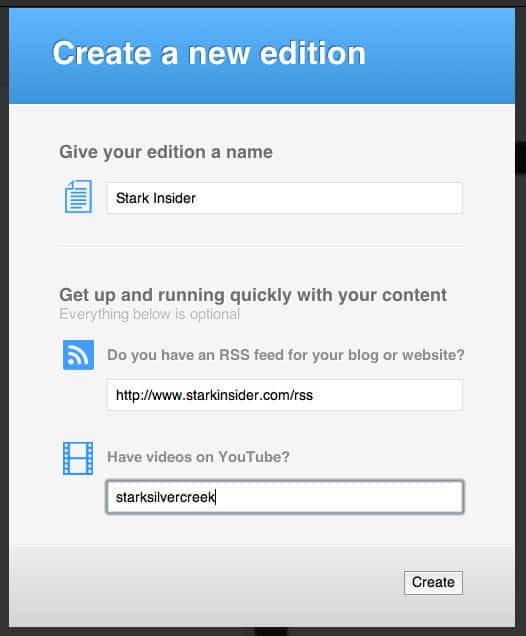 I gave the SSP a test drive. After clicking through the terms agreement, I was able to get Stark Insider loaded up in three steps. I entered the name of the edition, the RSS feed, and our associated YouTube Channel. After submitting the information I was shown a "producer" screen where I could tweak settings and see previews of the site on various devices such as an Android phone or tablet, iPad and iPhone. True to Google's design motif these days the interface was simple and easy to use.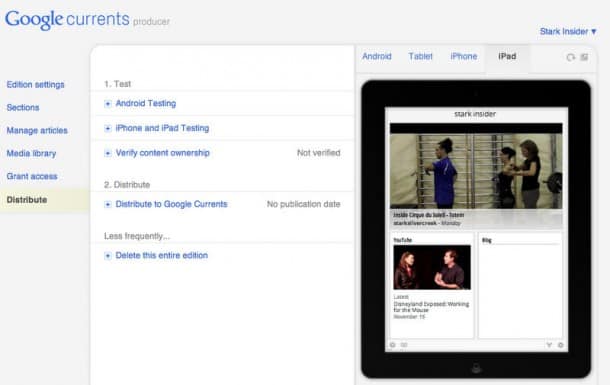 What I like about the producer screen is that it integrates Stark Insider RSS content plus our video content. Since we produce a decent amount of the latter, I appreciate that it can be easily included.
Aftter setting up some basic parameters, such as major sections (Arts & Culture, Food & Drink, Tech & Silicon Valley, Travel & Baja), articles, and access rights it's time to distribute. This, of course, is the most exciting part. If Google nails it, it could be a blow to the myriad of low-cost app makers.
About 30 minutes later, I had the basic framework of Stark Insider setup on Currents. There were stops and starts. I encountered a few error messages getting the RSS feeds. I'm guessing this is due to the demand on Google's servers as everyone in the western blogging and publishing universe puts the platform to the test.
The last step is a series of tests, and a verification of content ownership.
Ironically, the hardest part I encountered was actually downloading the Google Currents app itself. I could not find it using search on Android Market (using both a Moto Droid, and Samsung Galaxy Tab 10.1). When I tried to use the direct link from the Google blog post, that worked, but the app would not install. Try, try again. Eventually it worked.
When I loaded Google Currents and logged in using my Google credentials, Stark Insider was already included in my library. With a 30 second sync I was able to read the site with Currents. For some reason only excerpts are getting picked up, and access to the full article requires a click through to starkinsider.com (maybe that's not a bad thing?). (UPDATE: I figured this out. It's simple. Just ensure you choose "Generate articles by crawling source URL when setting up your feeds). However, ultimately, I'd like to see all of it there with one final point…
My only concern: why am I doing this, when the biggest feature is still missing from Currents: how to monetize!?
At least from what I can tell with my limited hands on there's no way to integrate ads. Maybe that's coming, I'm not sure. Otherwise, Google today has made a big, impressive move into the publishing arena.
Google Currents Edition of Stark Insider (iPad, Android screen shots)