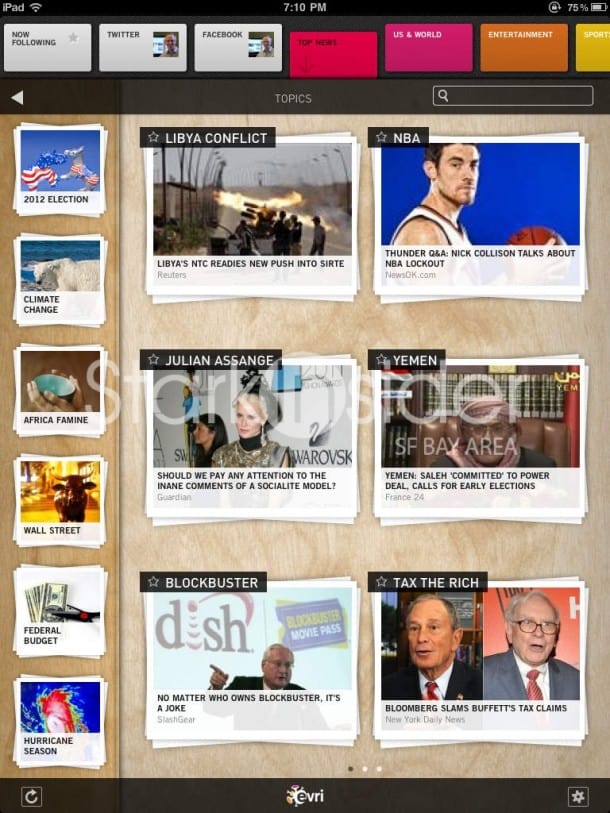 Evri for iPad has landed and here's the Stark Insider hands-on.
Thanks to tablets like the Apple iPad (most notably) and those running Android Honeycomb like the Samsung Galaxy Tab 10.1, news "discovery" and all things RSS aggregation have become huge fascinations. Zeitgeists are us. Libya is a hotspot (again). Julian Assange may very well be the the Kim Kardashian of geopolitical red carpets. And… the 49ers? Well, not blowing it: apparently, a compliment.
Who knew our hyper-thirst for information would reach such over-the-top levels? Privacy: fuggedaboutit (see Facebook F8 and the new timelimes… talk about glass houses!).
The latest example is Evri for iPad. The app just became available today, and I've been playing with a beta version on an iPad 2 for the last week, and here's my impressions (note: if you missed it, we rounded up all the latest news apps for iPad and Android last week including Zite, Pulse, Flipboard, Zinio and News360).
Interface
Just when you thought you'd seen it all, comes a new idea around organizing headlines and topics. The best way to describe Evri for those that know their apps: a cross between Flipboard and Zite. That would be major kudos. Here, topic is front-and-center. If you prefer to surf your headlines based on source, then you might want to stick with something like Pulse, the Google Reader of RSS apps.
Evri is colorful. You can swipe across a colorful line of topics — Top News, US & World, Entertainment, Sports, etc. — across the top of the interface. A vertical bar on the left lists sub-topics. So, for example, if you're in sports you can drill down on baseball, basketball, soccer… uh, where's hockey!? No matter- going even further you can swipe across several panels in the main screen related to trending stuff. "Ron Artest Gives over $100K to Queens Charities" (nice). "Mike Modano was the face, and voice, of the Dallas Stars" (was his wife the body?). "Lindell Field Goal Caps Bill's 34-31 Win" (oh yeah…).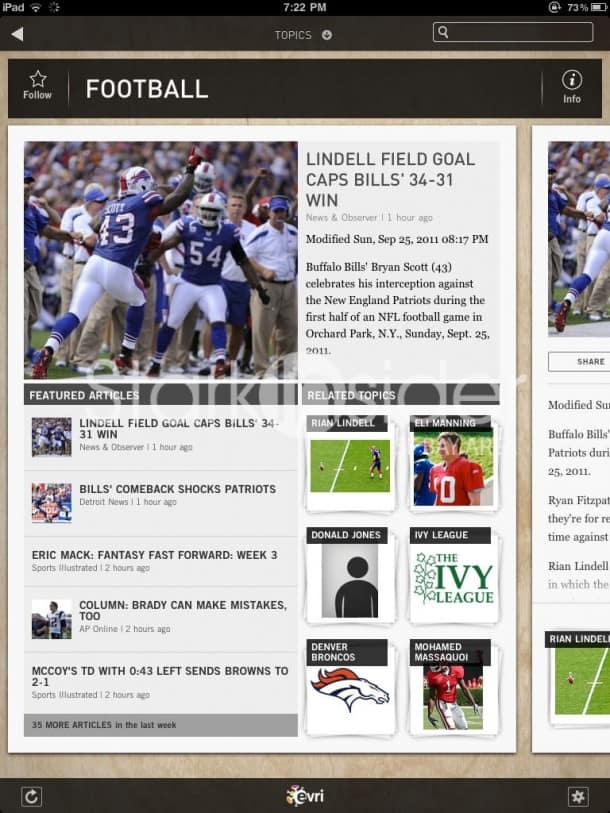 I should point out that this app is fast. Headlines scroll quickly when needed, stories pop up lickety-split, and you never get that dreaded "hurry up already!" feeling so prevalent in apps biting off more RSS than they can chew.
When it comes to reading articles, aside from a (quite nice looking) excerpt, you're taken to the web site in a separate window. If that news source, like the New York Times for example, has a pay wall, then you're out of luck (not surprisingly). Flipboard Pages, on the other hand, is miles ahead of most of the competition with its content deals with the likes of CBS, WSJ, and ABC — its custom rendering provides a clean reading experience consistent with the brand, a win for the both the publisher (if not monetarily) and the consumer.
Social
With the beta version I was able to connect my Twitter and Facebook accounts. Like Flipboard, once connected Evri enables you to surf social networks in a magazine-like format. It works well. I like that the app is big on panels. For example, each Tweet of note, or FB update, are represented in a panel with article content and/or photos as appropriate. Depending on the purpose and situation it can be far more enjoyable than scanning a vertical stream of text. If I'm winding down on the couch with a Napa Cab this would be the preferred mode.
More:
One big difference here between Evri and Flipboard: you can't enter status updates on Evri. In other words, unlike Flipboard, it's not a Twitter or Facebook client. Reading? Yes. Status updates? No. That's something I'd miss, and between the two, would surely make a difference if I had to choose one "news discovery" app to rule them all.
Topics vs. Sources
Flipboard is brilliant at both. Like The New Yorker? or National Geographic? These feeds are for you. Like "Eats" or "Gear & Gadgets"? You're in luck. Flipboard can dice and slice, and does so in a seemingly infinite number of ways (note: FB just added Harvard Business Review, GigaOM).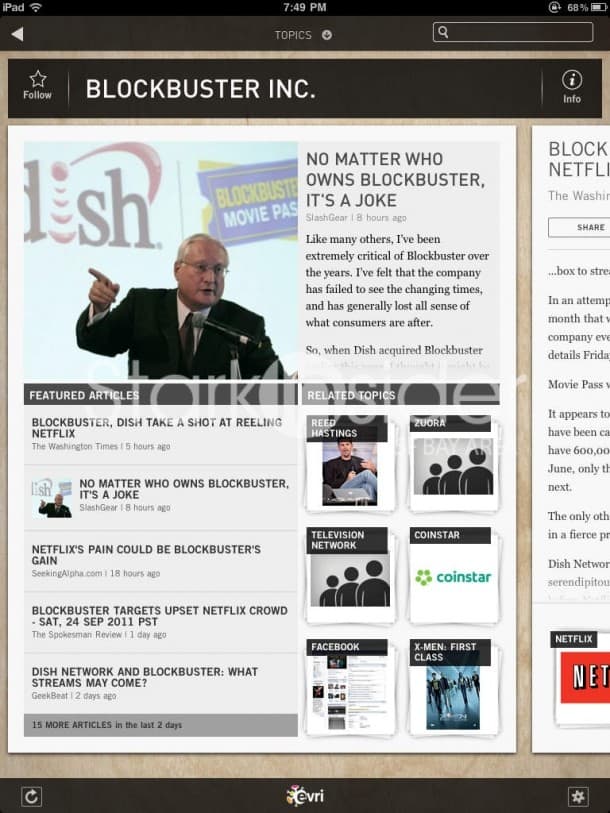 Evir, on the other hand — at least from what I can tell over the last seven days or so of testing — is primarily concerned with topics.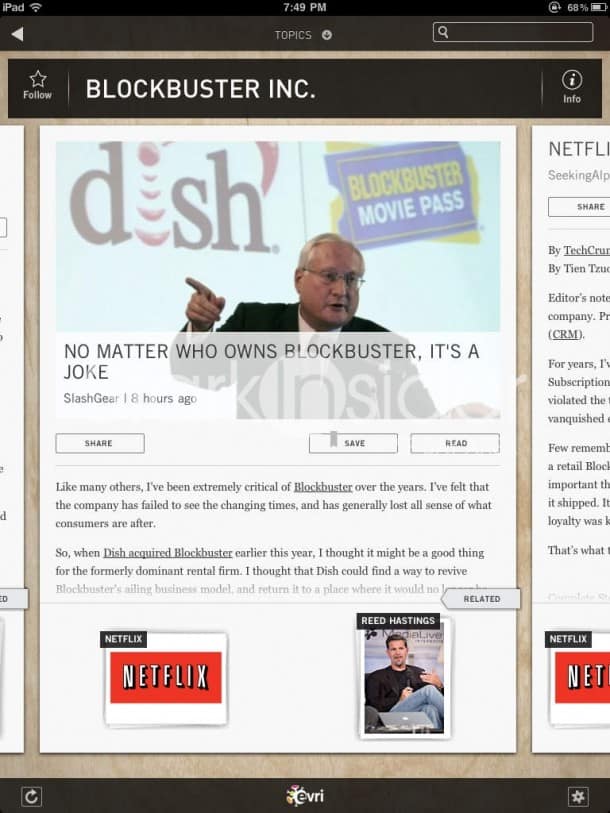 That's not a bad thing. After all, it's how we read our news in general. However, it's not likely to replace your RSS reader of choice anytime soon. The more apps the merrier; Evri, instead, compliments your craze for headlines, social updates.
Bottom Line
Evri is yet another compelling entry in a space that is booming. Don't forget, earlier CNN bought Zite, another magazine style news app, for $25 million. Flipboard continues to march on, funding in tow. And new entrants are sprouting up seemingly every week. Why? Because media is undergoing massive, transformational change. A lot of that has to do with tablets. If you're reading this now on an iPad, Galaxy Tab, iPhone or other non-PC device, then you know the deal. If computing is mobile, than news is omnipresent. For publishers, it's a mad scramble to figure out how to monetize what's widely assumed to be free. For its part, Apple seems to be a few billion steps ahead of the rest of us mere news-hungry mortals.
Evri

4 out of 5 stars (Very Good)

News discovery app for iPad

On the Web: corporate.evri.com/ipad

Clint says: A colorful, topic-based entry into the newsreader app fray. Panel based swiping of stories is fast, intuitive. Not as comprehensive as Flipboard (full-blown client for Twitter and Facebook for example), but may well be the prettiest all-purpose new discovery app out there.