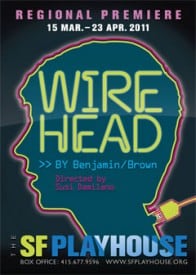 SF Playhouse invites audience members to explore the fascinating topic of artificial intelligence after select performances of Wirehead.
From March 15th through April 23rd, the SF Playhouse presents the Northern California premiere of this innovative new work by award-winning authors Benjamin/Brown.
Imagine that tomorrow anyone with the money could get a brain implant that would automatically make them a genius. How far would you go to get it? How far would you go to stop it? Wirehead dives headlong into the universal human fear of change to explore what happens when a wire implant that increases one's intelligence is made available to the public. We ask the question: "Just because something can be done, should it be done?"
After selected performances, audience members are invited to participate in lively, informative discussions with local experts in the biomedical and artificial intelligence field.
Thursday March 24th –
Michael Anissimov
Media Director for Singularity Institute for Artificial Intelligence (SIAI)

Thursday March 31st –
Charles D. Yingling, Ph.D.
Founder and Director of Yingling Neurophysicology Associates

Tuesday April 5 –
Stuart Russell
Professor of Computer Science at UC Berkeley
Adjunct Professor of Neurosurgery at UCSF, and an expert in artificial intelligence

Tuesday April 12 –
Adam Gazzaley, M.D., Ph.D.
Associate Professor of Neurology, Physiology and Psychiatry
Director, Neuroscience Imaging Center
University of California, San Francisco

Tuesday April 19th –
Michael Vassar
President – Singularity Institute for Artificial Intelligence (SIAI)

Dates and speakers are subject to change without notice. Admission to these events are

free with a ticket to that evening's performance.