Wirehead is a fast-paced thriller set in the immediate future. I use the word "thriller" guardedly, because it could just as easily be characterized as a sci-fi, comedic drama. With themes similar to Foresight (performed at Fort Mason by the Easily Distracted Theatre in 2010), Wirehead touches on how our lives are challenged by technology. Whereas Foresight dealt with issues related to keeping virtual versions of our loved ones around long past their actual lives, Wirehead deals with using technology to re-wire ourselves into a smarter, race of super-humans.
These themes might seem tedious – and I confess, I often cringe at press releases for tech plays, that often have the feel of a 4th grade Weekly Reader, circa 1965. However, we're already living this. As Stuart Brand noted 40-odd years ago, "we are as gods and we might as well get good at it." Hubris aside, we're pretty inept and clumsy gods, so there is no better place than theatre to look aPreviewt the issues raised by our virtual selves.
A "wirehead" is a human with an intracranially implanted  "z drive."  Real life cubicle marketing drones Adams (Craig Marker) and Destry (Gabrial Marin) suspect that co-worker Hammy (Cole Alexander Smith) has joined the growing legion of wireheads, leaving them as professionally dispossessed as anyone who's ever received the proverbial pink slip.
Although we all recognize Hammy, he's not a particularly likeable character so we don't wince too much when his wire is pulled, so to speak. However, this act sets others in motion, leaving Adams and his designer girlfriend as vigilante activists, while Destry confronts his own insecurities as his fiancé and her family join the wireheads.
The action is overseen by RIP (Scott Coopwood), an all-seeing fast-patter hipster schlock-jock. Playing a role not unrelated to Our Town's Stage Manager, his rapid-fire monologues break up the action, allow for set changes and give the audience a different take on the material.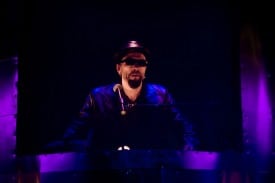 Arguing the plausibility of this plot is about as relevant as bemoaning the demise of the slide rule. We're so past that – and it's far smarter to look at what tech is doing to our lives and how to best ride the tiger we've created. Director Susi Damilano has created characters we all know with makes for fascinating post-show conversation.
Costumes for Wirehead tended to subtle browns and greens, rooting even the wireheads on the earth, just like us, rather than some tech nightmare. This subtle touch by costumer Eli Magid effectively contrasts with the modernist set.
Wirehead will be running through April 23rd. It is followed by reBorning, a world premiere by Zayd Dohrn.
Wirehead

SF Playhouse
3.5 out of 5 stars
Directed by Susi Damilano
March 15th – April 23rd