I know it's hard sometimes to tear yourself away from that addiction that is Glee — and I don't blame you one bit, my friend. But I must ask you to put down Netflix. Disconnect from Hulu. And, for the love of a narcissistic-free society, pesos-for-dollars please take a break from Tweeting and Facebooking.
Why, might you ask?
Well, because, quite simply the San Francisco Bay Area is the place to live if you like to get out and experience a live event or two, be it film, food, wine, tech or theater … so get your iPhone calendars out, and be ready to tap in your favorites.
Once again, theater, arts, wine and tech know no bounds. We have something for everyone in all parts of the region, from Napa to San Francisco and San Jose to Berkeley.
Here's the Stark Insider guide to what's happening across the region this week. Enjoy the show.
Film
Napa Valley Film Festival Launch Celebration
November 12 – 14
The NVFF Launch Celebration is the official announcement of and introduction to next year's  highly anticipated first annual Napa Valley Film Festival.
Showcasing the best of new independent cinema while embracing the epicurean pleasures of Napa Valley, NVFF will debut with a five-day extended-weekend festival spread over four of the valley's postcard-perfect towns:  Calistoga, St. Helena, Yountville and Napa. Dates for next year's first annual NVFF are November 9-13, 2011
Wine
Exclusive Tasting Tour & Art Viewing at Stags' Leap Winery (Napa)
Saturday, November 13, 2010
10:00 am – 12:00 pm
Stags' Leap Winery
6150 Silverado Trail
Napa, CA 94558
This one day only event will include a tour of the Stags' Leap Winery, a barrel tasting with cheese pairing, and a special viewing of the 2010 Artist in Residence exhibition by New York based photographer Jefferson Hayman, with the artist in attendance.
Tech
gdgt Live in San Francisco
Friday, November 12th
7:00 – 10:00 pm
SFDC Galleria, 101 Henry Adams St.
gdgt live returns to SF on Friday, November 12th, at the Galleria at 101 Henry Adams at 7pm. Check out the latest gear from some of the hottest tech companies around. 40 brands will be on hand to showcase the hottest ideas for the holidays.
Theater
The Flying Karamazov Brothers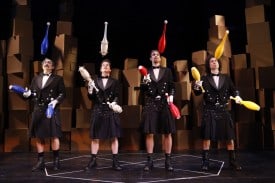 November 10 – 14
San Jose Repertory Theatre
Welcome to the zany world of The Flying Karamazov Brothers, where the daring and goofy take center stage. This ground-breaking blend of nouveau cirque, comedy, theatre, music, and, of course, juggling is nothing short of genius. Innovative and unique, they display their juggling prowess in such show stopping numbers as "The Gambler." In this daring act, the Karamozov champion Dimitri will juggle three items presented to him by audience members. If the champion succeeds he gets a standing ovation. If he fails, he gets a pie in the face! This exuberant and hilarious off-Broadway rave is full of fast-paced virtuosity and fun as the four brothers deliver a stupendously entertaining evening like you've never experienced.
Or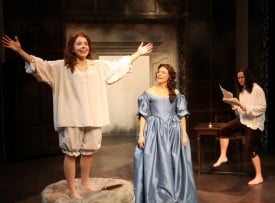 Magic Theatre, San Francisco
November 4 – December 5
Aphra Behn is getting out of the spy game and into showbiz. If she can finish her play by morning, she'll become the first professional female playwright. All that's standing in her way are King Charles II, actress Nell Gwynne, and double agent William Scot, who may or may not be trying to murder the king. Double-crossing, cross-dressing, sex, art, and politics all come together in playwright Liz Duffy Adams' hilarious bodice-ripper that peers into the life and times of the literal first lady of the stage.
Teatro ZinZanni – License to Kiss II starring Kevin Kent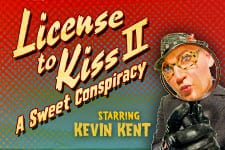 Pier 29, San Francisco
November 4, 2010 – March 6, 2011
Set along San Francisco's historic waterfront, Teatro ZinZanni is a bewitching evening of European Cabaret and Cirque, Divas and Madmen, Spectacle and Sensuality with Live Music and a Gourmet Five-Course Dinner – set in the nightclub of your dreams. LICENSE TO KISS II, A SWEET CONSPIRACY featuring comedian Kevin Kent in his quest to create a confectionary delight. The beautiful Spiegeltent turns into a den for intrigue, espionage and the ultimate candy-coated collusion. In the end, merriment and chaos reign, giving us all a LICENSE TO KISS!
Trending San Francisco stories, reviews, editorials
Napa Truffle Festival: World class cuisine meets cutting edge truffle science
Theater Review: 'CTRL + ALT + DELETE' opens in Mountain View
Holly's Comedy Club a first class 70s throwback
Theater Review: 'Sunset Blvd.' by Palo Alto Players
Luxury Travel: Extreme WOW Suite at W San Francisco (Video)
Theater Review: 112 years later, 'Turn of the Screw' inspires
Theater Review: 'Marcus' caps remarkable trilogy
Frey Norris to open new San Francisco location
Opening: 127 Hours with James Franco, Danny Boyle (Interview)
David Cale on solo play 'Palomino', talking to himself and PG-13 (Interview)
'The real McCoy' pumpkin pie recipe
PIQ Berkeley: Old-world Italian breads, modern flair
San Francisco Wine Event: PinotFest 2010