With a large cast, complex vocals and more set changes than you can shake the proverbial stick at, Sunset Blvd. is an ambitious undertaking. Given the strong audience response at the opening last night, the Palo Alto Players did more than adequate justice to this story. Taking on a play as well known as Sunset Boulevard is always a dangerous proposition. If anything, this production wins new fans for an old story. Pictures may have gotten smaller, but this story continues to be larger than life.
Part of this success lies in director Matthew Mattei's stated goal of delivering the same product that he fell for when seeing the premiere of the show 17 years ago. Mattei's production succeeds where others fail because his is a more compassionate interpretation, and less of a film noir one than others I've seen. That's not to say that the noir aspects were ignored, especially in the second act, but it was refreshing that screenwriter Joe Gillis (Ashley Simms) wasn't played as a complete sleazebag. This introduced a depth and complexity, and makes the end all the more tragic. By shepherding the character along with the plot, Mattei delivered an ending that continued to shock even as the film version approaches its 60th anniversary.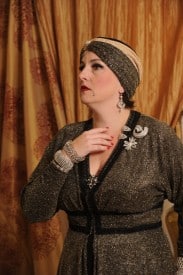 While the character of Gillis was allowed to develop throughout the first act, that of Norma Desmond (Annmarie Martin) was front and center in-your-face from the first time we see her pining over the dead chimp until the very last second of the spell-binding number. Here, a wee bit of modulation might be called for in those early numbers; Norma Desmond might be the greatest star of all, but her very strength works against her when she blasts it out at 110 percent unrelentingly. This sorted itself out after those first few numbers. By the end, she had the audience in the palm of her hand.
Some of the strongest numbers involved Arte (Danny Martin), Betty (Courtney Hatcher), Sheldrake (David Martin), and the balance of the ensemble. For example, the blocking of the salesmen in The Lady's Paying was just so visually interesting, it provided a needed respite from the intense central drama.
My own real nit with this production was the poor integration of video into the drama. The campy intro header worked well, bringing a note of novelty while remaining consistent with the tone of the period, but the car chase footage seemed to be overreaching for an effect that just didn't get pulled off. This was a minor flaw in an otherwise excellent effort.
Sunset Blvd. is playing through November 21st. Revisiting this classic production will be a welcome treat before the holidays have us in their grasp.
Sunset Blvd.
Palo Alto Players
Lucie Stern Theatre, Palo Alto
3.5 out of 5 stars
Directed by Matthew Mattei

November 6th – 21st