Frey Norris, one of San Francisco's most internationally renowned destinations for experiencing contemporary and modern art, has teamed up with award-winning Bay Area-based international architectural firm Gensler & Associates to design the new Frey Norris gallery space opening in February 2011, in the heart of the city's Yerba Buena arts district.
Originally opened in a storefront on Geary Street in 2003, Frey Norris eventually came to occupy four of the building's floors, following a 2006 upwards expansion, which created Frey Norris Gallery Annex, a dedicated space for the gallery's modern collection. Since their inception Frey Norris has operated their contemporary and modern art program out of the Geary Street building.
As of December 19th, Frey Norris will permanently close their Geary Street galleries in preparation for the February 2011 Grand Opening, which will merge Frey Norris Contemporary and Modern into one cohesive gallery.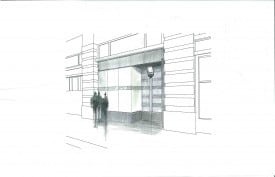 The new Gensler-designed Frey Norris will be located in the midst of the San Francisco's thriving Yerba Buena arts district.
With 160 feet of highly visible street frontage, this 5,100 square foot space will incorporate flexible exhibition areas, while housing gallery office spaces, an archive and library, and a new media area–nearly doubling the exhibition space of their original Geary Street contemporary gallery and modern art annex.
"The framework of the vintage building encloses a patinated steel and glass entry inspired by Pierre Chareau's masterwork, La Maison De Verre," notes Jeff Henry, Design Director and Principal at Gensler, "while distinct zones within the gallery, including a raised dais, provide a dynamic setting for Frey Norris' two unique collections, Modern and Contemporary."
A primary characteristic of Frey Norris' new gallery is the expansive use of glass and bead-blasted concrete, creating a transparent visual poetry in the delineation of the entrance and interior spaces. Coupled with exposed industrial beams, brick, and movable walls and thoroughly considered sight lines, the Gensler-designed Frey Norris creates a stunning new arts destination in downtown San Francisco, marrying the gallery's two areas of expertise, and complimenting the already lively arts district.
States owner Raman Frey, "The Grand Opening of our new Gensler-designed space, just blocks from SFMOMA, YBCA, The Contemporary Jewish Museum and the Museum of the African Diaspora is the natural next-step for Frey Norris. By looking outward, staying curious, programming ambitiously and traveling extensively, we're able to maintain a diverse presence in the contemporary and modern art world. Our sophisticated program of exhibitions, both in San Francisco and at art fairs in Miami, Dubai, Hong Kong and New York, as well as our catalogues and books, the charitable and community events we engage, and our newly accessible library and archive – ideally position Frey Norris to capitalize on a growing and vibrant art market."
Entering its eighth-year in operation, Frey Norris Contemporary and Modern continues to attract a broad audience of collectors seeking guidance in navigating a complex and evolving global art market. Adds owner Wendi Norris, "The realization and location of our new gallery space is both a signifier of our commitment to the cultural vitality of the Bay Area, as well as an opportunity to further promote Frey Norris' unique specializations that distinguish us not only in the Bay Area and on the west coast, but globally as one of the more distinctive galleries operating in contemporary and modern art."
Grand Opening of Frey Norris Contemporary and Modern

When: Saturday, February 19, 2011

Where: 161 Jessie Street @ New Montgomery, San Francisco, CA 94105