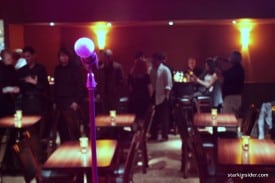 The leopard print carpet. The old school wooden salt and pepper shakers. The large mirrored bar. Clues abound at Holly's Comedy Club. A plush classy affair, you'd not be the first to feel as if you stepped into a 1970s time warp machine. Either that, or stumbled upon a hip new hang-out for the next generation Rat Pack.
David Crowe headlined the grand opening just last week at the Van Ness club — which also features a bar and restaurant — in San Francisco, and I admit, I was half reluctant; after all, my memories of comedians and comedy joints consisted of sticky floors, brick walls, and lots of groans. Growing up in Ottawa, a night out at Yuk-Yuk's was always an adventure. It had more to do with playing quarters with friends and a pitcher of beer, then anything the poor, sweaty sods could muster on stage. Oh, and that guy passed out in the half finished bowl of pasta? "Character."
With Holly's Comedy Club, those images of yore are quickly refreshed.
For proprietor Holly Horn, it was a dream 30 years in the making. And you could tell she was on cloud nine, "It's like waking up to a beautiful reality."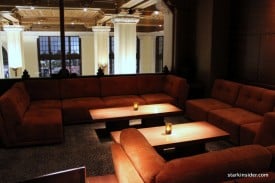 This is a comfortable (padded seats, lots of space), swanky (velvets, woods) and agreeable (above average food, friendly service) place to spend a night on the town.
Located on the mezzanine level in the landmark Don Lee Building (home of the AMC Van Ness theaters), it's a welcome addition to a part of the city that is less destination, more thoroughfare.
"I wanted to create a first class place with first class food, first class comedy." said Kjell Qvale, the amazingly spry 92-year-owner (and famed owner of British Motors, located just across the street).
Joined on stage by Holly, he kicked off the evening, garnering some laughs of his own. "When you're my age, you're always looking for a place to sit."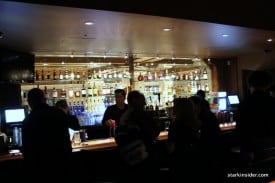 It was a full-house and with about 200 hundred of us seated at various tables (with padded chairs) arranged spaciously in semi-circular rows Holly's was abuzz; you couldn't ask for a better opening night vibe.
Despite Holly telling me earlier that there might be opening night hiccups here and there, servers were surprisingly efficient and friendly given it was their first full night of operation. Champagne and drinks flowed liberally, seemingly an instant away at any given point during the evening. Ditto for the food, which is definitely a notch or two above standard club fare.
And the laughs…
… there were plenty.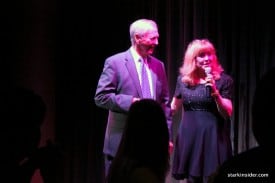 Headliner David Crowe would hit the stage later, but first we were treated to "three" warm-up acts. An unscheduled and mysterious appearance by Lloyd Uyterhoeven from South Carolina proved to be an unsuspected and clever twist, although I suppose I should've seen it coming.
True to the world of stand-up, there were hits and misses, with some material out-right bombing.
A zombified "goth girl" (to put it more politely than the comics) with arms crossed seated house left, and "Dr. Z." a jubilant quasi-heckler/over-exuberant patron on the right gave the performers equal parts fodder and challenge. I relish in that stuff. Impromptu moments are what live comedy is all about, so I was glad that there was a certain feistiness to the crowd.
San Francisco-based MC Michael Capozzola ("Surveillance Characters" – Thursdays in the SF Chronicle), was in a word, rough. He tried twice as hard, getting half the results from a short opening set that eventually got off the ground, if ever so slightly. Safe to say I preferred his duties as host. He kept the show moving along, and seemed more effective when constrained to a quick zinger or one-liner between sets.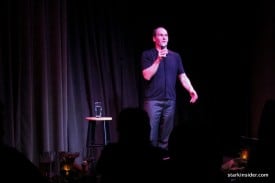 Lloyd Uyterhoeven in hoodie and geeky glasses walked onto stage next. He tells us he's from South Carolina, and is an ardent numismatist (aka coin collector). His bit about efficiency of words — why say "half-a-dozen" when "6" is so much faster, he asks — immediately drew laughs in a short, if slightly odd set.
Brit ex-pat George Corrigan, thick accent intact, apologized in advance for being Mr. Bean-like (although I didn't see any resemblance in appearance or comic style). He delivered a solid, rapid-fire set, with no dead spots, but no real triumphs either. Highlights included a short history on why England used red coats (to hide the blood) and their poor camouflage characteristics (they were always running for the poppy fields), and a funny bit on his movement for a "Jesus Christ it's Monday" (to balance TGIF).
Seattle-based headliner David Crowe (Showtime – Crooked Finger) first confessed that he was in disguise earlier as the aforementioned coin collector. Got me on that one! I was already impressed.
Crowe's set was strong, and generated steady laughs, many a-time leaving us in hysterics. His style is likable, never cutting or too crude, but willing to push the envelope; as in, when he used a whip metaphor to explain how the word "F@ck" can unleash a phonetic force.
It was a night to remember, with just about everything meeting or exceeding my expectations. No one passed out in their french onion soup (delicious), and the laughs streamed all night long into the damp San Francisco air. Lest anyone get too complacent, the groans, guffaws and heckling were all, fortunately, intact.
Holly's Comedy Club

Where Laughter Lives

1000 Van Ness Ave.
San Francisco, CA 94109
www.hollyscomedyclub.com

Happy Hour: Monday through Friday nights from 4-7 p.m

Mondays
Restaurant Industry/Open Mic/Showcase Night
Comedy showcase starts at 8pm and tickets are only $3.99 per person.
Come in with your hospitality name badge or pay check stub and receive 10% off all night.

Tuesdays
Sketch Comedy and Improv Comedy
Show begins at 8pm and tickets are $9.99 per person
Come in and see the best perform live sketch comedy and improvisational acts.

Wednesdays
Best of the Bay
Featuring the best local Bay Area talent.
Show begins at 8pm and tickets are $14.99 person