W Hotel San Francisco has unveiled its new top end rooms. Called the "Extreme WOW Suites" they're sure to appeal to luxury travelers of all types, be it for a weekend getaway (or "staycation"), a romantic retreat, or a corporate event to help close that partnership or big deal.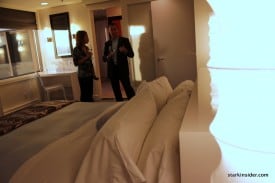 In this special tour of the luxury suites, Stark Insider brings you an inside, up-close look at a taste of 1930's Shanghai Glam (no, not Loni, the room I mean).
"We wanted to play with this whole juxtaposition of the Eastern culture and the west coast meets New York, meets San Francisco," says Michael Pace, general manager of the W Hotel San Francisco. "There's a flirting of the senses that we created with the music, and the sound and the ambiance. "
Dragon busts, mahjong card-inspired themes, sleek ottomans and rich, jewel-toned Shanghai Tang pillows make this San Francisco's most sought after suite.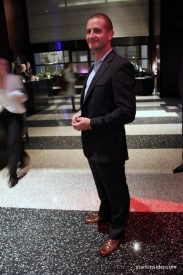 Located on the top floor, the Extreme WOW Suites — only three are available — are the hotel's most spacious accommodation, offering 900 square feet.
Each guest will likely have their own "wow" moment, but sweeping views of the city are likely to be near the top of the list.
Other features include: a butler pantry, dining table for 6, 2 full baths, large-screen plasma television, and a living room.
The typical W swank sexiness is, of course, also included, which means cool lighting throughout the room and hotel, sleek decor, and pulsating music across the many areas designed for relaxation, conversation, and business.

How much, you ask? Well… if you have to ask…
The suites start at around $1,750 and range up if you decide to include the optional second attached room – you know, so you have somewhere to store all those Union Square purchases that spill-over from the walk-in closet.
Sometimes you needn't fret about the economy. The San Francisco Giants have won. The financial markets are on the mend. And don't you or your clients deserve a fun bash (or two)?