Time for another round of shows opening across the Bay Area. Every 6 weeks or so there is a cycle of new shows at the majors, plus assorted quirky and interesting live stage events at smaller venues. A potpourri. A feast for the senses. An all-you-can-eat buffet. Well, okay, scrub that last one. I'm grasping; it won't be the last time.
But let's just say once again if you live in San Francisco, San Jose, Berkeley or anywhere in between you are spoiled with never-ending theater, arts.
So here's some of the shows you may want to check out this week and next. Come back soon to read the reviews, and get a taste with our "on location" videos, crazy and all.
Vigil
American Conservatory Theater, San Francisco
Opens March 31
Academy Award winner Olympia Dukakis (Steel Magnolias, A.C.T.'s Hecuba) and beloved Bay Area veteran actor Marco Barricelli return to A.C.T. in this deliciously dark comedy.
When an embittered, self-involved bachelor arrives to care for the dying aunt he hasn't seen since childhood, his brief visit stretches to interminable lengths. As her health improves against all odds—and against his hopes—their relationship evolves in unexpected ways. A tour de force from the creator of the runaway hit The Overcoat, Vigil offers an uncanny balance of gallows humor and grave ruminations on family, identity, and the human condition.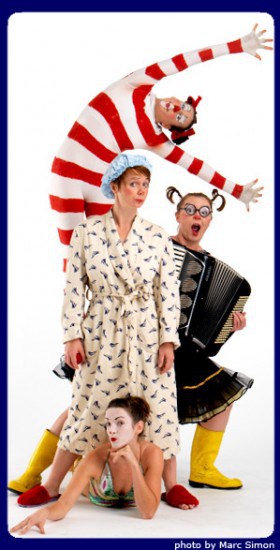 Frau Bachfeifengesicht's Spectacle of Perfection
Circus Finelli, San Francisco
Opens April 2
Watch as Frau Bachfeifengesicht's nightmares come true, her perfect circus shatters into comedic chaos. Enjoy the fine circus arts of unicycle, telephone juggling, a lady stuck in a barrell, and samba. Live music on accordion, drums, and trombones score the show.
Noises Off
Center REP Theatre, Walnut Creek
Opens April 6
Grown men weep with laughter. Ladies have to be carried out of the theatre. Diabolically constructed, relentlessly clever, and mercilessly hilarious, Noises Off is the ultimate backstage farce. Depicting the onstage and backstage antics of a fifth-rate acting troupe, it's a sidesplitting symphony of "Seven slamming doors, one breaking window, 10 trips up and down stairs, 17 false entrances, 46 miscues, 22 double entendres, six regular entendres and a million laughs!"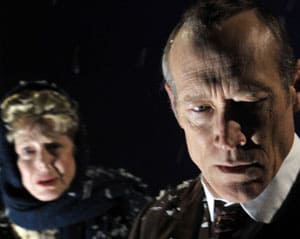 John Gabriel Borkman
Aurora Theatre Company, Berkeley
Opens April 8
This fiercely relevant play explores the sacrifices made in the pursuit of power and success. Home now, after serving time in prison for embezzlement, Borkman has spent the last eight years pacing alone and making plans for a comeback. Meanwhile, his estranged wife and her twin sister vie for the loyalty of the prized son.
Written in 1896 and recently revived at London's Donmar Warehouse with this new version by David Eldridge, John Gabriel Borkman is a pointed indictment of capitalism and greed.
Directed by former Artistic Director Barbara Oliver and featuring James Carpenter (The Master Builder) and Karen Grassle (Caroline "Ma" Ingalls from TV's popular series Little House on the Prairie).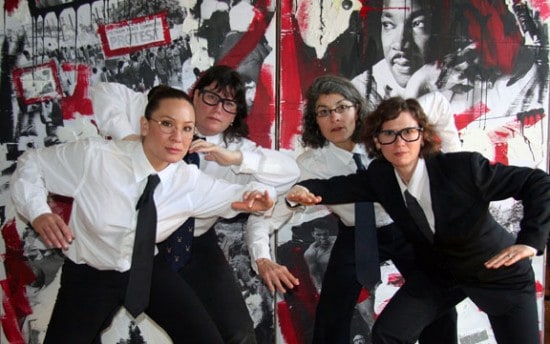 A History of Human Stupidity
Rough and Tumble, La Val's Subterranean Theater, Berkeley
Opens April 9
You lock your keys in the car. Stupid. You lock your keys in the car with your baby inside. Really stupid. This kind of stupidity is everywhere. It's probably what we most often think of when we think of "stupidity." But that's because we're stupid. Real stupidity isn't forgetting to close the refrigerator. Real stupidity afflicts us when we make choices based on our beliefs, when we're sure we're right, yet we're incredibly misguided.
A History of Human Stupidity examines world history through the lens of helpful beliefs gone bad. Five energetic narrators first define human stupidity (which is harder than you think.) They then take the audience on a journey from stupid human behavior, to culture-specific moments of stupidity, to the top five dumbest people in human history.
Gaslight
Hapgood Theatre Company, Antioch
Opens April 9
In April, we will stage our first British import, an edge-of-your-seat murder mystery set in Victorian London. Mrs. Manningham believes that she is slowly going insane, but faced with two different versions of the facts, one from her devoted husband and the other from a police detective she has never met, reality begins to get much less clear. Meanwhile, the secrets of the dimming gaslight and the mystery of the hidden rubies only intensify the conflict. In the midst of this thrilling plot line, the author builds up and sustains some of the most brilliant suspense in the modern theatre. A hit on stage both in London and New York, as well as in its two film incarnations.
Dirty Blonde
San Jose Stage Company
Opens April 10
"When I'm good, I'm very good, but when I'm bad, I'm better."—Mae West
This is just one of many delicious quotes from the mouth of Mae West, famous for her uninhibited sexuality and amusing, provocative double entendres. This Tony Award-nominated play chronicles her colorful career, from her beginnings in vaudeville to her legendary stature as one of filmdom's greatest stars. The audience gets to see how carefully and confidently West developed the extravagant, sexy, taboo-breaking public persona that was the hallmark of her fame. At the same time, this comedy explores the lives of two misfits who are her biggest fans. At once a love story, a musical and an amusing take on celebrity obsession, Dirty Blonde is a joyous celebration of Hollywood's bawdy, ground-breaking female icon.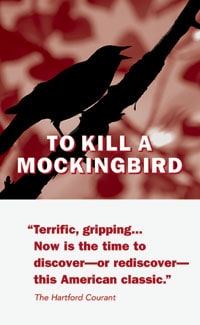 To Kill a Mockingbird
TheatreWorks, Mountain View
Opens April 10
Timeless, compassionate, unforgettable, this Pulitzer Prize-winning classic resonates across the decades, inevitably finding its place in the human heart. Seen through the enquiring eyes of Scout, a young tomboy learning the hard truths of prejudice and privilege in Depression-era Alabama, this endlessly engaging tale of heartache and joy, innocence and integrity, finds the search for family, justice, and common ground the defining test of the American character.
Still Playing
Sunsets and Margaritas (review), TheatreWorks Palo Alto
Ain't Misbehavin' (review), San Jose Repertory Theatre
Frank Langella's Cyrano (review), City Light Theatre Company, San Jose
The Illusion (review), The Pear Avenue Theatre, Mountain View
Concerning Strange Devices from the Distant West (review), Berkeley Rep
Den of Thieves (review), SF Playhouse, San Francisco
Burn This (review), Dragon Productions Theatre Company, Palo Alto
…and Jesus Moonwalks the Mississippi (info), The Cutting Ball Theater, San Francisco