The Illusion is a mad, mad, mad pastiche of steam punk, commedia del arte, and 17th century drama that only Tony Kushner could put together.   Adapted from Pierre Corneille's L'Illusion Comique, this comedy deals with parenthood, love (both parental and romantic), and illusion.  It is laugh-aloud funny, while at the same time gently nudging us look at our own lives.  I confess, I have little patience with commedia del arte, but in this instance, it was deftly done.  The animated moves of the magician Alcandre were sufficiently unpredictable that her performance didn't have the annoying cookie-cutter effect that this style often carries.
Ray Renati as Pridamant gave a touchingly thoughtful performance of the wistful father in search of his son. Jim Johnson's performance as Matamore brought elements of the wise man to his role as fool, which would have been easy to omit.  Bill Davidovich used every single muscle in his face to bring the most to his performance as the Amanuesis.  Curiously, the characters of Monique Hafen (Melibea), Isaac Benelli (Calisto), and Patricia Tyler (Alcandre) seemed more like two-dimensional cardboard cutouts.   Whether this was due to the script or the direction remains unclear.  However, other elements of the play more than compensated.
If the character of Alcandre was lacking in depth, Rebecca Ennals more than made up for this deficit in costuming.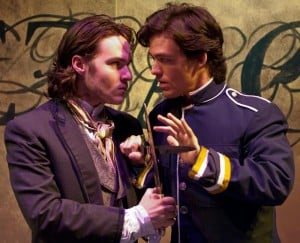 I confess, I spent the better part of the show staring at the funereal tulle, tank top, plum underskirt, black overskirt, tattoo, munchkin shoes, purple woolen arm warmers, riveted leather belt… and that's just the beginning.  Taken together, it had the effect of biker bitch meets Morticia Adams.   This kind of look is impossible to pull off well, and Ennals had the costuming well in hand.  I could be equally generous about the costuming of the other characters (especially Pridamant's vest), but I'm running out of breath here. The spare set consisted of little more than multiple proscenium frames to bring the audience deeper and deeper into the drama, didn't distract from the costuming.
The Illusion marked Michael Champlin's directorial debut at the Pear.  This reviewer hopes to see more of him.  The Illusion runs through April 3rd, and it well worth taking in over Easter.
The Illusion
by Tony Kushner
The Pear Avenue Theatre
3 out of 5 stars
Directed by Michael Champlin
Through April 3