Things aren't always what they seem.
A photographer disagrees. Grumbling, he notes that most people are what they seem. Such a disappointment that is.
If disappointment is evaluated using this criteria, then Naomi Iizuka, in her World Premiere of Concerning Strange Devices from the Distant West, does not disappoint. Instead she astounds.
Like an intricate, black Japanese bento box, the stage set is deceptively simple at the onset. As the play unfolds, compartments are revealed, walls shift with mesmerizing rhythm. The lighting is subdued creating shifting shadows against the dark angled walls. Isabel Hewlett (Kate Eastwood Norris) appears, a woman in search of adventure in the Japan of the 1880's, yet constrained by the lens of her upbringing and experiences.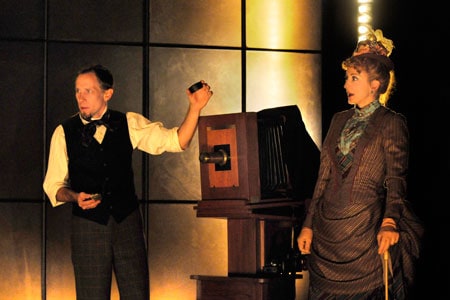 A simple set, a seemingly provincial woman. However, as one slips out of dress and into kimono, human desires are uncovered, tattoos intertwine and true identities revealed. Just as we start to question the accuracy of our perceptions of people and situations, Iizuka starts to waver our trust in even basic fundamentals such as what is captured through the lens of our eye or that of a camera.
Although the plot unveils twists and turns, the rhythm of every action, stage set movement, music and piece of dialogue is well orchestrated and fits together like beautiful, puzzling poetry. The flashing lights are used effectively to maintain continuity and yet signify a different thought or storyline. Perhaps the intensity could have been dialed down for the subsequent flashes and some restraint used on its frequency.
The play on perception in the hotel lounge scene is slick, as is the camera work. Overall the use of projection was done with great artistry.
Bruce McKenzie successfully introduces the many facets of the characters, Andrew Farsari and Dmitri Mendelssohn. However, the star of the show was the stage set which had the advantage of gracing itself with false walls and ceilings, James Bond like transformations between swank hotel lounge and simple photographer's studio, and projections of beautiful Meiji images.
The Berkeley Rep's staging of Strange Devices wondrously captures a hint of the awe that must have proliferated across Japan when the curious camera was introduced.
Things aren't always what they seem.
Clint says:

This is my kind of show. Techno. Sexy. And flashy. Perhaps a little too flashy though. The strips of bulbs burst like a camera flash. It felt like a KISS concert at times. All I could see was white for a few moments. Still, I'd smile to myself: cool.

One of my favorite scenes takes place in the hip, neon bubble-like hotel lounge. Even the drinks look swank. The conversation lilts, and feels like Woody Allen perhaps. They talk about the sexiness factor of hotels. Sheraton. Not. Hilton. Not. The W. Yes… but in a slutty way.

It doesn't hurt that there are some good looking people in this production, especially Teresa Avia Lim as Kiku.

And like Loni mentions there are plenty of little surprises in the set. The story, however, doesn't quite deliver, and some of the later scenes involving camera history come across lecture-like and superfluous. It almost spoils the mood. Still, a clever, fresh production.
Concerning Strange Devices from the Distant West
Berkeley Repertory Theatre
Roda Theatre – Main Season
4 out of 5 stars
By Naomi Iizuka
Directed by Les Waters
Starring Teresa Avia Lim, Bruce McKenzie, Kate Eastwood Norris, Danny Wolohan, Johnny Wu
95 minutes, no intermission