Unorganized crime has never been funnier than in Den of Thieves at SF Playhouse. But first, some advice: any time a gun-toting slickster with "Flaco" tattooed on his forearm and a girlfriend named Boochie tells you a job is fool proof, just run.
To three partially reformed career criminals, however, it may sound too good to pass up. Ah, yes, just one more heist!
The SF Playhouse has a way of consistently staging quality, thoughtful, entertaining productions in a small space. It never ceases to amaze me what Bill English and company can do with the set design. Each time I head up the narrow stairs of the Geary theater up to the third floor, I wonder what surprises await beyond the black curtain that separates the lobby from the house.
Den of Thieves successfully continues a season that celebrates the "power of laughter" and demonstrates once again sometimes good things do come in small packages.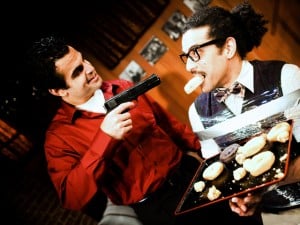 I got real personal with the self-help section at Barnes & Nobles.
The story concerns a rag tag group of petty thieves who, despite the best of intentions and even a rehabilitation program, can't seem to break the habit—not to mention addictions with junk food ("You got a problem with junk food. You got a problem with larceny.")
We learn that crime is a family tradition, but with a twist. Nerdy Paul (Casey Jackson) explains to Kathryn Tkel, that the den of thieves were a Robin Hood-like group of crusaders who would donate all their spoils to charity so that community libraries could be built for children.
Fortunately they have each other and vow to kill the habit. Enter Flaco (Chad Deverman) who has an idea for one more score. It's the kind that relies on a friend of a friend of a friend who works at a club sort of deal. It can't miss!
Later, we meet some mafioso, played by Ashkon Davaran, Peter Ruocco, and Joe Madero who it turns out have personal issues of their own.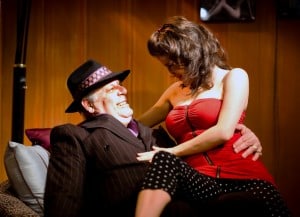 The play moves briskly, the acting strong. Casting is spot on; here we have a group of career criminals yet we root for them. There's a likability factor. Kudos to Susi Damilano's direction for maintaining a natural flow, and working in some clever devices. One scene, akin to some kind of immobilized prisoner dance, involves chair stomping. Criminal poetry in motion.
Chad Deverman (the only equity actor in this production), delivers a frenetic, adrenaline pumping performance that single-handedly raises the energy and the caliber of the entire production. His "yo, yo, yo's" and superficial menace lets way to someone just looking for love, for acceptance.
Life is like an artichoke. Takes the sweet meat and throw the rest away.
The ending was perhaps a little too neat, and the resolution quite swift. Also, there are several Italian stereotypes that we've seen many times before. Still, Den of Thieves is a hoot and a half. The laughs keep coming. In the end you can't help but a feel a little warm glow that comes from seeing another fine production at SF Playhouse. And I won't be touching a donut anytime soon.
Den of Thieves
SF Playhouse
4 out of 5 stars
By Stephen Adly Guirgis
Directed by Susi Damilano
Starring Ashkon Davaron, Chad Deverman*, Casey Jackson, Joe Madero, Corinne Proctor, Peter Ruocco, Katie Tkel
Through April 17, 2010
*Courtesy of Actors' Equity