In Sunsets and Margaritas by playwright José Cruz González, a Latino family faces just about every challenge life can throw their way: aging, regret, birth, despair. Oh, plus a panic attack or two thrown in for good measure.
But the Serrano's benefit from an enduring tradition, and ability to persevere, despite the unpredictable and wild ways of Dad (Daniel Valdez) who is celebrating his 78th birthday. His son Gregorio (Tommy A. Gomez) now runs the family restaurant, but might need to sell it to afford retirement living for his father. His loving wife Luz (Roxane Carrasco), who dreams of becoming a Century 21 agent, just wants her man to stand up and finally be a real man.
The rest of the family doesn't exactly make the cantina a peaceful place to hang out either. There is a feisty lesbian daughter (Dena Martinez) with a newborn. A hipster son (Miles Gaston Villanueva), confined to a tricked out wheelchair trying to impress the ladies. And a mysterious new employee Bianca (Erika Yanin Pérez-Hernández) hired to help with the party.
Toss all of these colorful characters into an equally colorful and vibrant set, and you can quickly see where things are headed: uncertain chaos. Muchos!
Occasional visits from apparitions including the Virgin of Guadalupe (who is apparently an aspiring stand-up comedian) and the Virgin Mary (for once, not on toast) give the play elements of "magical realism"—a literary style that became popular in the 20th century.
Sunsets and Margaritas is a light-hearted romp, with easy laughs (amidst groans, and several misses) and tender spirit.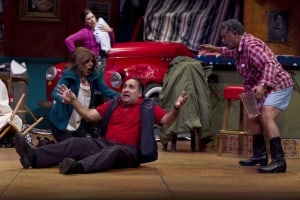 We can see a bit of ourselves and those we know in all of these characters. The story is basic. This is not about twists and turns or sophisticated layers, although there are revelations later. The play is akin to an extended sitcom. One gripe is that the dialog is set to full-on frenzy for almost the entire show. At times it's can approach shrill, especially when all 8 characters are on stage competing for attention.
The set is a home run. We immediately feel like we're in a Mexican restaurant, with a storied past thanks to old photographs lining the blue, green and yellow walls. There are some crashingly-good effects, especially early in the play. I won't spoil them here. Fasten your seat belts!
Music is minimal with most of it happening live on-stage when one of the acoustic guitars is strummed here and there. Too bad, though, more wasn't done with that; I thought a charming scene could've been created around a live, family-inspired performance (like The Sound of Music perhaps, but without the whistle or discipline).
Many will adore Sunsets and Margaritas, but others might wish for more substance, less slapstick. At times I thought the script was more suitable for television then the stage. Then again, there were plenty of laughs at Lucie Stern Theatre, and the audience appeared to be enjoying their time with the zany Serrano family.
Sunsets and Margaritas
by José Cruz González
3 out of 5 stars
TheatreWorks (Lucie Stern Theatre, Palo Alto)
Directed by Amy Gonzalez
Through April 4, 2010