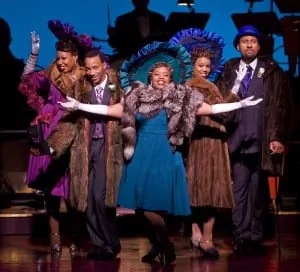 The Cotton Club and Savoy Ballroom of the 1920s and 1930s were the places to be. Jumpin' and swingin' all night long, and celebrating the ups and downs of life along with the Golden Age of Jazz.
Ain't Misbehavin', with its non-stop  Thomas "Fats" Waller tune stack and five talented (and very energetic) singers, takes us back in time to the pain and triumphs of the African-American experience. It's a faithful creation right down to the costumes, marquees and, even, laughs.
30 songs spread across two acts thankfully leaves little time for idle chit-chat. Instead, the production eschews dialog and focuses on a non-stop parade of songs, dance routines and musical interludes. There is a taste of everything, from a risque version of Honesuckle Rose (1929) to the frenetic The Joint is Jumpin' (1938). And you better hold on tight: the pace here is set to fever pitch.
The five performers (Rebecca Covington, Angela Grovey, Christopher L. Morgan, Ken Robinson, Aurelia Williams) are a talented lot, each equally adept in front of the mic as they are strutting, twirling and jitterbugging across the stage. Their voices as an ensemble are well matched, soothly ranging from baritone to super-soprano. In this kind of show, facial expressions and eye movements can do wonders to accentuate, and, again, there is plenty to like (especially Ken Robinson) in the way the artists connected with the audience. Or at least tried.
One challenge with the Rep Theatre is it doesn't exactly feel like a club. So the performers need to work twice as hard, covering lots of ground across an expansive stage, trying hard to replicate the intimacy of a much smaller space.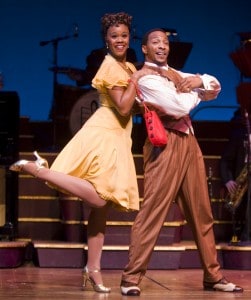 Add to that the reluctance of the polite crowd to do more than just clap gently and it was a tough sell at times. Is this audience from Canada? It was most evident at the end of Act 1 when all hell broke loose with the The Joint is Jumpin'. It was. But only on stage where the actors were singing and dancing their hearts out while sirens blared and the place crescendo-ed nicely into intermission. Fortunately, there were those willing to whoop it up; eventually hollering, screaming out, ballin' and giving the actors some welcome energy in return. That helped a lot. This kind of show needs two-way audience-performer exchange to work best.
Once again we get a colorful, inventive set at the Rep. A large marquee surrounds the stage instantly delivering a feeling of glamor and grandeur. A 7-piece orchestra provides a most agreeable groove. Our man on the piano (Darryl G. Ivey) even travels across the stage taking on various positions depending on the arrangement. I particularly enjoyed the stride piano.
Ain't Misbehavin' won 4 Tony-Awards in 1978 on Broadway including best musical. I'm not a huge jazz or musical revue kind of guy, but fans of the Cotton Club-era and jazz, will enjoy it immensely. Dig in and enjoy it. Just if you go to the Rep though, please get jumpin'. Being Canadian, I admit I'm guilty of being the guy sitting quietly, smiling politely and enjoying myself.
Ain't Misbehavin'
Music by Thomas "Fats" Waller
San Jose Repertory Theatre
3 out of 5 stars
Starring Rebecca Convington, Angela Grovey, Christopher L. Morgan, Ken Robinson, Aurelia Williams
Musical Director/Conductor Darryl G. Ivey
Directed by Kent Gash
Through April 18, 2010