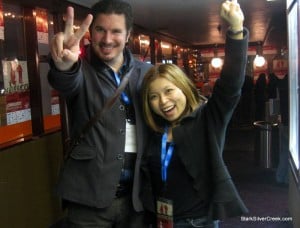 With only 6 more days to go at the Cinequest film festival, it's time to spend some quality time with the program guide and ensure you hit all the best films before they leave town.
It can be a bit of a puzzle mapping out a schedule that gives you the most bang for the buck. Some films have already left town, others only play once more, while others, such as Professor are just beginning their run this week.
Obvious events to block time for include Maverick Spirit Award presentations to Deepak Chopra (tonight), and to Benjamin Bratt (Thursday). It looks like Team Cinequest has pushed back the sole screening time of The Girl With the Dragon Tattoo so that if follows tonight's festivities at the California Theatre. That should be a good thing as there will already be a sizable crowd on hand.
If you miss one of your favorites, don't despair; top vote getters will enjoy a last run on Encore day, Sunday March  7th.
Also, keep an eye out for Adobe Youth Voices on Saturday March 6 when you'll get a chance to see 5 films from student filmmakers that have been working on their project for the past three weeks. SSC has been following the process and you can see video from week 1 (pre-production) and week 2 (production). It's a great opportunity to see how teens are using technology, working together, and integrating their communities into film.
Get your guides, pens and netbooks ready, here's my picks for the best of what's left at Cinequest:
Applause (review) – plays twice more. Danish film features a stellar performance by Paprika Steen.
Bank Robbery (review) – tough love, road trip-style. A hard-boiled and surprising gem from Estonia.
Cleanflix – I just noticed a third date has been added for this fascinating (and very entertaining) look into the editing of Hollywood movies by a small Utah firm run by Daniel, a spotlight-seeking businessman of questionable integrity.
The Escape (review) – another well made Danish film. A journalist is kidnapped by the Taliban. What follows is certainly unexpected and thought-provoking.
FrICTION (review, interview) – fourthwall mind bender from Cullen Hoback. Mostly unlikeable characters/people "behaving badly."
Peepers (review, interview) – ah, those Canadians! Sneaking across rooftops in witty, wry look at underground voyeurs looking for bare butt buffets.
Paulista (review) – sex and love, but not necessarily in equal doses in this passionate and human Brazilian film.
Raspberry Magic (review) – it won't change your life, but it's hard not to admire the heart in this "cute" one.
Still have not seen:
Babnik
Bummer Summer
Green Waters
Krews
Lost Persons Area
Parable