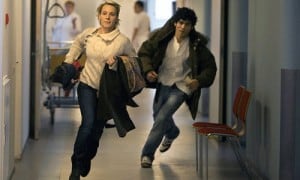 A movie about the kidnapping of a Danish journalist in Afghanistan may not exactly sound like the most enjoyable thrill ride. But you might be surprised by the depth and power of The Escape (Flugten) by director Kathrine Windfeld from Denmark.
The Taliban, terrorism, the impact of Western ideology, hegemony, refugee rights and even ethics and journalism all play a role.
Although the movie starts with a conventional—and heart-pounding—kidnapping on the war torn streets of Afghanistan, what follows is anything but predictable.
A Danish journalist, Rikke Lyngvig (Iben Hjejle), suddenly finds herself captive in a shack in the middle of nowhere, with the Taliban using her on video to make the government of Denmark withdraw troops.
Her escape is dramatic, and as a result she shares a secret bond with her former captor, Nazir (Faegh Zamani); although they live worlds apart, soon they must deal with their decisions in ways they never anticipated.
How did you escape?
Perhaps, we learn, you can physically escape something, but not mentally or emotionally.
The Escape is, for the most part, based on an intelligent script that smoothly integrates several plot lines. It never feels forced. The first half is the better. Later in the movie, we could use one less chase, and more in-depth expose of character, especially involving Nazir who relies on a doey-eyed look too often.
Camera work is done by hand, and the cinematography is as striking as the booming sound effects.
There are several interesting things about this film. First it's directed by a woman, starring a strong woman protagonist; in a terrorist thriller of all things. Second, it's intriguing to see Afghanistan from a non-US perspective. How Denmark handles refugees, extradition, and terrorism are contemplated using scenes involving talk shows, and news reports.
Highly recommended. It's intense, but you may be surprised where this movie goes; it's unexpected, and unique.
Noteworthy

By the way, it was nice to see the sun out today, and everyone out there enjoying the festival
I watched this screening at Camera 3 and there were a number of technical glitches. None detracted from the presentation, and as always the volunteers were on top of things.
We were forewarned that a break would be required about an hour in for a reel change. This worked out great. I took a deep breathe as the house lights came up for 10 minutes to catch up on email, and take an emotional break from the powerful material.
Also, the focus seemed slightly off. The sub-titles on the right had notable mis-convergence (at least to my nit picky eyes). Again, not a big deal.
Then later the frame became misaligned for about 15 minutes before the projectionist fixed it.
All a wonderful part of independent film and working out opening day bugs I'm sure.