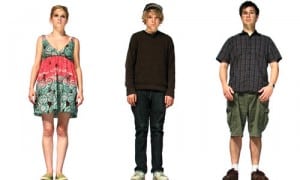 What if you were scripted to behave badly? Breaking down the fourth wall—the unseen barrier between actor and viewer—has become somewhat of an interesting trend in film (see Funny Games starring Naomi Watts). We've seen it for years on stage in the theater; an actor will maintain a personal dialog with the audience, for example, then jump back into a scene, engaging with the characters.
It's a tricky craft with a lot of moving parts and layers, and certainly not everyone's cup of tea. Director Cullen Hoback demonstrates a few things here: (a) he's a very talented filmmaker; and (b) FrICTION, regardless of what is real or fiction, is entertaining and delivers emotional ebbs and flows with sincerity.
The friction in the movie arises when a student comes between a real couple at a private school in New Hampshire. Hoback tell us up-front that the actors are playing themselves. As the the story progresses, the line blurs. Who is acting and who is just being real?
Despite being shot for less than $100 (with most of it spent on Dunkin' Donuts), the film has high visual aesthetic. I'd compare the camera work to The Office. It's like watching a pseudo documentary. The depth of field dances. The frame wiggles. But not jarringly. The lives in front of us take center stage, literally at times.
Another pleasant surprise is the soundtrack and music. Elegant and smooth, it brings richness to the film; melding scenes, heightening tension, then fading gently into a black dip or dissolve. Nice work.
From what I can tell, this is Cullen Hoback's 7th film (according to IMDB). I'd say this guy is one to watch. Lots of talent, style, plus something I can't quite put a finger on… but when you watch FrICTION you sense that if he can make something interesting and dramatic out of the ordinary, there must be a creative spark waiting to ignite in a big way.
Due to "legal issues surrounding content" the film can only be screened at festivals such as Cinequest. Hopefully we will learn more when Cullen and his crew come to San Jose later this month.
One final point: The only likable character/person in FrICTION is Cullen himself… filmmaker advantage?