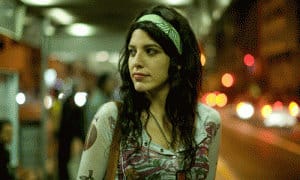 Here's a well-made film from Brazil. Called Paulista (Quanto Dura o Amor), the second Cinequest screener that Loni and I have watched, it follows the ups and downs of three relationships. It recently played at the Palm Springs International Film Festival.
Sex, and sexual identity play a big role and create, in some ways, a film that feels a bit French to me. There is a lot of feeling. And plenty of raw human emotion—be it passion, sadness, longing or confusion.
This is a character-driven film, so there is no plot. We're simply watching people deal with challenging relationships. Is sex enough to satisfy deeper needs and emotions? Although the dialog (Portuguese with English subs) is truthful, I'm sure each person will that watches this film will have a unique interpretation.
I told Loni, "this is about sex!"
Loni shook her head, no, no, no! It's about rejection she tells me… then mutters something about me being a shallow guy.
The summary in the Cinequest guide by Casey Burchby says it best when she concludes it's "all part of the search for love and life."
The cinematography here and overall style is first rate. Scene transitions, music, framing, all well-crafted; and, unlike Little Fish, Strange Pond, never distract from the story. The acting is strong. Overall, this is a solid addition to the Cinequest 20 lineup. Just don't expect plots or neat resolutions.