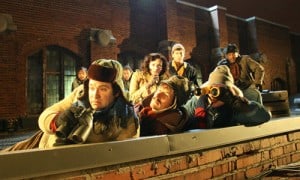 A Fight Club for voyeurs, Peepers takes us into the secret world of roof-top hopping "peepers," where we join alongside a rag-tag group armed with binoculars and walkie-talkies looking for excitement in other people's windows. Fraternizing in the shadows at night, but with office jobs by day, we learn all sorts of new lingo and catchphrases.
"The curtains have parted, and the pants are down."
Starring members of Canadian comic troupe Automatic Vaudeville there are plenty of zingers and comical moments—with a welcome twist of wry, sarcastic Canadian humor for good measure.
Leader Steve Sherman (Joe Cobden with requisite Emilio Estivez-approved peeping mustache) talks shop with the team at a local cafe, and wants to ensure peeping doesn't get a bad name. "A peepers gotta know the code, that's part of the code."
Enter a feisty University professor Helen (wonderful Janine Theriault in classy, Montreal fashionista mode) trying to get ahead in the academic world. She decides to study these "urban pests." Perhaps she may just earn that fellowship and make a name for herself.
"It's a bare butt buffet over here…"
The film has a flowing, cinematic style that manages to pay homage to Rear Window, while retaining a light, entertaining mood. The subject matter is so quirky, and the characters so likable—if not slightly goofy mad, eh—that I couldn't help but grin like a fool for most of the film.
While the story itself can't quite carry the entire film, the performances can; subtle, comedic timing mixed with borderline wacky. The actors walk the line between the absurd and the melodramatic with aplomb.
Though I realize voyeurism is a real underground culture, after watching Peepers I wondered: is there such a thing as roving groups of pleasure seeking peeping-toms? I supposed anything is possible.