Stark Insider reviews the flagship Jura Z10 super-automatic espresso machine.
What's it like having a personal barista available 7/24 in your own kitchen? Lattes, Cappuccinos, Cortados, Macchiatos and Flat Whites at your beck and call?
We're about to find out as we put Jura's top-of-the-line Z10 automatic espresso machine to the test.
Introduced in 2021, the Jura Z10 sits atop the Swiss manufacturer's home line-up. At $3,995 USD it's positioned as the most feature rich model and includes just about every single modern day innovation the company has ever created when it comes to making the best espressos and milk-based espresso drinks possible at the touch of a button. Reading up on the Z10 can be overwhelming as there's a lot of features to cover. We'll do our best to help out.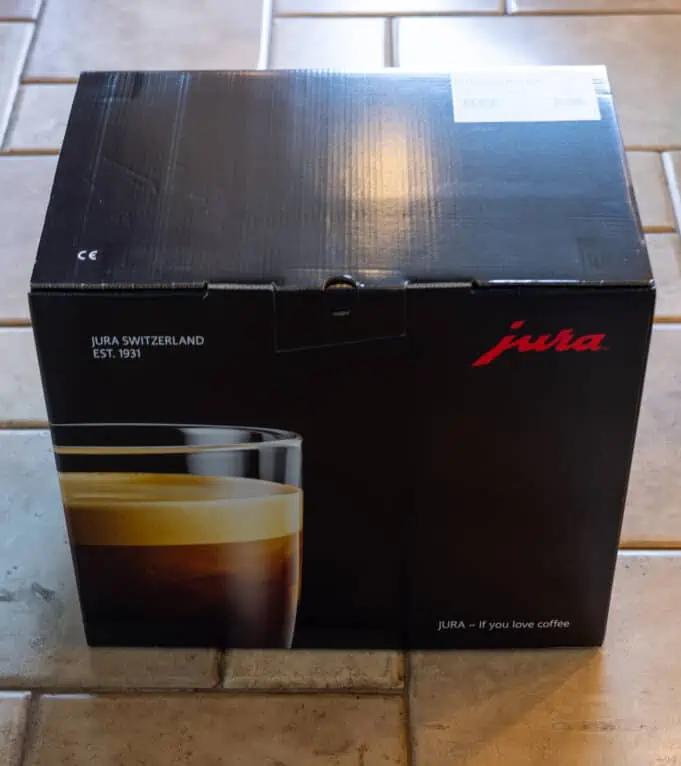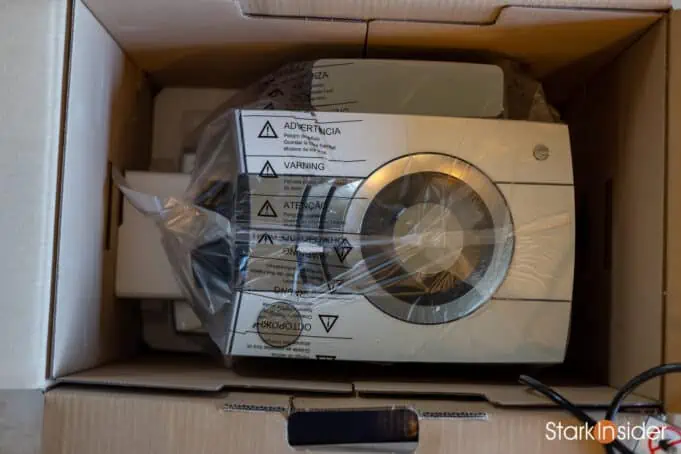 In this review we'll cover everything from espresso quality (an absolutely critical component to reviewing these types of machines), to features and usability, design and performance, and to the competition, before wrapping up with our thoughts about the Jura Z10 and our recommendation if you should buy one. It's a big investment, and you'll want to be sure to get the most information and advice as possible as you continue to feverishly Google and YouTube the Z10 to death before making a purchasing decision.
Note on the independence of this review:

Jura did not provide this Z10 for review nor are we affiliated with Jura in any way (or any manufacturer). Stark Insider purchased this machine and tested over the course of two weeks to bring you this impartial review.
Jura Z10: Espresso Quality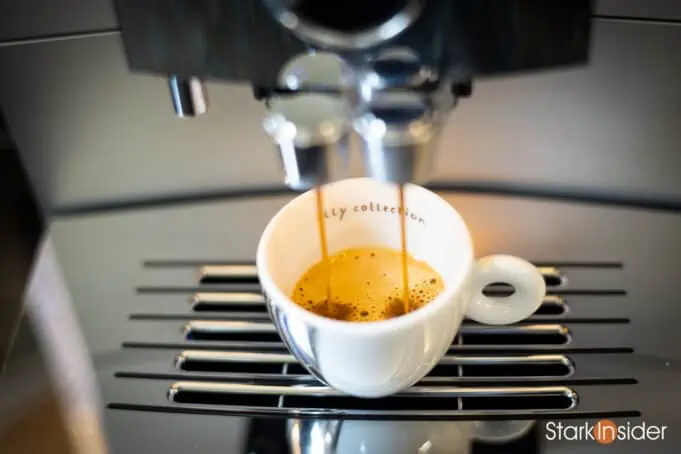 Best-in-class espresso shots

Delicious and copious crema

Even bested a traditional espresso machine in our double blind taste tests
Instead of diving deep into features, design and tech specs, let's first start with the most important thing:
… the quality of the espresso.
A straight espresso shot — no milk or any other additions — is the key. As it's the building block of any drink, be it an espresso itself or, what I believe most buyers will use the Z10 for, milk-based drinks such as Lattes, Cortados, Cappuccinos and Latte Macchiatos, among others, it must be up to the task at hand.
If the espresso shot is weak, or poor tasting then all bets are off. Milk will mask some of that thanks to its sweetness and slight caramelization effect when steamed, but a machine will never produce exceptional or even close to above average drinks if the espresso does not meet exacting standards — and that's what we expect at this premium level.
We setup a double blind taste test. Pulled a shot of about 1.5 oz espresso with the Z10, and then did the same with a traditional semi-automatic machine made by Italian legend Bezzera. We used a fresh batch of the much-loved Lavazza Super Crema beans on both machines.
The results, especially to this traditionalist skeptical of super-automatics, were… surprising.
Two judges chose the shot produced by the Jura on multiple rounds.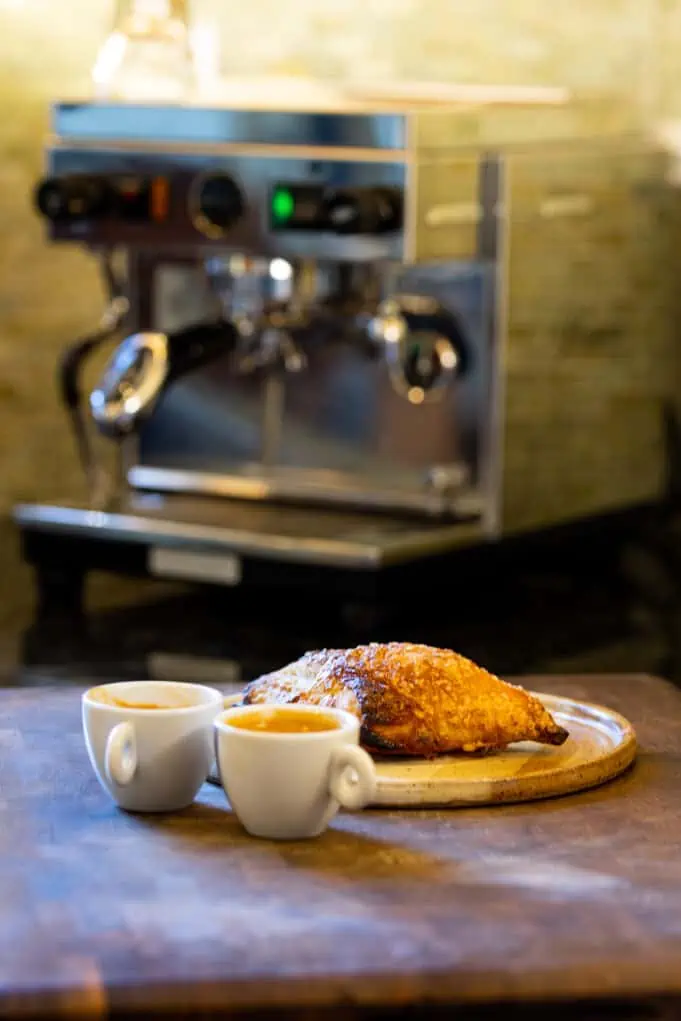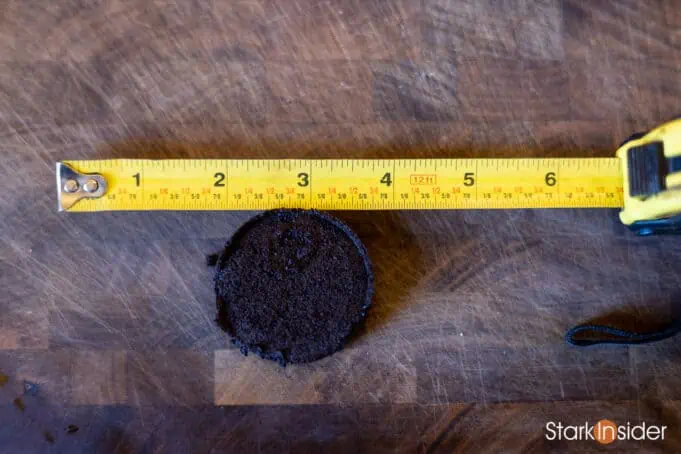 There was a clear distinction in flavor profile produced by the Jura vs. the semi-auto machine. Devoid of bitterness and sourness, the Jura shot was definitely Swiss in nature. That means smoothness, creaminess and none of the sharpness that was detected on the traditional shot. Some might prefer the Italian style shot with its aggressive pure espresso profile, while others will prefer the easier drinking characteristics from the Jura. The votes in this case were definitely for the latter.
Finally, it's worth mentioning that unlike some other Jura models the Z10 has a single, integrated brew head where both milk and espresso is dispensed. For example, on the S8 and E8 you need to place your cup under the middle spout for an espresso or to the right for one based on milk. A minor thing to be sure, but we prefer the integrated spout as it makes for easier cleaning (one vs. two) and simpler operation — you won't make a tired mistake in the morning and place your cup under the wrong one.
Jura Z10: Features and Design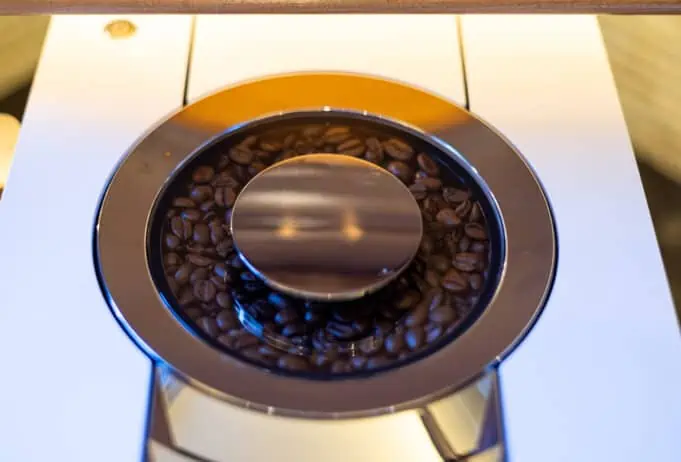 Beautiful user interface with stylish icons and helpful information

Drip tray and drawer is easy to remove and clean

At 81 ounces (2.4 liters), the water reservoir is generously sized and easily accessed on the left side of the Z10

Barista lights are slick

Convenient by-pass chute for decaf coffee

In our tests the grinder performed flawlessly

Cold Extraction Process delivers tasty cold brew drinks

Power switch is at the back of the machine and awkward to reach
Aesthetically the Jura Z10 is perfection personified. Lines are clean and modern. Lighting (water tank, and barista) adds a nice touch and practicality as well when working in darker spaces. A touchscreen up front invites the user to engage, perhaps even teasing a special experience — and later smartly turning into a screen saver featuring delicious looking espresso drinks.
Yes, there's a lot of plastic (If you opt for Aluminum White you pay a $100 premium for an aluminum silver front panel that looks wonderful). But that's the nature of the super-auto category; you simply can't build these things out of some sort of metal or steel. We had no complaints however, as parts are easy to clean, such as the pull out drip tray that also reveals a used puck dispenser which is easy to dump into the garbage or re-use as garden fertilizer.
At 27 pounds, there's a welcome heft to the Z10. However, it can make accessing the bean hopper tricky if you're operating under cabinets. Furniture sliders applied to each of the four legs may make working with it easier in these situations.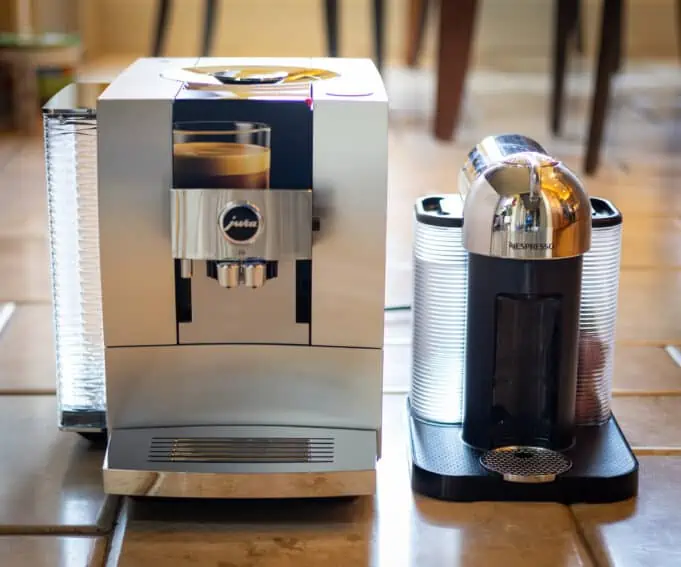 Reviewing every single feature on the Jura Z10 would likely take a mini-series and overwhelm. Instead let's look at a few key things that set this flagship model apart from its other Jura family members.
Product Recognizing Grinder (P.R.G.) — Basically this just means the Jura Z10 grinder will adjust the grind according to drink type. For instance, for espresso it will grind finer and for a longer, coffee-like drink it will grind coarser. This is desirable as it really helps dial in the appropriate flavor from the beans. In our tests, it worked well and required no input from the user (unless you want to personalize which you can do while the machine is preparing a drink or by setting up custom drinks).
Cold Extraction Process — A first in the Jura line-up is the ability to make cold drinks. Choose the cold option and the espresso will come out around room temperature; quite handy if you're pouring espresso over some ice cubes to produce, say, an Iced Latte in the dead of summer. In this case the espresso won't melt the ice, and because the extraction is pulsed slowly the flavor profile is maximized. In our tests we were pleasantly surprised by the performance. Personally I prefer hot espresso, but I know especially here in the U.S. iced drinks are extremely popular. If you do enjoy them this is a huge leg up for the Z10 over the competition.
A few other design notes to point out.
The water tank is a generous 81 ounces (2.4 liters) meaning you won't need to refill it as often as some of the smaller ones found on other machines. You'll appreciate that, because this machines loves hygiene! A rinse cycle is performed after every drink and typically at machine start-up as well. If you make a milk drink, even if just one, you need to perform a daily 3-minute milk cleaning cycle. All of this, of course, requires water. Thankfully the tank is located on the left side and you can either fill it with a pitcher, or pop it out using a foldable handle and fill it directly under a spout.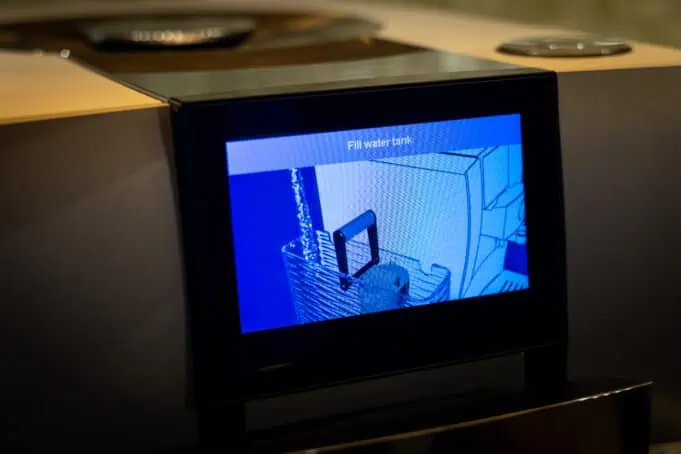 Jura includes a water filter with the Z10 which it calls CLEARYL. Amazingly, there's an embedded RFID chip in these which allows the Z10 to know when you're using one and when it needs to be replaced. If you do opt to use the filter (which we highly recommend to maximize longevity of the internals) then you get a nice bonus: descaling is no longer required.
Speaking of the Z10 knowing things. It knows a lot apparently. Sensors detect when the drip tray is full and when it's open. The machine also knows when the water tank is near empty. Same too for the bean hopper. Basically the Z10 is on top of everything. If something is amiss or needs attention you'll see notifications on the touchscreen that will readily prompt you through the proper course of action. We thought this level of handholding was well executed with nice graphics and text prompts to help you keep things humming along.
Jura Z10: Tech Specs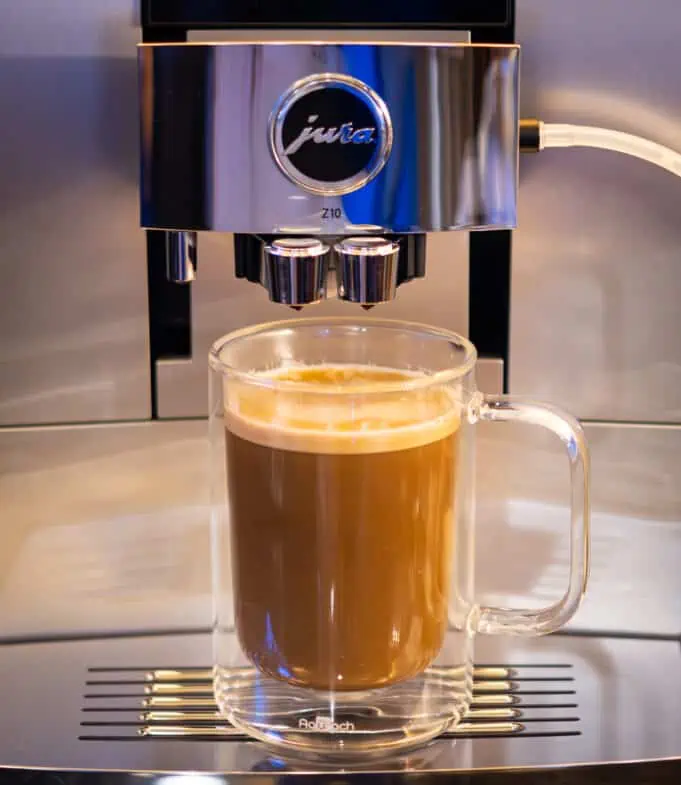 Released in 2021

Specs and features list is massive

Made in Switzerland

Acronym bingo!
When it comes to all the technical details and features, the Z10 could hold its own masterclass. You could probably spend hours studying all of this stuff. There's a lot. And Jura loves acronyms and cool marketing and engineering name-ology.
So you get things like P.R.G.! A.G.A.! JURA Cockpit! 3D brewing technology! P.E.P.! J.O.E.! HP3! I.W.S.! E.S.M.!
You see what I mean? Maybe the Jura marketing and engineering teams had one too many drinks from its own machines during some of these product brainstorm sessions. It does make for some compelling copy.
Regardless, the key takeaway is that all of this technology and jargon somehow, some way does indeed come together into a cohesive whole. I discovered in practice you really don't need to know what any of this means to use the Z10. Just turn it on. Place a cup under the spout. Choose your drink of choice and tap the icon. Done.
Practically speaking the Jura Z10 is much larger than something like a Nespresso or Keurig. That's because the unit needs room for the grinder and tamping and brewing systems. A lot goes on inside. Be sure you have enough cabinet clearance as the Z10 is just over 14″ tall — which should be fine for most kitchens. Also, this is a deep machine at over 18″ so that's another consideration if you're tight on space.
KEY SPECS

Jura Z10 Automatic Coffee Machine

Model year: 2021
Dimensions (W x H x D): 12.6 x 14.2 x 18.5 in. (32 x 36 x 47 cm)
Weight: 27 lbs (12.3 kg)
Country of production: Switzerland
Milk system: HP3
Heating system: thermoblock
Display: 4.3″ touchscreen color display
Energy consumption: approx. 6 Wh
Water tank capacity: 81 oz (2.4 l)
Bean capacity: 10 oz (280 g)
Height adjustable/width-adjustable dual spout: 3 – 5.9 in / 0.9 – 2 in (78 – 150 mm / 24 – 50mm)
Cord length: approx. 47 in. (1.2 m)
Water filter: CLEARYL filter cartridge with RFID technology
WiFi: Yes — JURA WiFi Connect
Drink specialties: 32
Cold brewing: Yes
Preheating: Yes
Automatic grinder adjustment: Yes
Active bean monitoring: Yes
Monitored drip tray: Yes
Amber/white cup illumination: Yes
Water tank illumination in blue: Yes
Programmable and individually adjustable coffee strength: 10 levels
Programmable amount of milk /milk foam: Yes
Programmable milk / milk form temperature: 10 levels
Programmable brewing temperature: 3 levels
Programmable hot water temperature: 3 levels
Energy Save Mode (ESM): Yes
Programmable switch-off time: Yes
Jura Z10: User Interface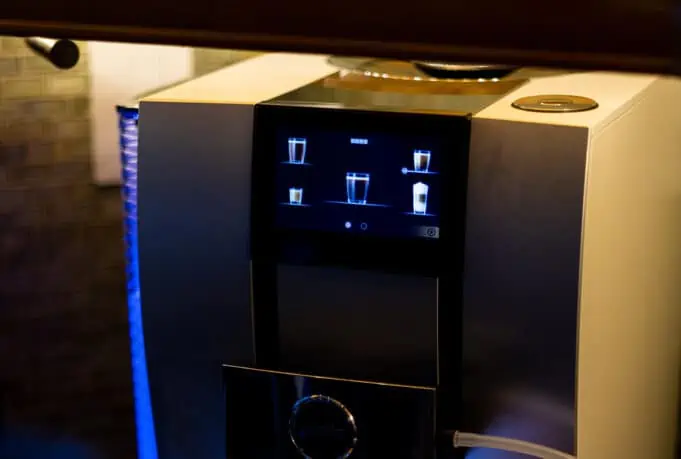 Beautiful and easy-to-use 4.3″ touchscreen with a couple of caveats

Plenty of drink personalization options including strength, volume and temperature

Step-by-step on-screen guides for things like maintenance

On-the-fly drink customization

Smart mode prioritizes your most commonly brewed drinks and it works well
Jura really flexes its chops when it comes to the whole user experience. While it's not perfect (we definitely have a few nitpicks), it looks spectacular and is relatively easy-to-use.
Here, I think commonly cross-shopped Miele is at a significant disadvantage unfortunately due to a dated and mostly text-based interface. Jura definitely feels fit for the iPhone and touch-interface era. Simply touch a drink icon and the brewing process begins. Tap the top four dots at the top ("Specialty Selections") to access customizations when you can specify options including: Cold Brew, Extra Shot, Double product or Ground coffee (to use the bypass chute instead of the bean hopper).
Further, the Jura Z10 has a "Rotary Switch" on the top right which also acts as a button. Rotate the switch and drink choices will fly across the main display. Push the switch and you get access to the JURA Cockpit which is the place where you can change machine settings (green), perform maintenance (blue), and check Wi-Fi and filter status. In this menu you'll also find something called "Smart mode." When enabled Jura will automatically place your most commonly made drinks front and center on the home screen. In practice we found this worked extremely well. Our Cortado soon enough found its spot dead center so we could easily see it first thing in the morning without any scrolling or menu diving.
Personalization is really easy. If you want to tweak a recipe, simply long press an icon. From there you'll find a variety of options to rename a drink, or remove it, or change the product settings. In the latter you can adjust drink strength (equivalent to espresso dose, from 5 to 16 grams), drink volume, milk volume and froth volume. In addition you can, depending on the drink, change things like grind size and temperatures. There's a lot to discover and adjust here if you're the tinkering type. If not, you can ignore all this and use the included presets for all 32 drinks which we found pretty much on point.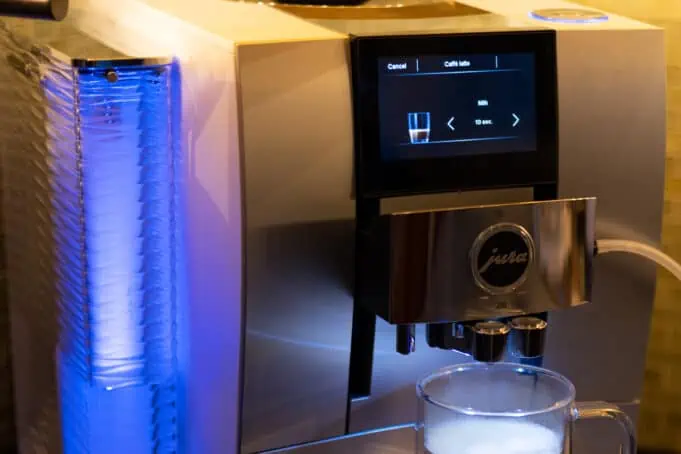 I like that when making a drink you can adjust some parameters on the fly without needing to use menus. When a Café Latte is being brewed, for instance, you'll see options on the touchscreen depending on the phase. During the espresso pour you can tap to adjust the strength and volume, as well as for the milk. This is great if you feel like modifying your regular drink of choice depending on your mood without doing any sort of programming. I'd imagine this could be handy when you're throwing a party and guests want to personalize a drink, but you don't necessarily want to save it as a permanent selection. Convenient indeed and well thought out.
On the downside, the display somewhat deceptively appears as if it will function like a phone. That is, you think you can swipe across the screen to flip to the next page. However, more often that not that just triggers the start of a drink — which was often hard to cancel. As a workaround, I found tapping the page buttons on the bottom was an easier way to change pages and reveal more drink selections.
Overall, however, the Jura user interface is outstanding. There's a lot of options so it may take a few days or maybe even a week or so to feel absolutely comfortable navigating all that's available. I've never seen a better user interface or experience on any other super-automatic espresso machine.
Jura Z10: Making an Espresso Drink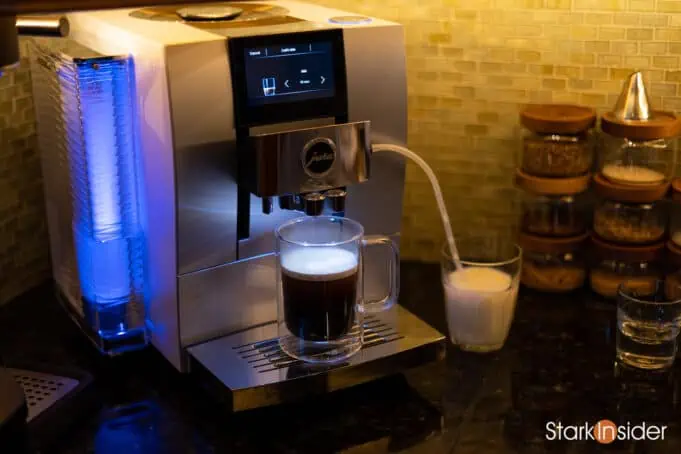 Making an espresso drink on the Z10 is truly a one touch process

Be aware of rinsing cycles though

For milk drinks be sure to attach a milk container (strangely, Jura does not provide one)
Making an espresso drink on the Jura Z10 is expectedly easy. As it should be!
In summary:
Turn on the machine using the switch located on top of the back-left; you'll see the Jura logo followed by a heating icon indicating the machine is warming up
Once operating temperature is reached which is well under 30 seconds a short rinsing cycle may be performed (it all depends if you ran one after last using it) and it will dispense a small amount of water into the drip tray or a glass if you prefer
Then you'll see the drink menu and some pretty beverage icons
Place the appropriate-sized glass under the spout
If you're making a milk drink, be sure to attach a milk container to the included hose
Tap an icon
Your drink is made with the Z10 providing real-time updates on the touchscreen
That's it
As the drink is prepared you'll hear your automated barista go to work: grinding beans, tamping an espresso puck before then brewing the drink and steaming and frothing milk as needed. This is the bean-to-cup experience. You're getting real, fresh espresso, not a hybrid coffee/espresso mash-up found on capsule-based systems.
Regarding noise, we are pleased to report this is a quiet machine. Grinding is not loud. Though it obviously does make some sounds, we found them far less loud than dedicated espresso grinders. Unless you're in the same room using the Jura for an early morning wake-up call this likely won't wake up family members.
Jura Z10: Drink Menu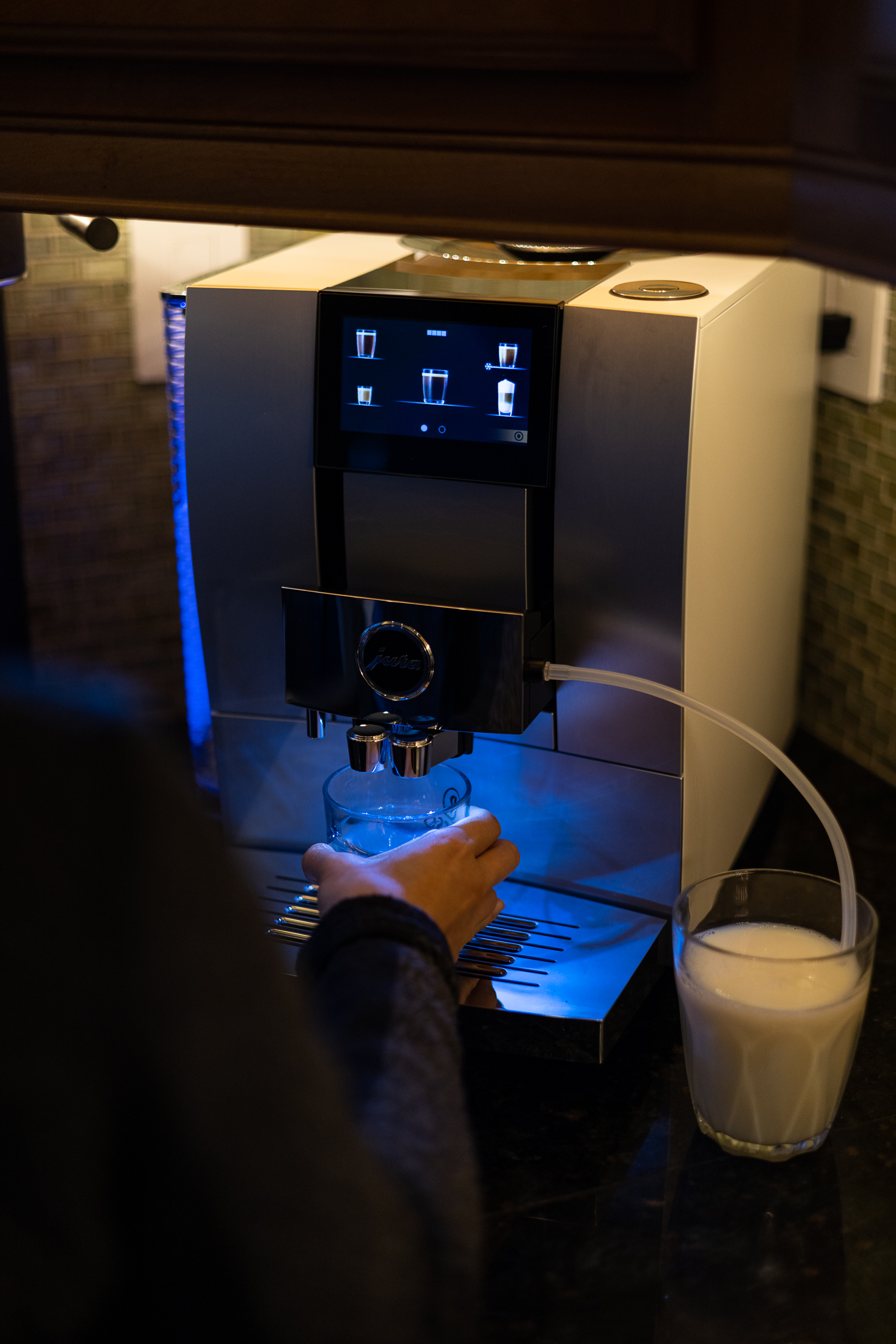 32 drink choices

Options for cold brew, extra shot, double product (two times in succession), ground coffee chute
A total of 32 drink choices are on offer from the Jura Z10. You can even make a "jug of coffee."
Note that Jura's list does double count drinks with extra shots or cold brews, some of which we instead placed on the same line below for clarity. In any case, are you ready? There's no shortage of choice, the Z10 makes just about everything under the sun. Away we go, here's the complete list of drinks you can make with a Jura Z10:
Espresso / 2 x Espresso (1.5 – 2.5 oz)
Cold Brew Espresso (1.5 – 2.5 oz)
Espresso Doppio
Caffè Barista / 2 x Caffè Barista (usually 5 oz)
Americano / 2 x Americano (usually 7.5 oz)
Coffee / 2 x Coffee (usually 4 – 6 oz)
Cold Brew Coffee (usually 4 – 6 oz)
Jug of Coffee (up to 80 oz)
Macchiato
Cold Brew Macchiato
Cortado
Cold Brew Cortado
Caffè Latte
Caffè Latte Extra Shot
Cold Brew Caffè Latte
Flat White
Flat White Extra Shot
Cold Brew Flat White
Cappuccino
Cappuccino Extra Shot
Cold Brew Cappuccino
Latte Macchiato
Latte Macchiato Extra Shot
Cold Brew Latte Macchiato
Portion Milk
Portion Milk Foam
Hot Water for Green Tea
Hot Water
Jura Z10: Milk Quality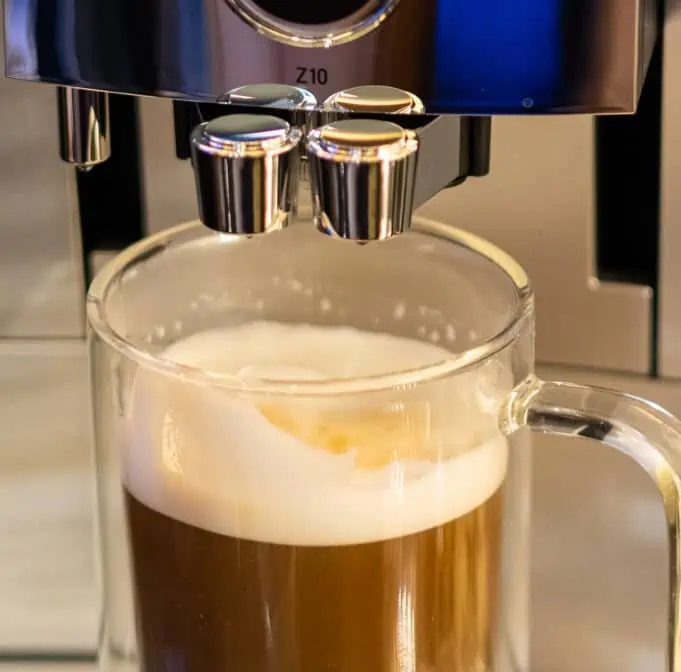 Real steamed milk

Outstanding micro foam
Quality of milk is an important topic. If the espresso is great, but the milk is lacking than the system is a failure. Both need to be top notch to make outstanding drinks.
Here the Z10 has a trick up its sleeve, and this is worth noting if you're researching other machines made by Philips/Saeco, Gaggia and others.
That is the Jura Z10 can both froth and steam milk. Most semi-autos can only do the former. Also, most milk accessories like the Nespresso Aeroccino can also only produce froth — and use high speed centrifugal force to generate texture. But most can not steam milk.
Why is this so important?
Steam has a particular effect on milk. It opens up some sweetness by doing something akin to caramelization. This effect is essential to producing a creamy and delicious Latte or Cortado or Flat White. Without the steam component you do lose some of the flavor potential.
On the topic of milk, know that Jura does not provide a container. Which is… odd.
In our tests, we found the Jura Z10 produced outstanding micro foam as well as milk steam. I particularly enjoyed the results of the Cortado which is an approximate 1:1 ratio of espresso to milk. The Z10 first pours the espresso, then adds a small dollop of micro foam before a quick steam on the finish. An outstanding result and one of my favorites. A drink that's not straight espresso, but not as milky as some of the longer milk-based drink such as a Café Macchiato.
On the topic of milk, know that Jura does not provide a container. Which is… odd. At this price point you'd think they'd be generous enough to throw in a Jura-branded milk container? Miele does. It's a little bit cheap if we're being up front about things. You can buy one from Jura for $49. Or you can also simply dip the hose in a jug of milk or even a glass or container of your choice.
I should also point out that Jura offers a mini milk fridge in various sizes that keeps milk cold throughout the day. Called Cool Control, this could be a valuable accessory for busy households producing lots of milk-based drinks or even for small offices, IT departments (caffeine mandatory!), law firms, dental practices and the like. Worth considering if you want to save wasting time on multiple back-and-forth trips to the fridge.
Jura Z10: Cold Drinks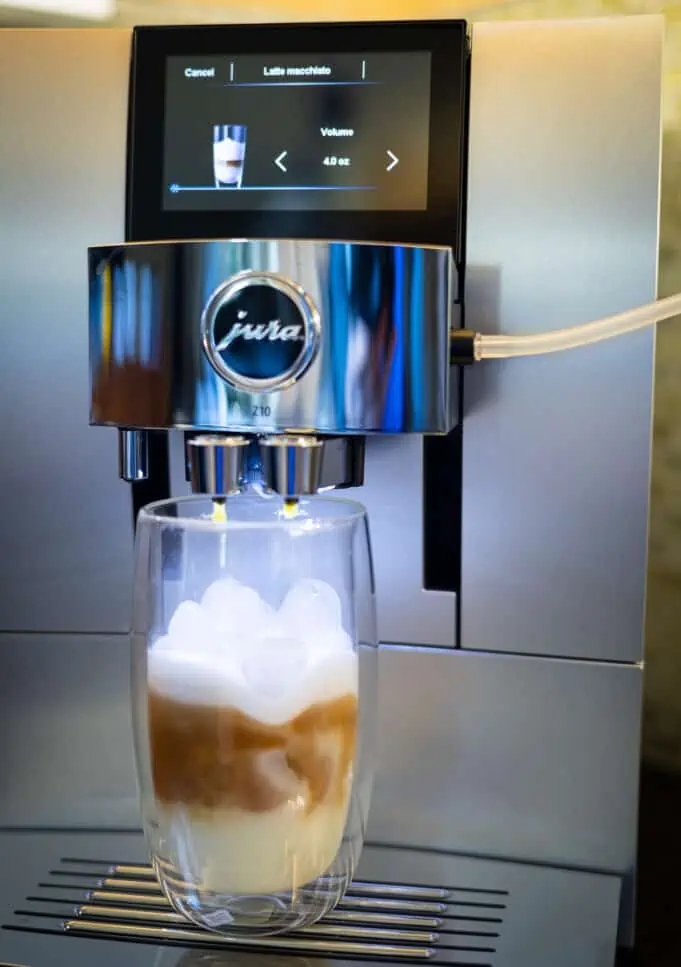 8 available cold brew options

Espresso is brewed near room temperature using a slower extraction process
Cold brewing is a marquee feature of the Z10. To specify a cold drink selection you simply tap the four squares at the top of the home screen to access the "Specialty Selection" menu where you can then choose "Cold Brew". Once selected you'll see a tiny snowflake next to drinks that are offered as a cold brew choice.
Cold brew options on the Jura Z10 include the following:
Espresso
Coffee
Latte Macchiato
Cappuccino
Flat White
Caffe Latte
Cortado
Macchiato
All told, 8 drinks can be served cold style — aka with espresso brewed at near room temperature.
We tried several. One of our favorites was an iced Latte Macchiato (seen in above photo). Thanks to a healthy volume of milk and froth, combined with some ice, we found it refreshing and flavorful, even when served with no sweeteners or additional syrups.
Jura Z10: Maintenance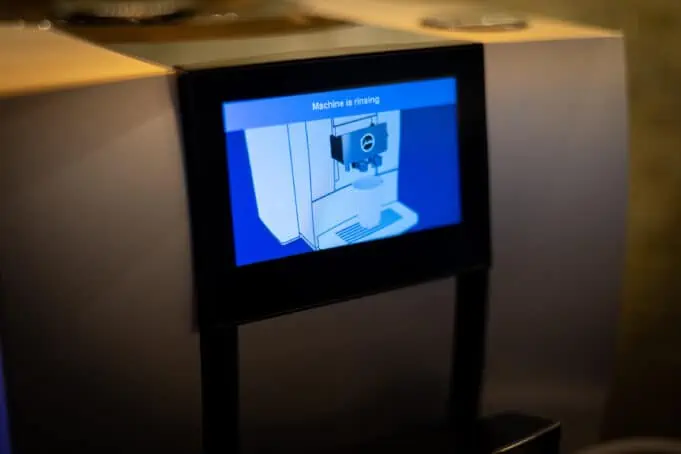 Lots of rinsing; expect to use quite a bit of water

Daily milk system cleaning required if even a single milk drink is made

Also don't forget to budget: cleaning pellets, water filters, milk hoses
Alright, it's all fun and games until it comes to a discussion about maintenance.
My Dad once said "there's no such thing as a free lunch" and that's the case here with the Z10. And, frankly, with any super-automatic espresso machine, or even a traditional one for that matter. Maintenance is a necessary reality.
There's just no escaping the fact that the machine needs to be cleaned on a regular basis, especially more so if you make even one milk-based drink in a day.
Thankfully, Jura makes it easy. About 8 minutes after you make a drink the Z10 will run a rinsing cycle. Be sure to leave a glass under the spout or you can just let it drain into the drip tray. Don't be surprised if you hear the machine performing this process on its own — you don't need to do anything and this happens unattended.
My Dad once said "there's no such thing as a free lunch" and that's the case here with the Z10.
For the milk-cleaning cycle you do need to play custodian. Basically, at the instruction of the touchscreen you'll place a small plastic cleaning container on the drip tray, attach the milk hose, and add a single dose of cleaning solution (one bottle is included). When ready, tap the screen and the Jura will rinse the milk system for about 3 minutes.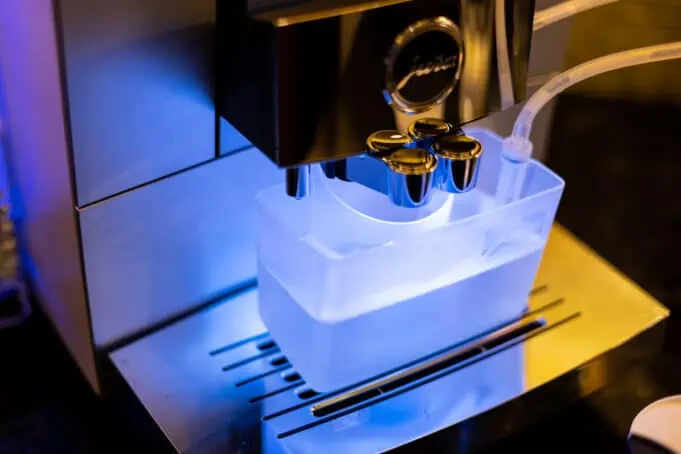 From time to time you'll need to place a cleaning tablet into the coffee chute located at the top back of the machine to run an internal cleaning cycle.
Also, Jura recommends changing the milk pipe HP3 — the hose that connects your milk container to the machine — every 3 months.
So, yes, this is a one-touch bean-to-cup wonder that will serve up your favorite drinks 7/24, but it will require some TLC in return. I think it's a fair trade-off. Still, it's something to be aware of: you do need to keep the machine clean and well maintained if you expect longevity.
Regarding maintenance costs, here's some key consumables to factor into the operating budget of the Jura Z10:
(prices in USD)
Milk pipe (hose) HP3 // $30 every 3 months
Clearyl water filter cartridge // $25 every 6-12 months
3-phase cleaning tablets // $45 (25 count) as needed depending on drink volume
Milk system cleaning tablets // $30 (180 g bottle) daily when at least one milk-based drink is made
Don't forget you'll also need to regularly empty the drip tray and coffee grounds container in addition to re-filling the water tank.
Tip:

If you're using the Jura Z10 in an office or small business environment you may want to create a schedule and assign maintenance duties to staff on a rotating basis.
Jura Z10: Wi-Fi and J.O.E. App
Jura needs to do better
Okay, now for some not-so-good stuff about the Jura Z10. That would be Wi-Fi connectivity and the J.O.E. (Jura Operating Experience) app. Take a look on the Google or Apple app stores and the reviews will essentially tell you everything you need to know.
In theory, the Z10 connects to your home Wi-Fi which then enables you to use your phone to control the machine. You can order up drinks, change settings and all that sort of stuff we've become accustomed to doing with smart home devices.
One slick (literal) party trick is the ability to use your iPad or tablet or phone and pass it around to guests who can enter "orders" dialing in their personal tastes. The J.O.E. app, again, in theory, will queue these all up and perform the brewing automatically in order. That's very cool. In theory.
No question, this is an embarrassing blind spot for Jura.
In reality I discovered that the whole thing is janky. I was able to successfully connect the Z10 to my home Wi-Fi using the QR code and simple pairing process. But getting the J.O.E. app to discover it was an ordeal, even though both were on the same network. Most times it would not discover the Z10, failing time and time again. Then it would work. For a short amount of time before again failing.
No question, this is an embarrassing blind spot for Jura. They need to sort this out. There's no reason in today's day and age why this basic networking feature should not work perfectly every time. By comparison in our recent test of the La Marzocco Linea Mini we experienced absolutely zero issues with connectivity or the app.
Why then, given these issues, would we not knock off a star or even half a star in this review?
Two reasons.
For one, the Jura Z10 does its main job — producing espresso and milk-based espresso drinks — extremely well. If it's the one job to do it excels.
Secondly, in reality the app is not as useful as it might seem at first. That's because of the constant rinsing cycles needed. So if you're dreaming of remotely turning on the machine while in bed and ordering up a drink, you'll be disappointed. And that's because the rinsing cycle needs to first dump water hence you won't be able to leave a glass on the drip tray the night before and expect a delicious Flat White when you wake up. You have to physically be present to put that glass there after the aforementioned rinsing cycle is complete. Oh well. First world problems.
In the end I find the promise of the J.O.E. app intriguing, but the day-to-day practicality is lacking and not something that would make much sense, other than perhaps to save drink customizations more easily with the comfort of your phone.
Jura Z10: The Competition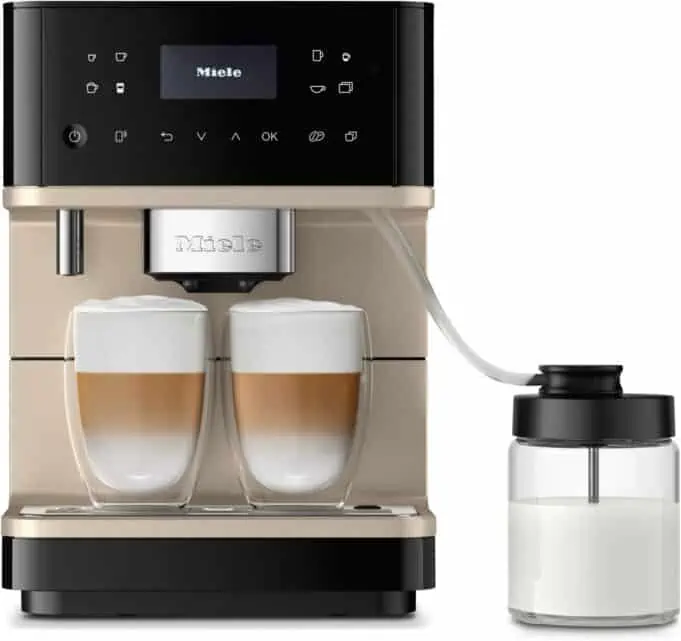 Scoping out some of the alternatives in the semi-auto market

Jura is one of the few — if the only one — that focuses exclusively on making automatic espresso machines
If you're cross-shopping the Jura Z10 to the competition and checking YouTube videos and various reviews you'll likely encounter some familiar names and maybe even some unexpected ones. Here's my thoughts on some of the competition.
Jura Z10 vs. Miele
Miele is a German powerhouse of a household brand that makes all manner of household appliances. And that includes semi-automatic espresso machines. Like Jura they tend to be positioned at the mid-to-upper tier of the market. The Miele CM 6160 MilkPerfection ($2,299) and CM 6360 ($2,799) offer similar features and should be considered. I like the cleaning system better on the Miele because you don't need to use a separate container. Rather the milk hose attaches to the drip tray for a much easier process. I prefer the espresso and milk on the Jura. By far. Same too with temperature. And, of course, the Z10 has the cold brew feature. I'd take the Jura. Still, Miele makes really well engineered products and I would definitely take a look at them, especially given their lower price points, and you can judge the espresso flavors on your own as palettes differ.
Jura Z10 vs. Philips/Saeco
Another giant in the consumer market, Dutch-based Philips recently acquired Saeco a known maker of super-autos for the home. Most of the Philips machines are using the Saeco brew unit, which is a good thing as they're quite well made and offered at very competitive price points. Specifically, the Philips 2200 LatteGo, 3200 LatteGo, and 4300 LatteGo are newer machines that offer integrated milk systems and touchscreen interfaces. Obviously, these are not in the same class as the Jura Z10, but they do make decent drinks. But, if you want the best, I find Jura quality is in a class all of its own. I say that as a skeptic coming into this review, having used my Bezzera semi-auto for 18 years and somewhat snobbishly dismissing these bean-to-cup machines for years until getting a dose of reality.
Jura Z10 vs. Gaggia
Gaggia is a storied Italian brand with a long history in the espresso business. I absolutely adore the Gaggia Classic Pro, which is a ~ $400 semi-auto machine that is simply amazing for the price. Gaggia too also makes super-autos like Jura. Look for the Gaggia Cadorna models which range from about $799 to $1249. Also there's the step-up Accademia at $2,499 which features a gorgeous glass front panel as well as a manual frothing wand you can optionally use to practice your home barista technique on weekends.
Jura Z10 vs. Nespresso 
Nespresso? Nespresso?! Why is Nespresso in this section on competition?
Because I think a lot of people who value simplicity and the promise of one-touch coffee will likely consider a Nespresso machine. Nespresso has done an outstanding job marketing its pod-based system and offers a massive amount of coffee choices, featuring an array of flavors and various sizes. Using a Nespresso machine is easy as it gets. There's a reason why they're so popular.
On the flip side, I suspect many people might be possibly considering moving on from their Nespresso machine. Maybe because they don't like the idea of pod waste and the possible negative impact on the environment. Or perhaps it's because those pods are expensive compared to a bag of whole beans. Or maybe it's because Nespresso actually doesn't make real espresso. Rather, Nespresso makes a quasi-hybrid concoction of coffee/espresso style drinks. That doesn't mean they don't taste good. I actually enjoy the 7.7 oz coffee drinks Nespresso produces with that foam on top. Not bad at all! However, if you want real espresso this isn't it. The Jura Z10 — and all of Jura's machines — make real espresso. That is, beans are ground and tamped just in time for brewing which yields a proper shot of fresh espresso. Whether or not this matters to you is a matter of preference. The Z10 costs a whole heck of a lot more so there's the budget factor as well. However, if you're dreaming of the ultimate bean-to-cup experience at the touch of a button, Jura is the answer.
Jura Z10 vs. Other Jura Models
Jura Z10 vs. Jura E8
Want to save a bit and don't need cold brews? Take a close look at the Jura E8. You'll give up some other features as well such as the smart grinder that adjusts based on drink type and there'll be a smaller list of drinks, but it might be worth it if you don't need every single fancy feature found on the Z10.
Jura Z10 vs. Jura S8
Same here. The S8, though, is a little older than the E8 but does have a neat, adjustable milk froth/steam knob not found on the E8 that allows you to customize milk delivery. Still, I'd opt for the E8 if I were comparing these two.
Jura Z10 vs. Jura ENA 4, ENA 6 and ENA 8
Check Costco for deals on the ENA line. I like these basic Jura machines as they still produce fabulous espresso, but cost way less than something like the Z10. One thing to watch out for is their small water tanks. You'll need to be refilling them a lot if you're making even a few drinks a day. I still like the value here. For example this Jura ENA 8 with glass milk container bundle comes in at $2,049 while this pretty Nordic White ENA 4 that only produces straight espresso beverages retails for the bargain price, by Jura standards, of $999.
Jura Z10 vs. GIGA
For office buyers looking for a workhorse Jura look to the GIGA. These are designed for higher volume environments. Also, they have dual hoppers so you can put decaf in one of them and have those available as an alternative choice and even mix the beans for 50/50 drinks. A nice option. GIGA machines are excellent choices for small offices, legal and accounting and dental practices, car dealerships, event pop-ups and so on.
Jura Z10: For the Home
The ultimate machine for the home, bar none
If you're looking to buy a Jura Z10 for the home you're essentially getting the best Jura has to offer. In our tests the Z10 did deliver on its promise of producing exceptional espresso drinks. Save for the Wi-Fi and disappointing J.O.E. app I suspect many will appreciate the enjoyment and convenience of this machine. It looks great in a kitchen, performs as expected, has a massive drink menu and fun touchscreen, and requires reasonable levels of maintenance. For home users the Jura Z10 is the pinnacle of home espresso.
Jura Z10: For the Office or Small Business
A worthy consideration for pop up events and smaller businesses as well

Larger volume environments should opt for a GIGA
As I mentioned earlier the Jura Z10 is even well suited for small office and pop-up situations. There's no reason why you couldn't place one in a break room and let employees enjoy a special treat. After all, why not keep them happy and caffeinated?! Keep in mind for larger volume operations Jura recommends the GIGA range.
Jura Z10: Review Summary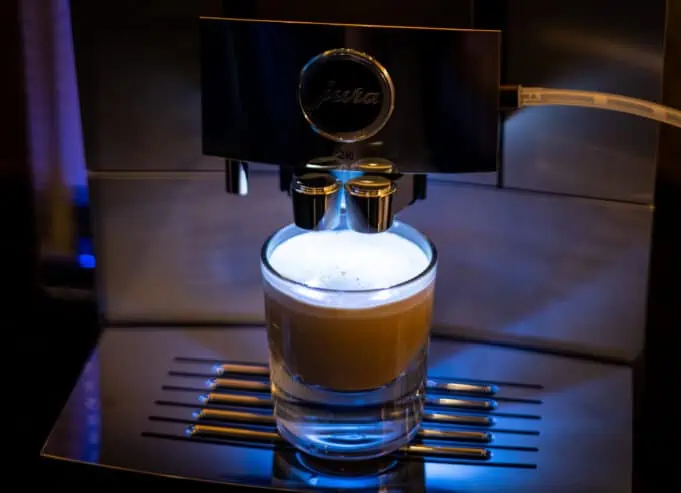 First class all the way

True Café style espresso lives up to its claims

Best-in-class touchscreen interface that has a few hiccups

Aesthetically on point — but do expect lots of ABS plastic

Automated maintenance is straight forward

I confess: this skeptic was smitten
To wrap up, Jura does one thing: make automatic espresso machines. And as we discovered in our time with the Z10 it does that one thing very well. All that experience in this market, having been refined over the years, results in a spectacular and unparalleled at-home espresso experience.
We noted above in our tests that the straight espresso shot really delivers. Smooth, balanced and enjoyable, with no bitter or sour notes to be found. Absolutely impressive — especially given that it won multiple double-blind taste tests against a barista-operated Bezzera machine using the exact same beans. True, the result is more Swiss than Italian meaning it's not as sharp or quite as strong, but it does make for truly creamy and delicious drinks.
The Jura Z10 user interface is fun to use, though it does require some practice to learn. If you're like me you'll probably inadvertently make a drink or two when practicing and trying to swipe between pages. But give it a few days or a week and you'll be fine.
There's simply no better semi-automatic espresso machine on the market today.
Drink customizations are extensive. No doubt you'll be able to fine tune your favorites in terms of strength (dose), volume and temperature. With the Latte Macchiato you can even set an interval delay after the milk pours to give it time to settle and separate before the espresso is added. This attention to detail is truly fantastic.
Then there's the look of the Z10. Pretty, modern. Slick LEDs for the water tank and barista lighting add excitement and make using the machine a lot of fun.
I came into this thing an admitted skeptic. I do enjoy pulling shots the old fashioned way doing all my own grinding, dosing and tamping. There's a certain satisfaction in that. Learning to master this mysterious art form has rewards all of its own. But, of course, it takes valuable time. For busy households there's simply not time to play the role of part-time home barista (maybe on weekends?!). The Jura Z10 buys you that time while not, as we discovered in our weeks of testing, compromising on quality.
Absolutely no question regarding our team's verdict: the Jura Z10 is the pinnacle of home espresso. There's simply no better semi-automatic espresso machine on the market today.
Jura Z10 Stark Insider Rating

Stark Insider awards the Jura Z10 5 out of 5 stars

Unequivocally recommended

The pinnacle of home espresso

Buy or Research: Jura Z10 Automatic Espresso Machine
FAQ: Jura Z10 and Jura Espresso Machines
What should I look for when buying an automatic espresso machine?
There's many factors to consider when shopping, price probably being first and foremost. Here's the criteria we use at Stark Insider to evaluate espresso machines including the Jura Z10:
Drink quality and selection – how many drinks can the machine make? Are there options for strength and volume and can they be personalized to taste? How good is the baseline espresso shot?

Ease of use – how easy is it select a drink and start the brew process? Is there a touchscreen or buttons and how difficult or easy is it to access customization options and settings?

Maintenance – how much do cleaning supplies and filters cost? Is it easy to remove the drip tray for cleaning? Are there clear instructions on when and how often to perform maintenance on the machine?

Quietness of operation – when the machine is brewing a drink how loud is the grinder and group head?

Price and warranty – of course you'll want to come under budget, and also be aware of the warranty and where the machine can be serviced if necessary.
What is the Jura warranty?
In the U.S. Jura offers a warranty for two years, or up to 6,000 coffee brewings, whichever comes first. If you're located in other parts of the world please check for your specific warranty as it may differ.
How do I clean a Jura espresso machine?
Cleaning a Jura espresso  machine is as simple as following the prompts on the screen. You'll need to use cleaning tablets to clean the milk system on a daily basis if you make at least one milk drink. Rinsing is done automatically by the Jura as needed. From time to time you'll need to run a tablet cleaning process to clean the internals. Again, the Jura will notify you when and how to perform this maintenance item.
How do I descale a Jura espresso machine?
Good news. If you use Jura's water filters (Clearyl on the Z10) you never need to descale the machine. Our recommendation is to use the filters to prolong the life of the machine and protect your investment.
Is owning a Jura expensive?
Price out cleaning supplies. Provide example annual schedule. My Dad always said "there's no such thing as a free lunch." And the same applies here.
How do I empty used coffee grounds?
Easy. To empty the coffee grounds container pull out the trip tray. Behind you'll see the used grounds in a container that pops out. Dispose of them into a waste container or use them to fertilize your garden.
How do I change the water filter on my Jura?
First, remove the water tank. The water filter is installed in a plastic container. Pull out that plastic container and twist open the top. Inside you'll see the filter which can then be removed and replaced.
How much do Jura replacement parts cost?
Replacement parts available direct from Jura are not too bad in terms of cost, we're actually surprised to say given the overall cost of Jura machines.
Examples:
Used Coffee Grounds Container approx. $10
Drip Drawer approx. $36
Cup platform approx. $30
How long will a Jura espresso machine last?
This is a hard one to answer. How often the machine is used will obviously play a big part. So too will the level of maintenance. Many have reported using Jura machines for 10-20 years. While others have needed to replace heavily used ones after about 7-8 years which is about where'd we rate these type of appliances. You can expect a semi-auto traditional espresso machine with a boiler and stainless steel construction to last longer. However, Jura quality is on par if not better than most of the competition.
Additional Jura Z10 and Espresso References
Buy or Find a Deal on a Jura Espresso Machine
You can occasionally find deals on the Jura Z10 and other Jura machines on sites like Amazon and Best Buy. Also try your local Costco store or Sam's or online — selection will be limited, but prices are usually competitive. High profile kitchen specialty stores that carry Jura include Williams-Sonoma and Crate & Barrel.
Amazon is likely one of the better place to shop online for a new Jura. Here's a few links below to help get you started. Note that I'd be careful buying through some of the lesser known 3rd party retailers on Amazon. Often they offer tempting discounts, but are of questionable pedigree and may be a hassle when it comes to warranty or returns. I highly recommend considering Seattle Coffee Gear or Whole Latte Love when selecting a seller on Amazon. Both have been around for decades and have solid reputations and good customer service (Stark Insider has no affiliation with them, just an opinion based on our real world experience).
Research or Buy a Jura Espresso Machine
Recommended Jura Accessories:
Recommended Jura Espresso Machines: