Here's the Stark Insider first look and impressions of the mighty Jura Z10 super-automatic espresso machine.
An emerging trend in the home espresso market is the rise of something called the super-automatic. Also known as "bean-to-cup" these espresso machines do it all: grind fresh beans, tamp an espresso puck, brew an espresso shot, and, even, steam and froth milk. All of it at the touch of the button.
Or, at least, that's the gist of the marketing angle.
As a diehard (and often foolhardy) home espresso fanatic, I'm attached to traditional semi-manual machines; those beautiful stainless steel machines that can really transform a corner in your kitchen into a small Italian café. A momentary joyous escape. I recently tuned up an aging Pasquini Livia 90 and adore it more each passing day — reliably producing outstanding espresso shots.
Now, here comes the super-automatic. Could it replace me? Sort of like an AI of the espresso world?
We just received a Jura Z10. This is the new flagship model for homes (they have separate lines for businesses and commercial applications). It's pricey. But it has a few tricks up its sleeve and may appeal to those who take their espresso and milk-based coffee drinks seriously.
First, it has cold brew technology. So it can make ice-based espresso drinks — just like you might find at your local coffeehouse or Starbucks.
Also, you can adjust grind size on the Z10 depending on the drink being made. For instance, you may want a fine grind for a straight espresso shot, whereas you might want that grind to be coarser on a longer drink, like an Americano or Cafe Latte. Of course of all this can be customized and programmed using a slick touchscreen interface. It's all a compelling if slightly over-the-top package.
So, here's 10 first impressions and takeaways from unboxing the Jura Z10 super-automatic expresso machine.
First Impressions: Jura Z10 Super-Automatic Espresso Machine
Jura Knows How to Market Espresso Machines
The packaging and branding is first class all around. Jura is the biggest and most well known brand in the world of super-automatics. The Swiss company was founded in 1931 so they've been at the espresso and home appliance thing for a while now.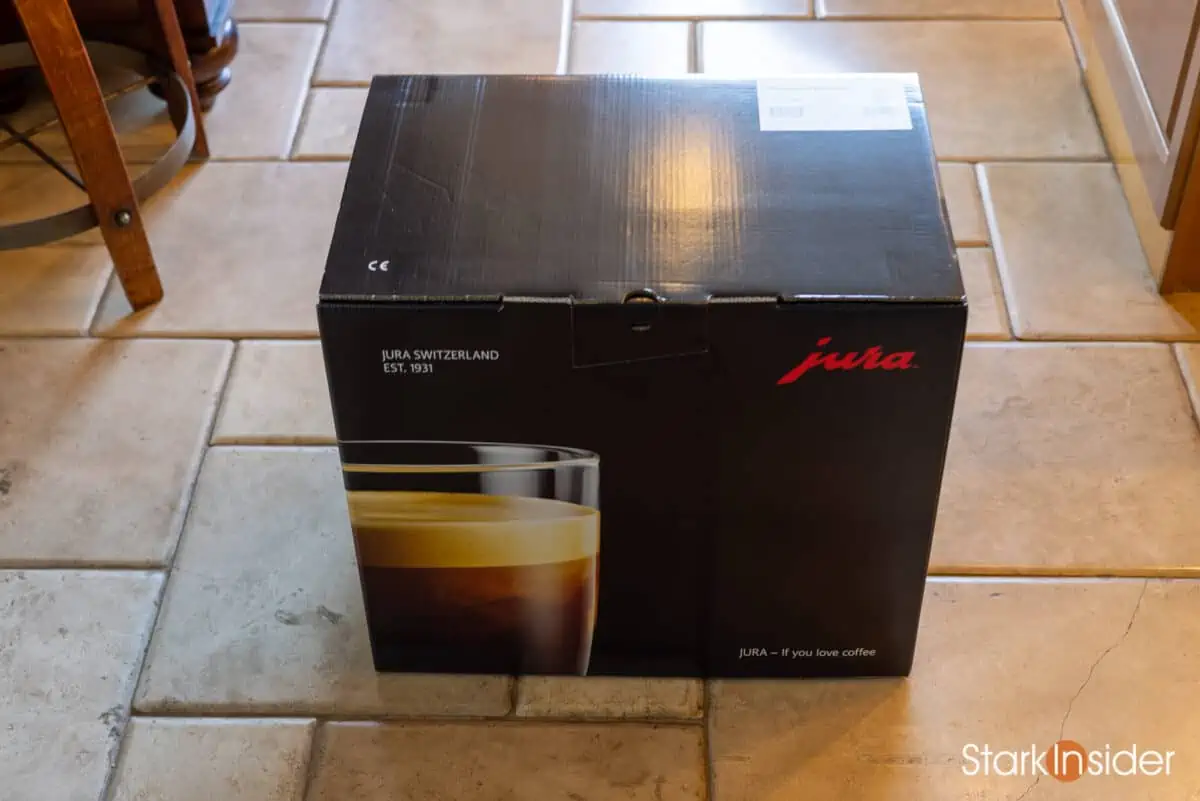 The Jura Z10 Arrived Double Boxed
This is the interior box (the other is a plain vanilla cardboard box). You can pop off some anchors on the left and right that then enable you to slide it up and easily access the contents.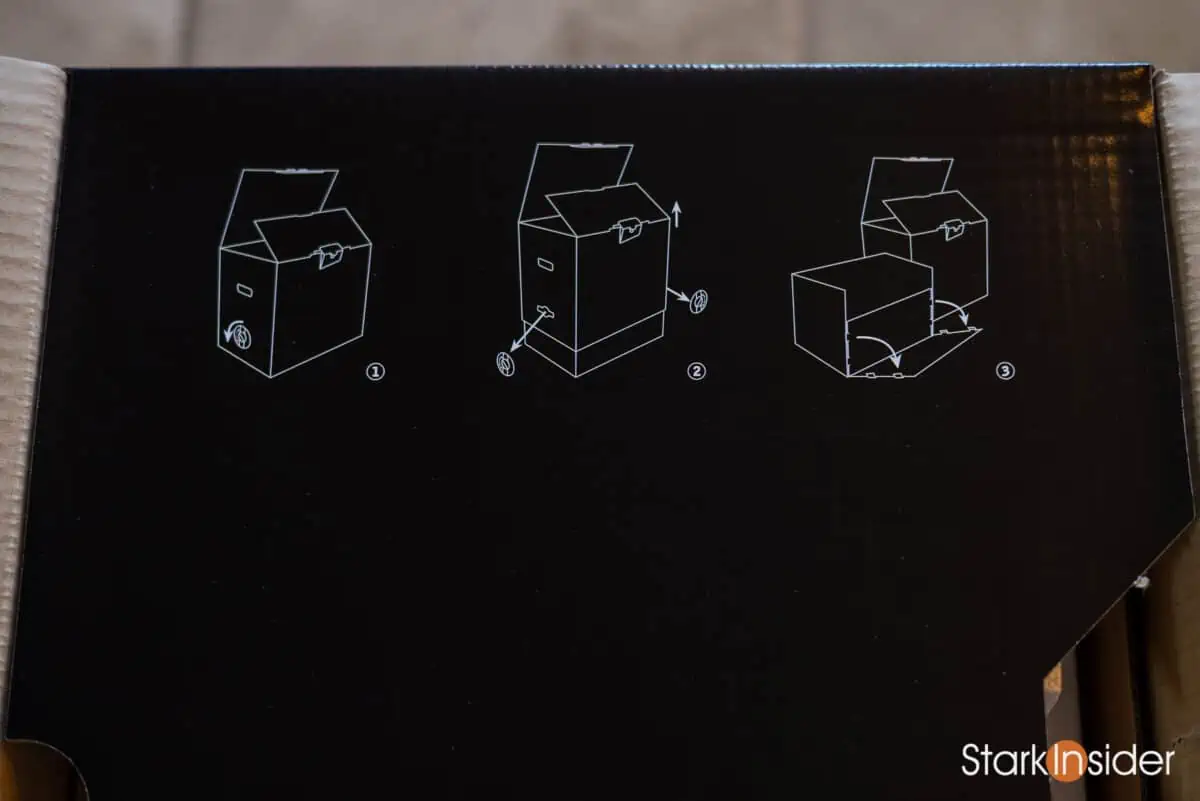 View From the Top
The Jura Z10 retails for $3,999 USD here in the United States. But look for sales where you can get discounts up to 15%. Costco also carries other Jura models for far less than the Z10, but with similar features and tech.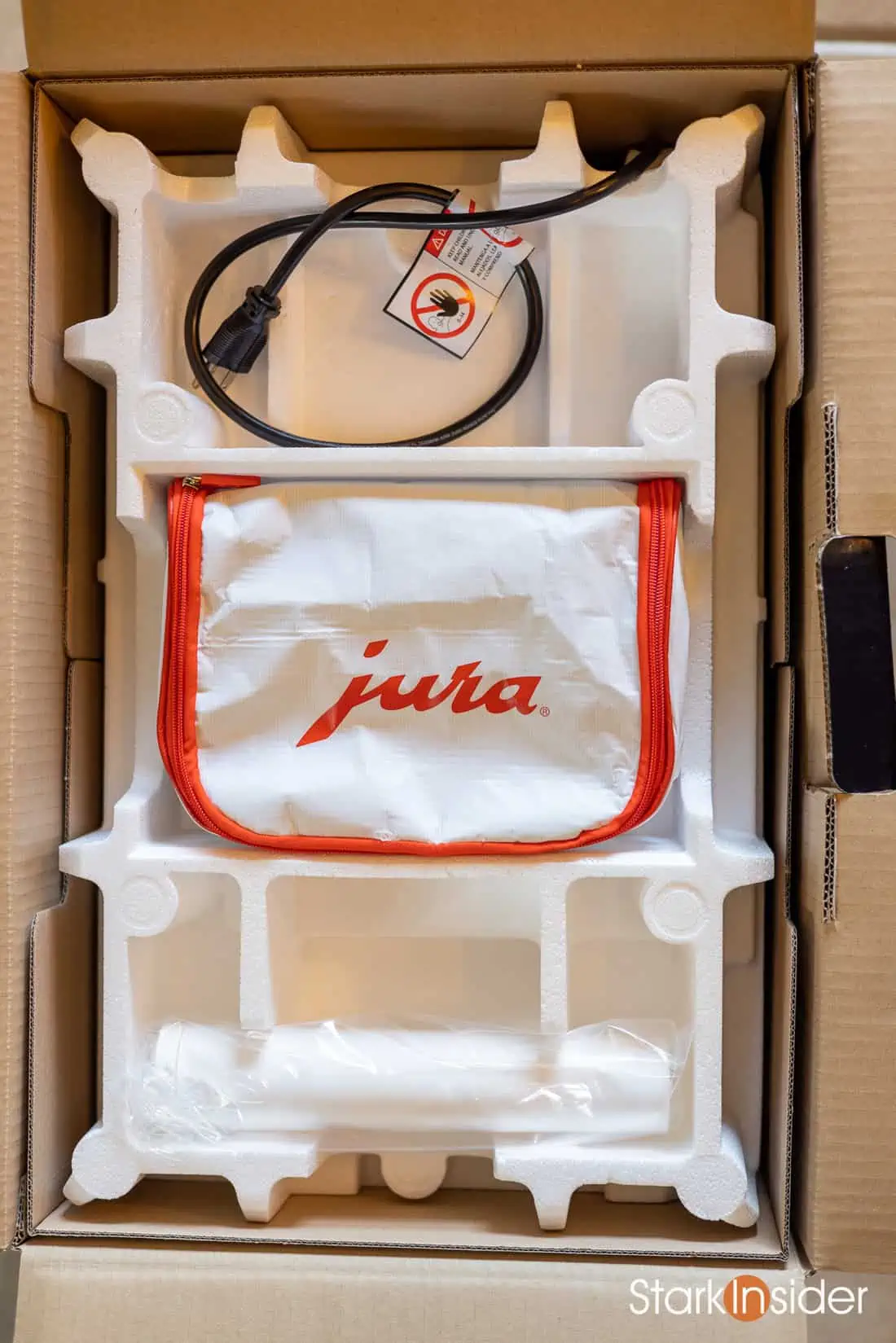 The Jura Z10 is Made in Switzerland
Jura manufacturers most of its products in Portugal or Switzerland. The Z10 is made in a factory in the latter.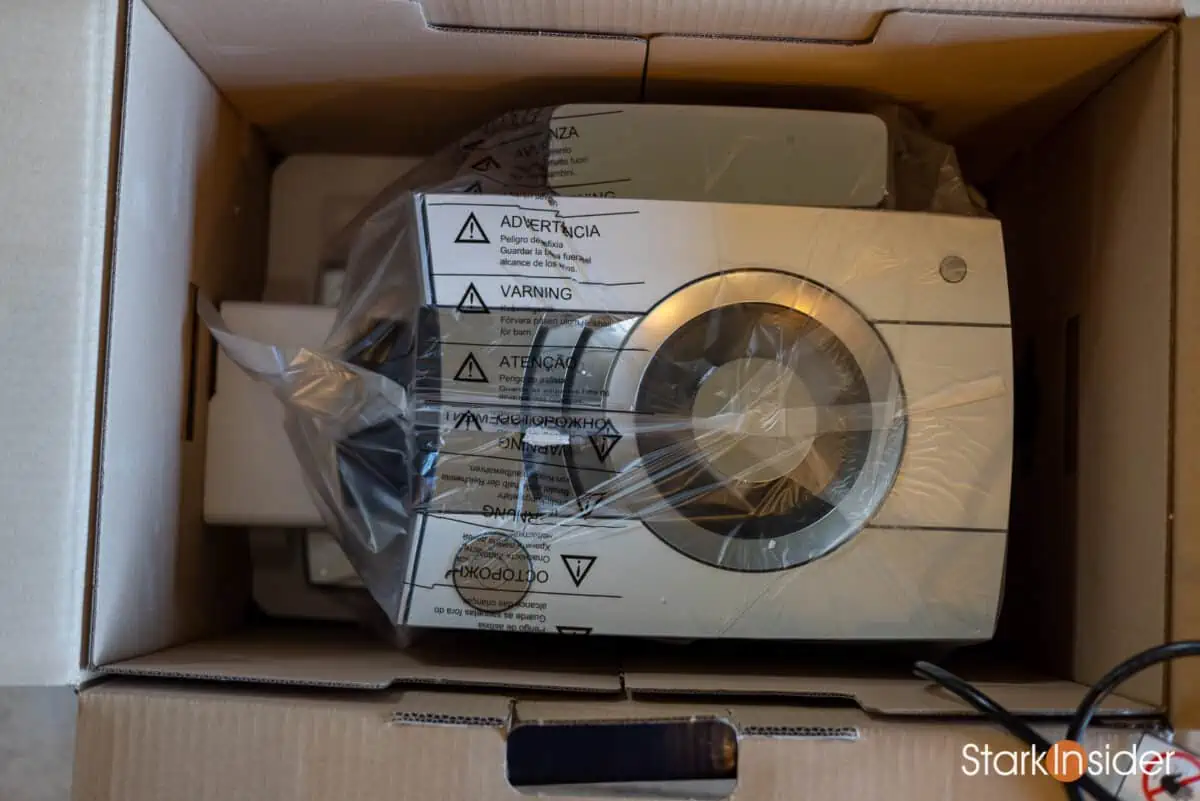 A Cute Jura Storage Bag
Very Swiss. This post-modern bag holds cleaning accessories, instructions and a water filter cartridge. It looks almost like a first aid kit, or maybe something a St. Bernard would carry?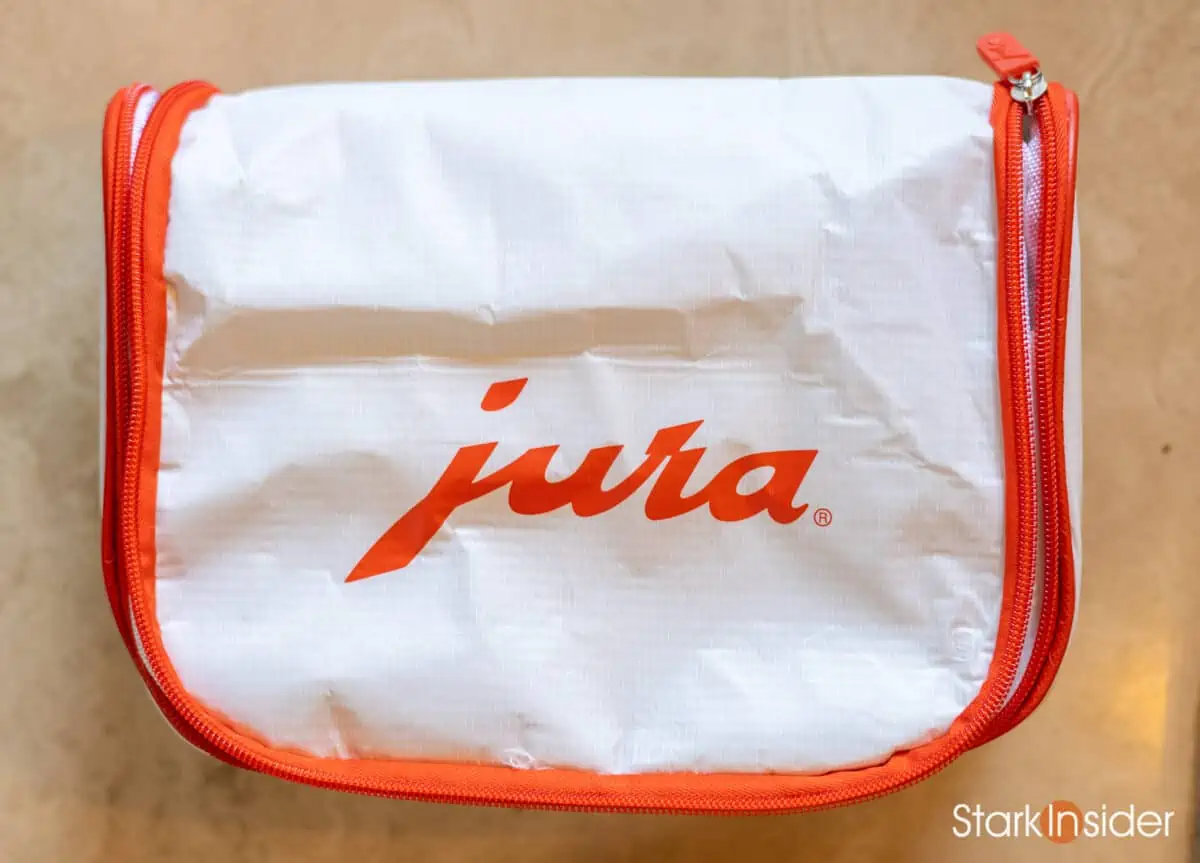 Jura Z10: Maintenance is Important
There's no such thing as a free lunch. And there's certainly no such thing as a maintenance-free super-automatic espresso machine. This "free sample" is a container of small milk cleaning capsules used to clean out the milk steaming and frothing system.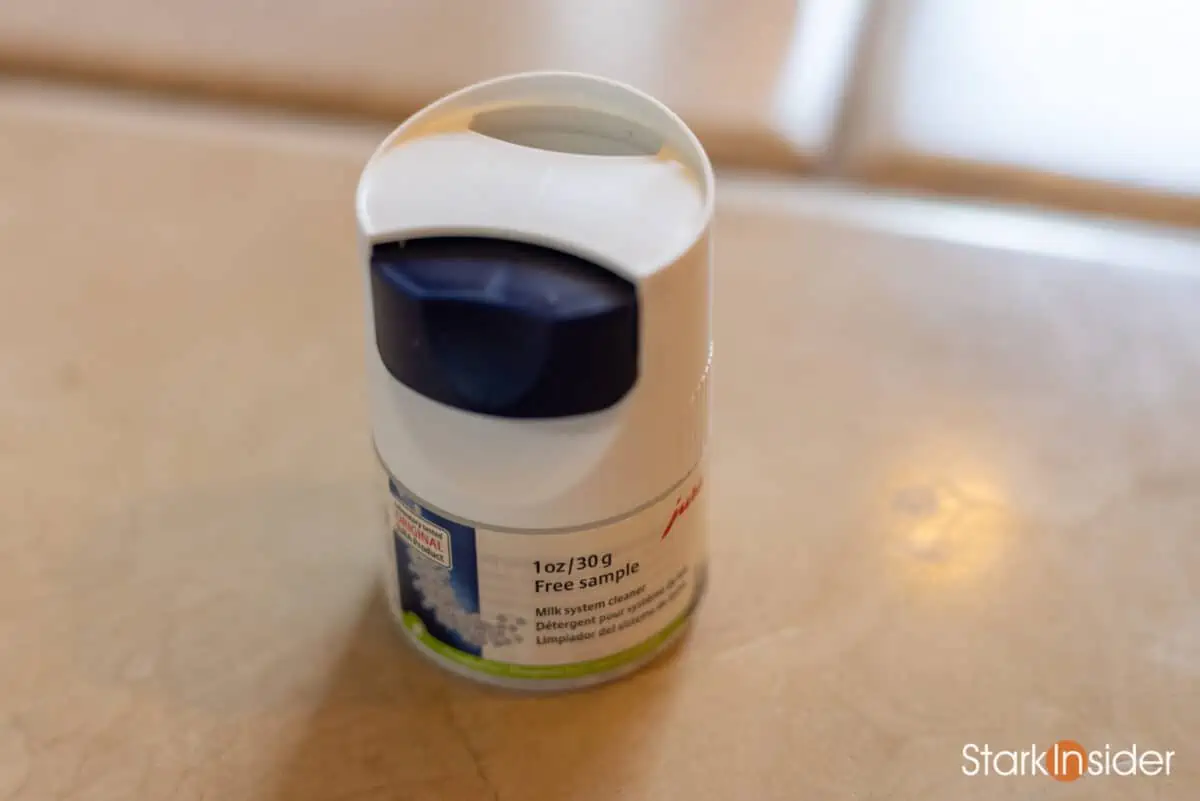 The Jura Z10 Features a Drink Counter
Jura will count the numbers and types of drinks you make. Factory tests mean the counter may show some usage prior to delivery. This is normal.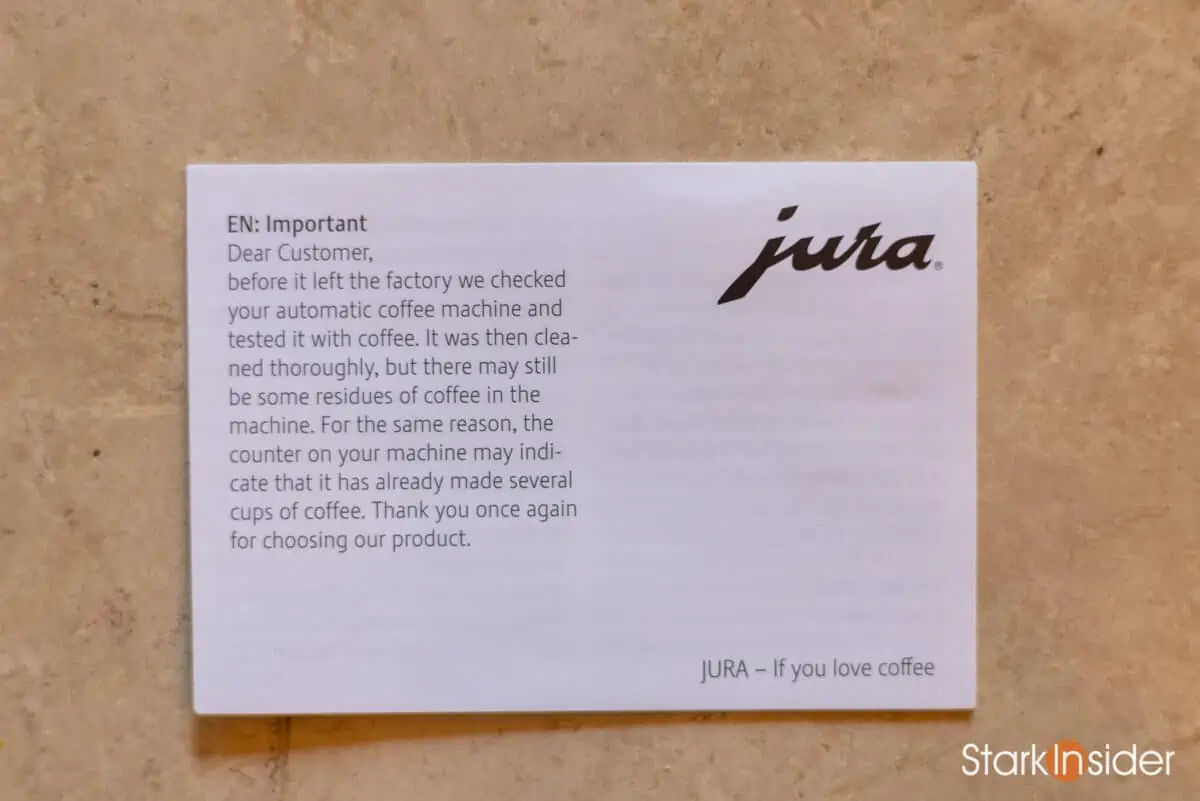 An Optional Glass Container For Milk is Available
This container is for connecting to the Z10 to make milk-based drinks and then for storing in the fridge when not in use. You can also opt to use a milk carton or almost any other container. You just drop the hose into whatever you choose.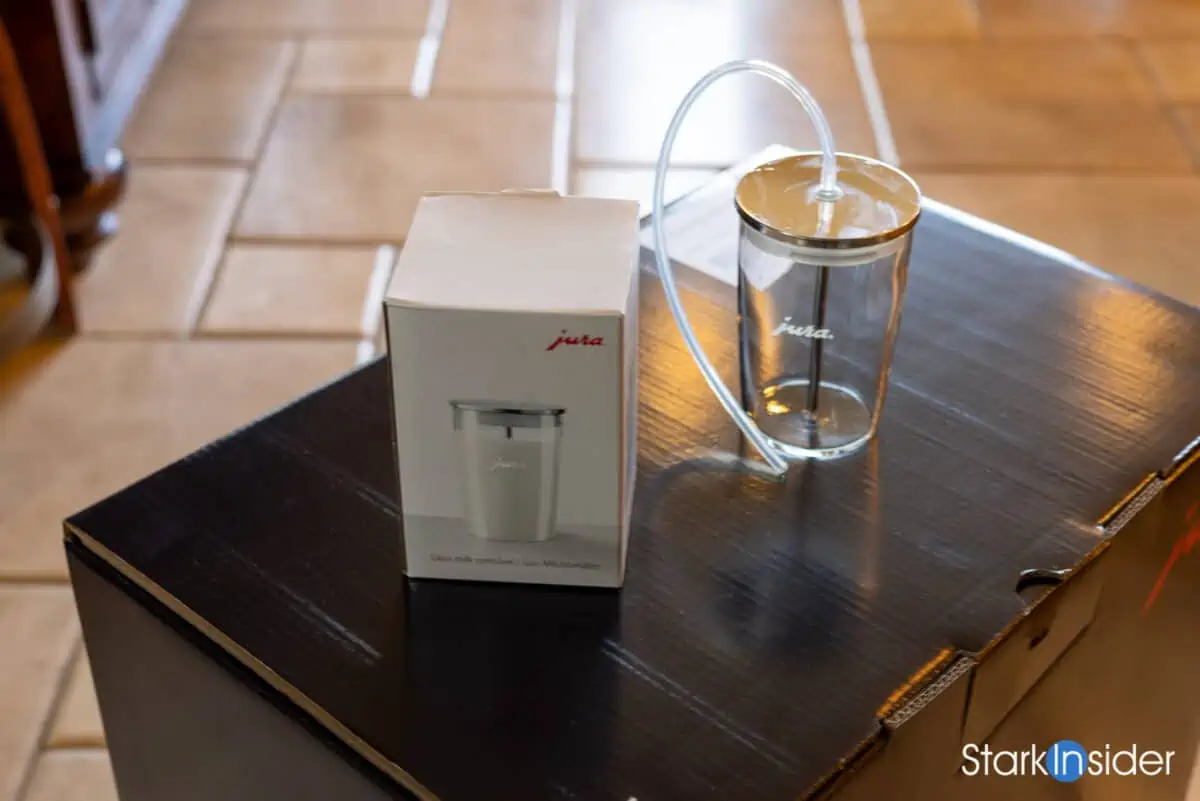 Jura vs. Nespresso Size Comparison
For fun I thought I'd snap a photo of the Jura Z10 next to a Nespresso Vertuo machine.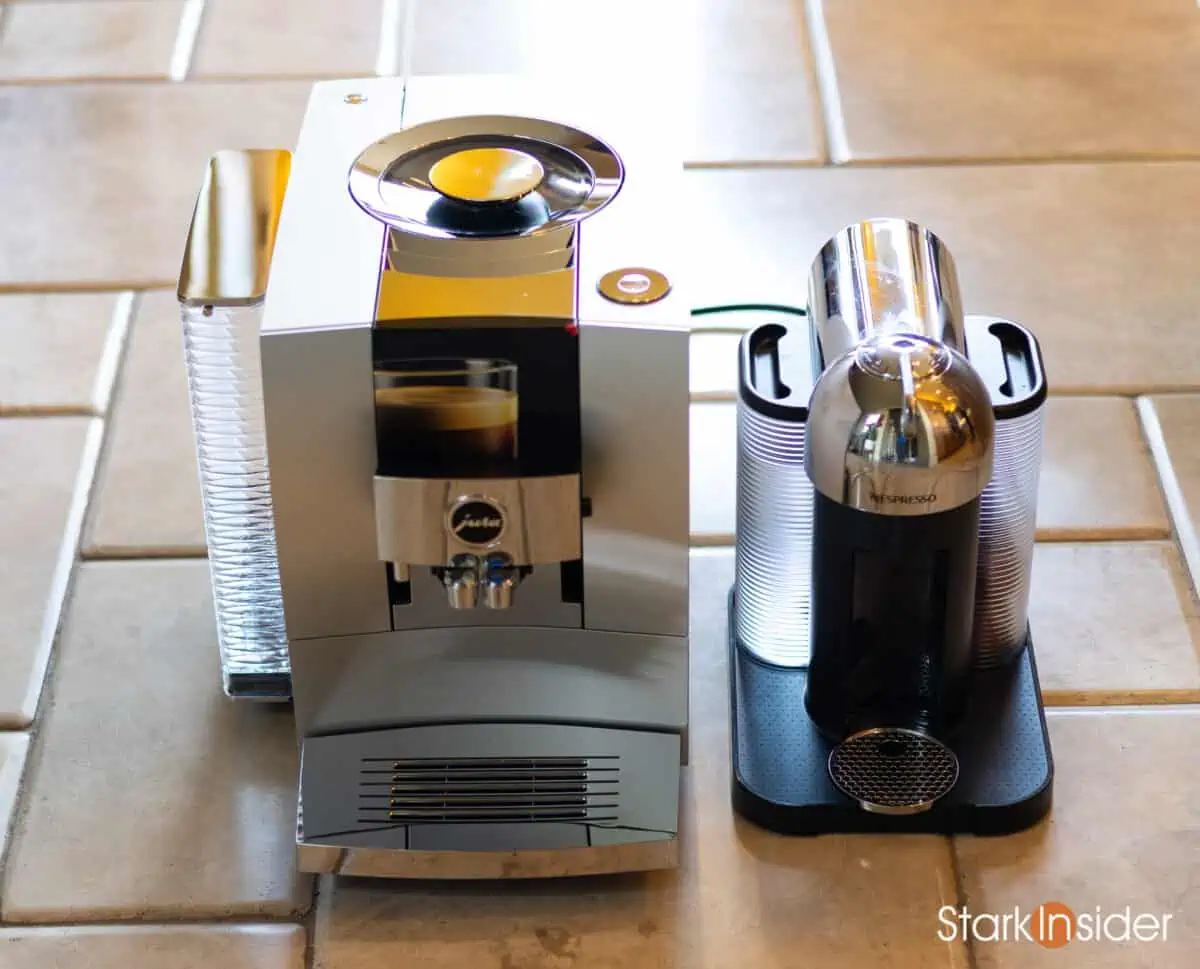 Jura Z10 Setup on Kitchen Countertop
And there it is, unboxed and making a Café Latte, cool LED lighting and all.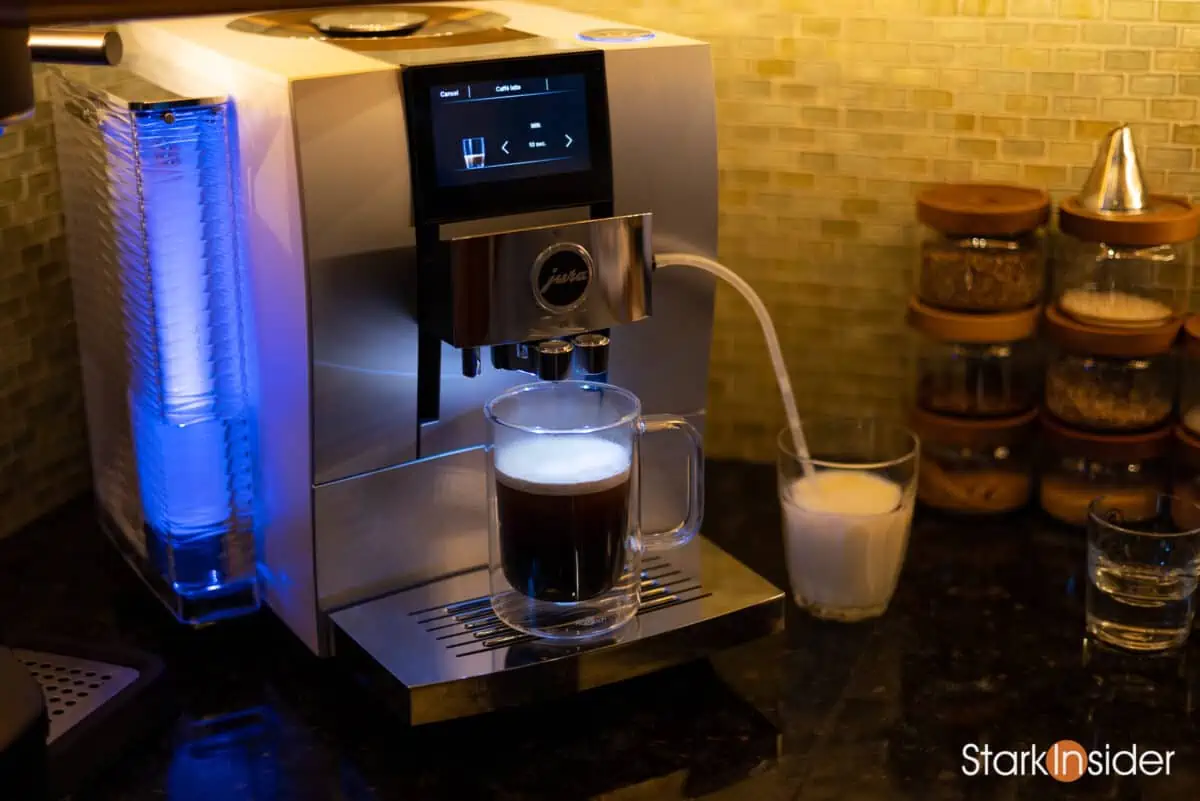 So… First Impressions of the Jura Z10?
Very slick and well made.
Yes, it's mostly ABS plastic (aside from the aluminum front panel on this White Aluminum model), but that's the case for almost all super-automatics; they aren't traditional stainless steel machines. But the Z10 materials feel robust.
Touchscreen is easy to use and informative, even showing an animation as a drink is being made.
The Z10 seems to be a super hygienic thing and rinses itself often!
Relatively quiet.
Hopper, water reservoir and drip tray are all generously sized.
Drink quality, including espresso shots and milk-based drinks like the above Café Latte: so far, excellent.
More to come when we put the Jura Z10 through its paces. Look for the full review soon on Stark Insider.
BUY/RESEARCH:
THE COMPETITION (including lower priced options):