Today we're looking at the iconic Cortado espresso drink served up in a gorgeous Libbey Gibraltar glass.
Tired of your daily coffee or espresso routine?
Maybe you've been pouring the same Latte style drink at home and are ready for something new. Variety could be the key!
Here's an increasingly popular choice in the world of espresso: the Cortado.
This short espresso drink initially came on to my radar when reviewing the Jura Z10 super-automatic. Jura's flagship amazing bean-to-cup machine makes several drinks, one of them being the Cortado. I gave it a try. And there was no looking back.
So I quickly learned how to make a Cortado using my old semi-auto Pasquini Livia 90 (made by Bezzera), and discovered it was quite easy.
Most espresso drinks are simply some sort of combination of espresso, milk froth and milk steam. Proportions change — as well as ingredients order — but essentially you can play around with these ratios to make just about anything under the sun, including the Cortado.
What is a Cortado?
A Spanish drink, a Cortado is 1 parts espresso (and sometimes 2 parts) to 1 part milk froth/steam. There's minor variations of the drink so it's not necessarily a hard and fast rule.
I tend to aim for about 1.5-2.0 ounces of espresso and about 1.5-2.0 ounces of steamed milk, with a tiny amount of froth, but not much. Basically a 1:1 ratio of espresso to milk. I often prefer a bit more espresso so I'll adjust the amounts for variety from time to time.
The result is an espresso-forward drink.
Thanks to the milk and the effect of caramelization, however slight, and the sweetness from steaming, the espresso is not as strong as it would be straight. The milk "cuts" through the espresso hence the name Cortado. And given the low milk volume this is a much stronger drink than, say, an American style Latte with all that copious milk.
The Magic of the Gibraltar
Do you prefer a certain beverage in a favorite glass? Maybe you like your Cabernet or Chardonnay wine in a special glass that just feels right. Or maybe it's a beer you enjoy a certain way. It's interesting and perhaps a little funny the way we can "feel" that a beverage tastes better, or at least right, in a certain glass or cup or container.
I've found that to be the case with the Cortado as well.
For some reason it goes together incredibly well with the Gibraltar; the tiny 4.5 ounce glass is just the absolute perfect match. So much so that you can even order a "Gibraltar" in some places and expect to get a Cortado espresso.
How do you make a Cortado?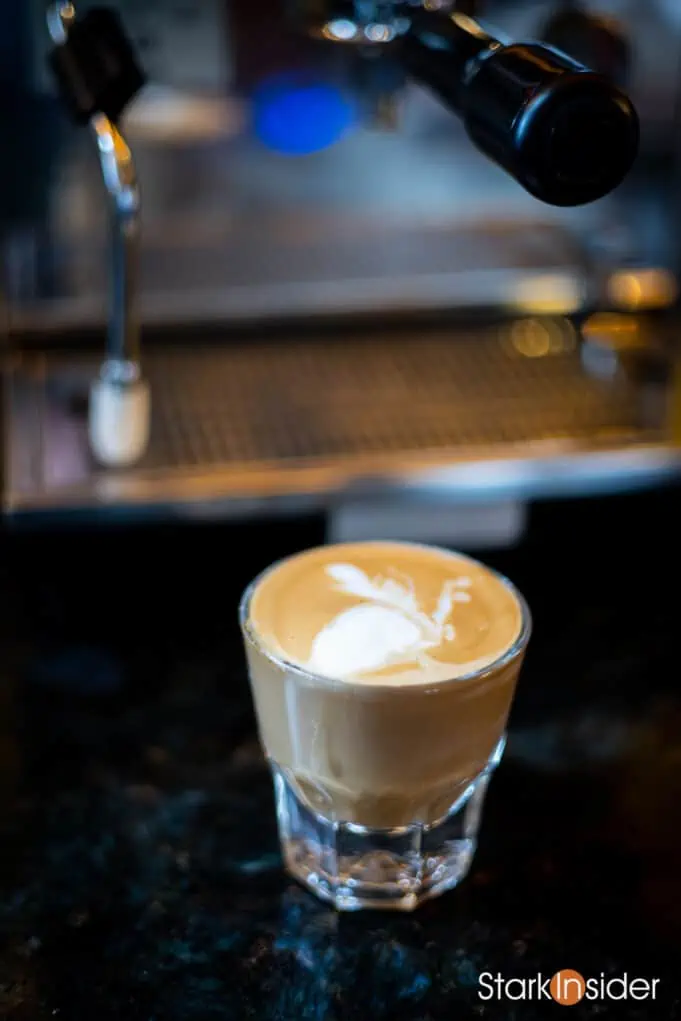 The Cortado is actually a fairly simple drink to make, especially if you have experience making milk-based drinks like Lattes or Cappuccinos.
Here's 4 steps to make your own luxurious at-home Cortado:
Optional: pre-heat the Gibraltar glass on a cup warmer or, better yet, by running steamed hot water from the spout on your espresso machine
Brew a double shot of espresso into the Gibraltar glass — aim for about 2 ounces in 25-35 seconds
Froth a small 6 ounce pitcher of milk, but only fill about just over 2 ounces — you will need a certain minimum in order to steam effectively, but want to avoid excess waste as the Cortado doesn't need much milk
Pour the milk into the Gibraltar quickly from about 3-4 inches above the surface, before descending back to the surface where you can attempt Latte art if desired to finish in style
Tip:

By adjusting the proportions of milk to espresso and also opting for a slightly larger glass (6 ounces works well) you can make a Flat White. Just adjust the proportions. Instead, use 1 part espresso and 2 parts milk. The result will be less strong in terms of espresso flavor, but still less milky than a taller Latte. And this drink will last longer than a Cortado.
And there you have it.
A really nice Cortado in a Gibraltar. A drink that will last more than a few sips unlike a straight espresso shot, but will not be substantially diluted by too much milk as often found in a traditional Western style Latte.
Fortunately these glasses don't need to be expensive to feel good in hand, and here's some Libbey Gibraltar Rocks Glass I recommend as seen in the photos above. And a good deal for under $12 a pair — and dishwasher safe too. Yet, for whatever the reason, they can make your espresso taste like a million dollars.
Happy Espresso!