Mega GIGA?!
Jura has announced that its new GIGA 10 automatic coffee machine is now here, available to buy.
Priced at $4,999 this is a mega expensive, mega powerful, mega machine. Basically if you want it all in a super-automatic espresso machine this would be the place to look. Or, you know, you could make a sacrifice and "step down" to the also mighty impressive Jura Z10 which we recently put through a first look test here on Stark Insider.
Like the Z10 the GIGA 10 features Jura's unique cold brew technology so you'll be able to have your favorite cold drinks like Iced Latte available at the touch of a button. Also, you'll find a slick user interface on a massive 6.7″ touchscreen ("Panorama Coffee Panel").
Jura says there's 35 drink types available on the GIGA 10 and the water capacity is a sizable 88 ounces. Like other Jura espresso machines this one too features CLEARYL Smart water filters. Use them and you won't need to descale, which is a nice convenience — not to mention using high quality water for drinks should result in better taste.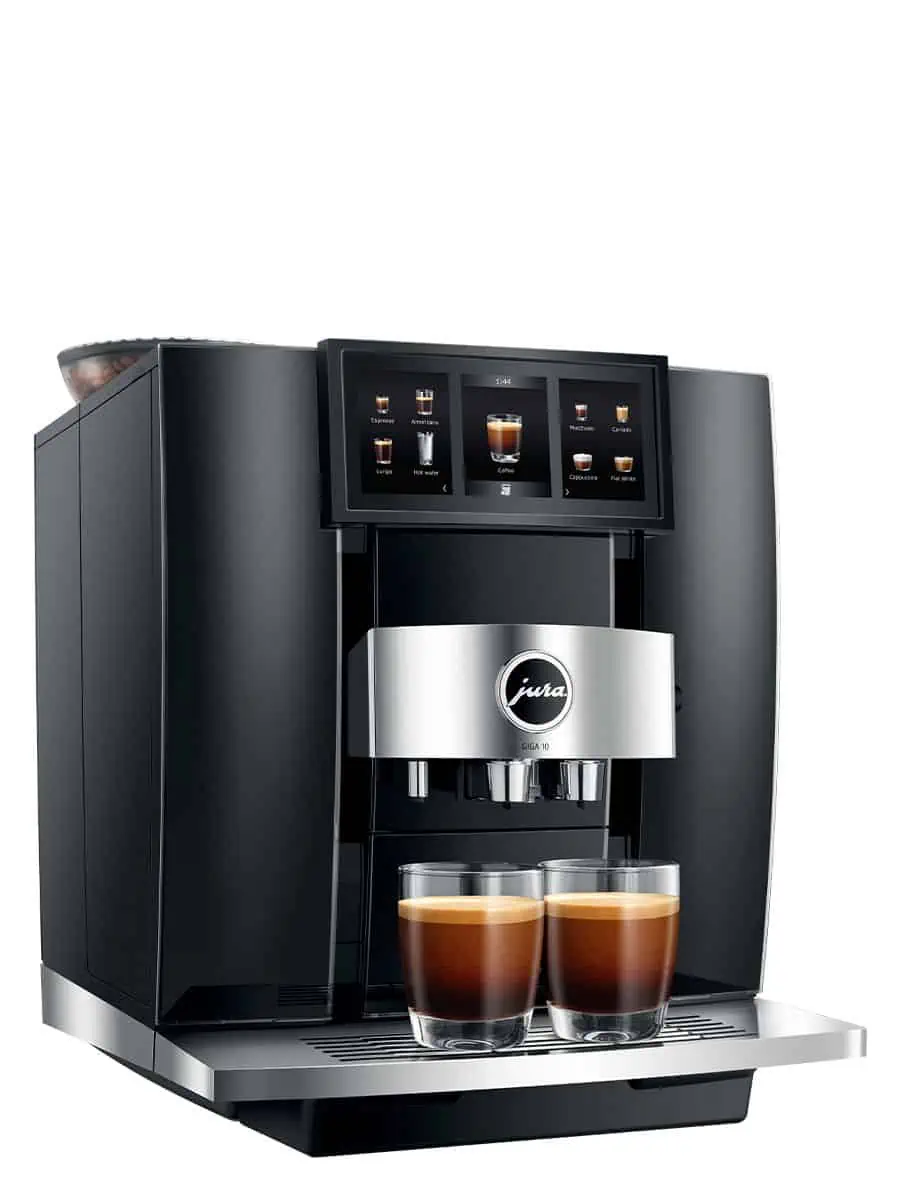 But the real party trick here is the dual hopper capability. This isn't the first time Jura has offered a dual hopper as you'll find a similar setup in the GIGA 6. The difference with the GIGA 10 is that in addition to the dual hopper you also get the cold brew tech found on the Z10. So if you want it all, the GIGA 10 gives it to you with both a dual hopper and cold brew options.
The dual hopper offers plenty of opportunities and flexibility for the espresso enthusiasts. You could, for instance, put a medium roast of one variety in one and perhaps a lighter on in the other. Or, you could satisfy many in the home or small office by putting decaf beans in one of the hoppers. Further, using the touchscreen UI you can dial in mixes between them so you could, say, select 50% decaf and 50% caffeinated. Plenty of possibilities here if you're looking for lots of choice.
ESPRESSO NEWS, REVIEWS, COMMENTARY

ON STARK INSIDER
Like other premium models in the Jura line, you can expect many of the same features including Pulse Extraction Process ("P.E.P."), something called "3D brewing technology" which looks like a way to avoid channeling issues sometimes found on semi-automatic espresso machines, RFID chipped smart water filters, and seemingly endless customization options for volume, drink intensity, milk ratios, temperature, etc.
Also the GIGA 10 is Wi-Fi capable so you can connect it to the J.O.E. app — aka the JURA Operating System. Yes, a bit of acronym bingo here to be sure.
Finally, like the Z10 and other Jura espresso machines you can optionally attach a Cool Control milk accessory to the GIGA 10 so you can have cold milk at the ready without making runs back and forth from a refrigerator.
Who Should Buy the Jura GIGA 10?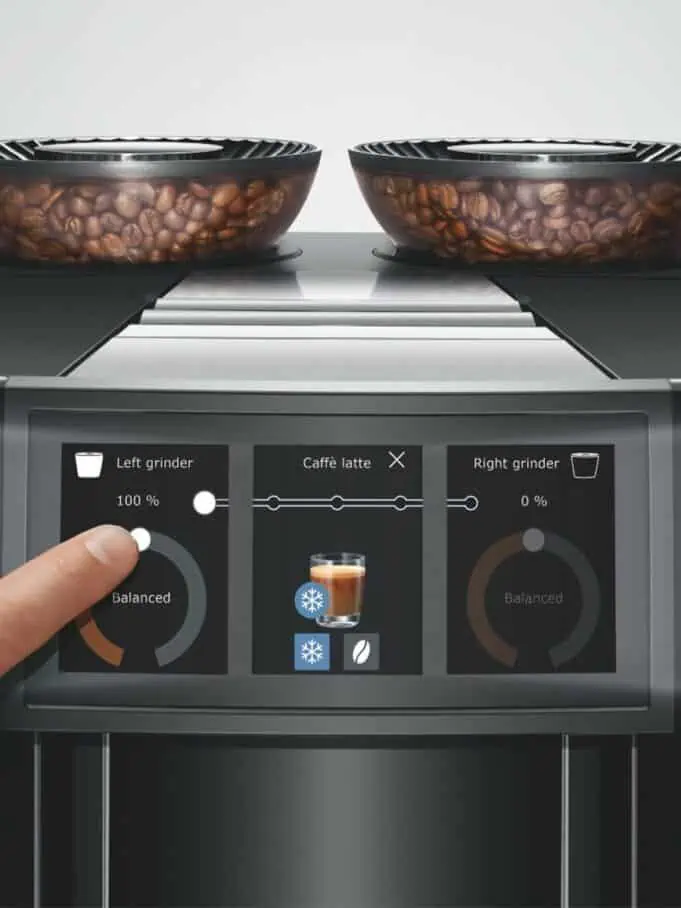 Given this is one of the priciest super-automatic espresso machines the Jura GIGA 10 will definitely be short listed only by those interested in the very best and with sizable budgets.
I think it would appeal to families who drink a lot of hot and cold drinks throughout the day, week and weekend and need the kind of volume — both in hopper and water capacity — that the GIGA 10 offers.
Although Jura classifies this machine as a "premium home" model I suspect you could still effectively use it in smaller office and commercial environments: a car dealerships, dental offices, law and accounting firms, or tech start-ups for instance. Any situation where you want to offer employees and customers a special drink to enjoy while taking care of business. I think the Jura GIGA 10 is well suited for that. For higher volume use cases (10 to 200 cups) Jura recommends one of its professional products such as the GIGA X8, X8, WE8 or WE6.
Keep in mind, although the GIGA 10, like the Z10 and other Jura machines, will rinse and clean itself, someone will still need to do an end-of-day milk cleaning (which is automated, but you need to connect a cleaning tray and milk hose) and also re-fill the water tank as required.
The Jura GIGA 10 is now available for $4,999 USD. The machine weighs 40 pounds (still lighter than most semi-automatic espresso machines by the way!). Dimensions: 16.3″ H x 12.6″W x 19.6″D.
In my experience so far with the Z10: you simply get the best espresso shots of any super-auto with Jura.
I'm a committed semi-auto guy (give me Gaggia, Rocket! or please surprise me some day with a La Marzocco Mini or Micra for my birthday!), yet when I did double blind taste tests of straight espresso shots I was blown away by the quality of the Jura. The hype is real. I was totally skeptical, but actually experiencing the quality made me change my tune about super-autos — or at least Jura machines — if just a bit.