The Jura Z10 is one of the most feature-packed and best automatic espresso machines you can buy today. In or first look, we were impressed with the quality of the espresso shots the Z10 produced.
But even better: it can make up to 32 different espresso drinks and specialties. With that kind of selection it really is like having your own coffee shop in the home — without having to do any of the work required to pull an amazing espresso shot. Yes, so far in our preliminary testing we are impressed with the bean-to-cup Swiss wunderkind that is the Jura Z10.
In case you're shopping around and have short-listed the Jura, perhaps for your home, or office, or even for a small law, accounting or medical office (employees will thank you!) we've summarized below all the espresso and milk-based drinks and coffee specialties you'll find on the Z10.
Other Jura machines also have comprehensive beverage choices, but the flagship Z10 tops them all in terms of the vast number of choices. Plus, it has a cold brew option so you can make favorites in the summer or hot days such as an Iced Latte.
Oh, and in case you were wondering, the Jura Z10 can even make a jug of coffee up to 80 oz. — a perfect way to keep the family or office workers energized for hours on end.
So without further adieu, here's all the hot and cold brew coffee specialties you can make with the Jura Z10.
Jura Z10 Espresso Machine: List of drinks (hot and cold brew coffee specialties) Part I

2x denotes making two of the same drink. This is possible for espresso drinks, but not milk-based drinks which must be made one at a time.

Espresso / 2 x Espresso (1.5 – 2.5 oz)
Cold Brew Espresso (1.5 – 2.5 oz)
Espresso Doppio
Caffè Barista / 2 x Caffè Barista (usually 5 oz)
Americano / 2 x Americano (usually 7.5 oz)
Coffee / 2 x Coffee (usually 4 – 6 oz)
Cold Brew Coffee (usually 4 – 6 oz)
Jug of Coffee (up to 80 oz)
Macchiato
Cold Brew Macchiato
Cortado
Cold Brew Cortado
Caffè Latte
Caffè Latte Extra Shot
Cold Brew Caffè Latte
Flat White
Flat White Extra Shot

Jura Z10 Espresso Machine: List of drinks (hot and cold brew coffee specialties) Part II

Cold Brew Flat White
Cappuccino
Cappuccino Extra Shot
Cold Brew Cappuccino
Latte Macchiato
Latte Macchiato Extra Shot
Cold Brew Latte Macchiato
Portion Milk
Portion Milk Foam
Hot Water for Green Tea
Hot Water
Drink Customization on the Jura Z10
In addition to all the drinks listed above, the Z10, like other Jura espresso machines, allows you to tweak and customize.
One easy way to adjust a drink is to push a button to start, say, a Cortado, and then use the touchscreen to adjust the strength and volume as the drink is being made. You'll have a window of opportunity during each stage of the brewing process to adjust each parameter on the fly. It's an easy way to dial in a drink to your preferences depending on your mood or time of day.
Another way you can customize drinks on the Z10 is to long press a drink icon on the touchscreen. From there you can adjust all sorts of parameters including fineness of the grind, drink strength (dose volume), milk volume (in seconds), and froth volume (in seconds). You can even rename the drink, so you could have "Loni's Favorite Latte" on the home screen, enabling many family members or office workers to save their personal favorites.
Other Factors to Keep in Mind When Shopping for a Super-Automatic Expresso Machine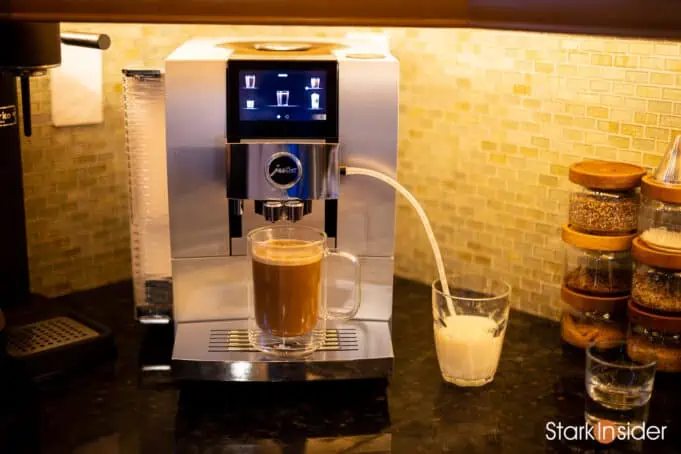 Whether it's this Z10 or other models in the Jura lineup such as the E8, S8, Ena 4, or the new impressive GIGA 10 with its dual hopper, or even other machines from other super-auto manufacturers like Philips/Saeco, Gaggia and Breville, here's some other factors to keep in mind when comparison shopping.
Criteria for evaluating an automatic espresso machine

Drink quality and selection – how many drinks can the machine make? Are there options for strength and volume and can they be personalized to taste? How good is the baseline espresso shot?
Ease of use – how easy is it select a drink and start the brew process? Is there a touchscreen or buttons and how difficult or easy is it to access customization options and settings?
Maintenance – how much do cleaning supplies and filters cost? Is it easy to remove the drip tray for cleaning? Are there clear instructions on when and how often to perform maintenance on the machine?
Quietness of operation – when the machine is brewing a drink how loud is the grinder and group head?
Price and warranty – of course you'll want to come under budget, and also be aware of the warranty and where the machine can be serviced if necessary.
And there you have it. A quick tour of the (exhaustive!) list of drinks you can make on the Jura Z10 plus some considerations to keep in mind when shopping for a super-automatic espresso machine.
If you want to learn more you can check out the Stark Insider first look at the Jura 10 which includes an unboxing, some photos, drink test, and first impressions.
BUY/RESEARCH