Priced at $1,299 USD, the Fujifilm X-S20 ships June 29.
At first glance the Fujifilm X-S20 looks familiar. With a body reminiscent of the X-S10, a popular mirrorless camera geared at content creators, it has the same "Fuji look" and small body and X-mount for lenses. However, dig in deeper and there's quite a bit more.
First, the video specs. They're just pretty incredible. Just five years ago these kind of specs in a compact mirrorless would be unheard of, and you'd need to pay top dollar for a flagship model to even get close.
Fujifilm X-S20 Video Specs
Here's just a few of the key highlights when it comes to video:
26.1MP sensor
6.2K 30 fps
4K 50 fps
4K streaming
1080p 240 fps
4:2:2 10-bit
Improved 5-axis In-Body Image Stabilization (IBIS)
AI auto-scene detection
F-Log and F-Log2
Background defocus
Fujifilm XApp
ProRes RAW and Blackmagic RAW using external monitor (Atomos or Blackmagic respectively)
X Processor 5 (the key tech to enabling the boosted video specs)
Pre-order the Fujifilm X-S20: Amazon
I mean this is pretty great stuff. Also, you can shoot all those modes internally to an old fashioned SD card (just make sure it's fast enough) — nothing fancy required. Many of us probably have plenty of those sitting around.
Fujifilm has slightly increased the size of the grip to accommodate for a larger battery. That makes sense. With higher video specs likely comes more heat and more power drawer.
Thoughts on the Fujifilm X-S20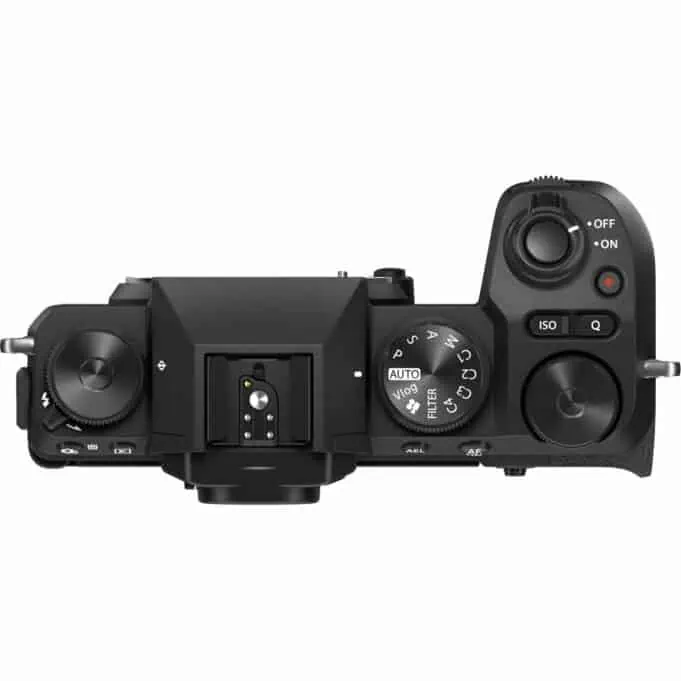 Dpreview has posted its initial X-S20 review (I thought they shutdown? Drama Queens already!). In its comparison table the Fujifilm X-S20 fares well against the likely competition including other mirrorless cameras such as the Nikon Z30 (no log, no viewfinder, only 4K/30 fps), Sony a6600 (smaller sensor, only 4K/30 fps), and Canon EOS R5 (no IBIS, cropped 60 fps).
Then again, at $1,299 USD the X-S20 does cost quite a bit more than both the Z30 and R10.
It's hard to deny that the X-S20 would be a quality option for YouTubers and Vloggers alike (in fact there's even a "Vlog" option on the mode dial!). Video specs are undeniably impressive at this price point. With F-Log and F-Log2 and 4:2:2 10-bit video files should have plenty of latitude for creativity and color grading.
High frame rates provide even further icing on the cake, allowing for dramatic slow motion — wildlife, street scenes, music videos, wedding shots, product videos can benefit from the high production value that HFR provides.
At just over 1 pound (body) the X-S20 will be a super lightweight option, and you won't really need to think twice about throwing it into your bag on any given outing. Rigging it up, of course, will add more to the weight, but it's convenient to be able to start with such a light package.
In a world of Full Frame madness where every manufacturer seems to be releasing models with large sensors it's nice to see Fuji stick with APS-C. Closer to Super 35 in video performance, APS-C can actually provide more benefits to shooters in the form of additional reach for any given focal length. Further, the lenses tend to be way less expensive compared to their FF counterparts. Just go shopping for Canon RF lenses and you'll quickly come to that same conclusion.
WATCH: Fujifilm X-S20 Launch Video
Priced the same as a well-optioned Apple iPhone I think Fuji has found the sweet spot. Some of their AI capabilities — focus, object tracking, etc. — are starting to blur the line between smartphone and hybrid camera. And I think that's something exciting to watch. Traditional camera manufacturers like Canon, Nikon and Sony can't simply rely on the user interfaces and experiences of the past. We're in a touch-y app-y world now. Throw AI and things like computational photography into the mix and you can see things are moving very quickly, and the smartphone is clearly in the lead at this point.
The Fujfilm X-S20 looks like it will be another successful entry in its compact X-mount line-up. Clearly this is a content creator machine with specs that will satisfy any aspiring YouTuber or Vlogger. The IBIS and 6K and HFR puts it over the top by comparison to the competition and should also somewhat future proof the camera.
STARK INSIDER

Filmmaking & Tech (and some espresso too!)
I do hope the X-S20 has shutter angle (180-degree), but somehow doubt it unfortunately. I'm still Googling to see if this important video feature will be included. It's far better than using shutter speed.
Finally, another competitor worth mentioning now that it's being heavily discounted is the Panasonic Lumix GH6. After $400 coupon it too is selling for about the exact same price as the X-S20. The body is bigger, sure, but you do get a lot of video-centric features including anamorphic support, dual media slots (SD and CFExpress Type B), internal ProRes, and professional video assist filmmaking tools (Waveform monitor for instance). Technically on paper it looks superior, perhaps save for the aging Micro Four Thirds mount. I suspect, however, the Fuji will be easier to use for most and tick just the right amount of boxes. Plus, it just looks so cool! The choice will come down to project type and personal preference.
Fujifilm X-S20 Mirrorless Camera

Fujifilm X-S20 Buying Options at Launch
Fujfilm X-S20 pricing starts at $1,299 for the body, with shipping beginning on June 29.
You can also purchase the X-S20 with lens bundles including options for a 15-45mm lens kit and 18-55mm lens kit.