The Stark Insider first impressions and test of the SIRUI 50mm f1.8 MFT anamorphic lens.
If you're like me you've always been curious about anamorphic. There's just something magical about the look — the lens flares, the bokeh. All of it comes together to, more often than not, feel special. It's hard to describe, but when you're watching a film shot in anamorphic you can almost taste the sugary sweet image.
But cost has typically been a prohibitive factor. I'm not quite ready to drop $10,000-$30,000 for an anamorphic lens, especially when I'm just working on projects here for Stark Insider. Spherical is just fine thanks.
Then I found a company called SIRUI.
Had the good news finally arrived? Here's an anamorphic lens for… $499 USD?!
Is is too good to be true?
My GH6 implored me to find out, speaking to me in the middle of night. Anamorphic… Anamorrrrphic. Anna. Morphic!
Alright then, it had to be — so here's my first impressions after finally tackling a small project using the SIRUI 50mm anamorphic lens.
IN PHOTOS: SIRUI 50mm f1.8 anamorphic lens on the Panasonic GH6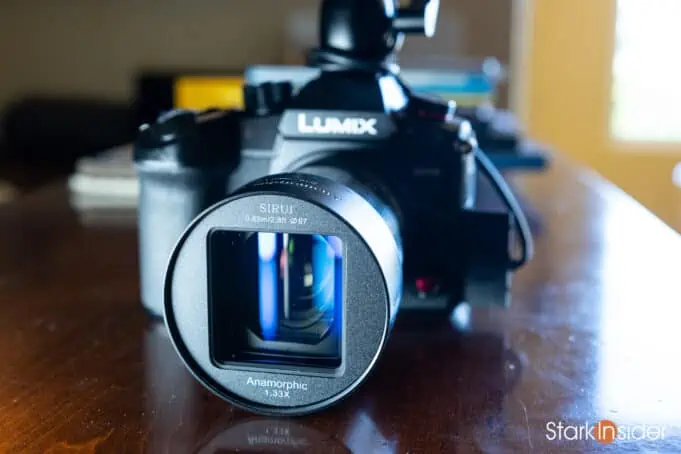 The first thing you should know is that the SIRUI anamorphic lenses are available on variety of mounts and also focal lengths. Whether you're shooting video on MFT (like I am on the GH6), Sony E-mount, Leica L-mount, Canon RF-mount or Fujifilm X-mount you'll find a lens that will work with your camera.
Same too with focal length. There's a 24mm, 35mm, 50mm (tested here), and 75mm. Plenty of choice! I went for the 50mm as I felt it provided the best combination of just enough on the wide side, and enough on the telephoto to bring out the iconic characteristics we so enjoy when shooting on anamorphic. For a true film project you'll likely want a complete set.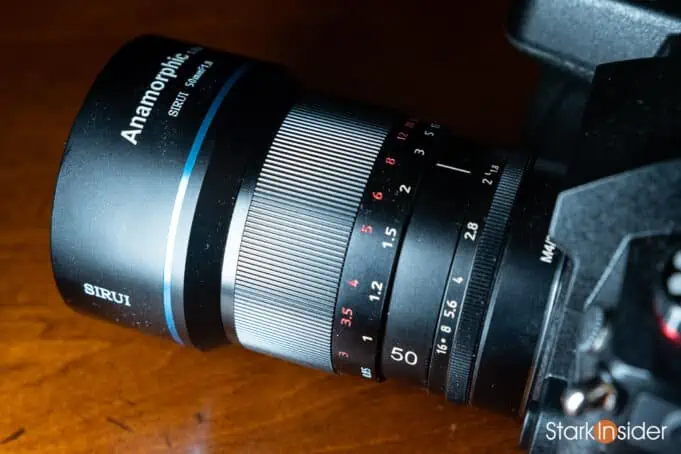 Another thing to know: there's no wonky adapters or taking lenses involved here. SIRUI is just a standard lens when it comes to mounting and operation. Attach it, and off you go. Focus and iris are controlled manually using rings. Very simple.
As for the build quality, I'm simply… amazed. $499 and yet it feels hefty in the hand and extremely well made (we're all going to hell you know). No complaints regarding handling either, everything is smooth and just hits all the right notes. Comparison-wise I'd say the SIRUI it similar to the esteemed Sigma 18-35mm or Sigma 50-100mm. If you know those lenses then you know that's a good thing.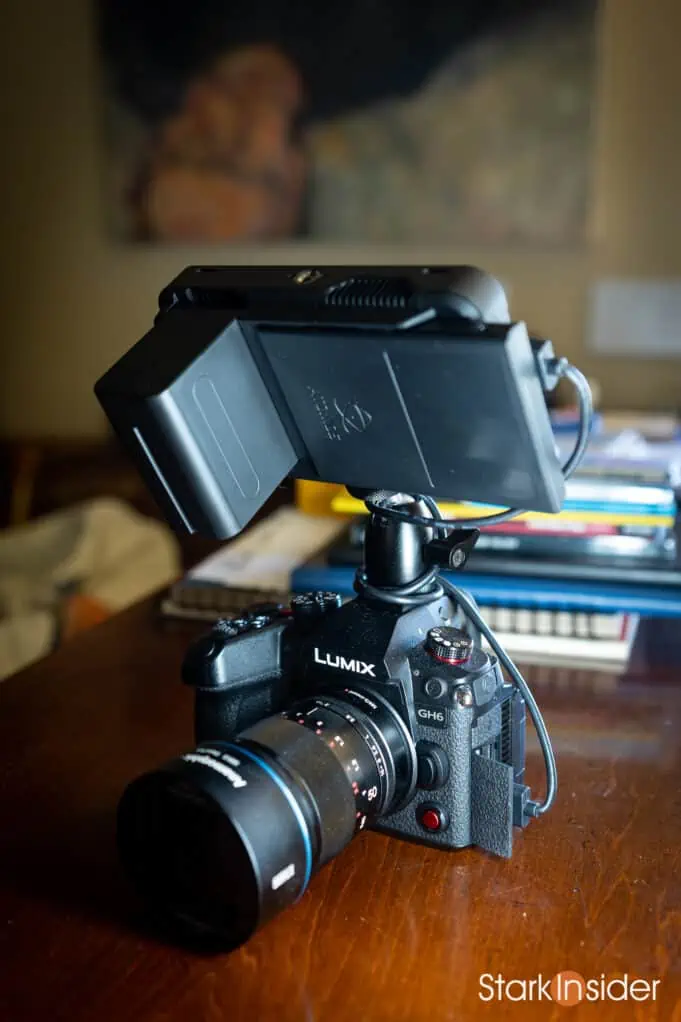 In the above photo you can see the SIRUI 50mm on my Panasonic GH6. And on top a Ninja V+ monitor/recorder. All told a compact anamorphic shooting rig. After a day or two shooting on RED Dragon, I really, really appreciate this lightweight setup.
In Operation: SIRUI Anamorphic Lens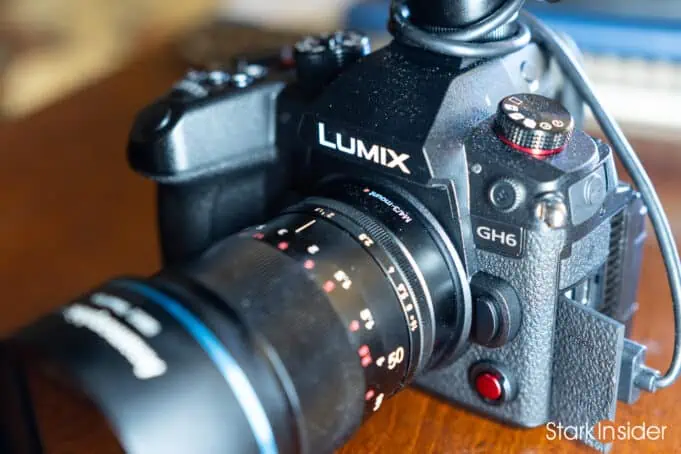 I'm using the SIRUI on a small project, just for fun. With the Ninja I can de-squeeze the 1.33x image so that I can monitor it properly, just as it will be seen in the editing timeline later — and it can also display properly using the GH6 built-in display.
Speaking of editing, you can interpret the footage in Adobe Premiere Pro (and Resolve, Final Cut Pro, etc.) and choose 1.33x. That will properly convert the image and make it suitable for editing with the proper widescreen aspect ratio. Once you get used to the workflow it's easy, and really not intimidating at all. If you're accustomed to shooting spherical I think these few extra steps will just become natural in a matter of hours.
SIRUI Anamorphic 50mm f1.8 Lens

Key Specs

Anamorphic
Aluminum Housing
2.4:1 De-squeezed Format
10 Blade Iris
Schott Glass with Nano Coatings
2.8′ Minimum Focus Distance
67″ Filter Thread
MSRP: $499 USD
Where to Buy: Amazon
Focus is excellent. No issues there. I'm manual all the way all the time. Auto-focus shooters obviously shoot not be considering a lens like this. YouTubers and Vloggers, choose your favorite 3mm wide angle AF lens of choice and proceed!
Because this lens is rated at f1.8 you can do well in low light. With the GH6 being a Micro Four Thirds sensor that helps a bunch as it doesn't let in nearly as much light as a full frame camera would.
Also worth pointing out: image stabilization on the Panasonic GH6. I knew it was good on the GH5, but it's even mind-blowingly better on the GH6. If that's possible. You'll need to tweak the focal length in the GH6 settings and do some tests to dial it in (sort of like an espresso shot come to think of it), but once you get it you'll be able to do some handheld anamorphic shooting with some pleasing results. Still, I think you might be best on a tripod, gimbal or slider of some kind.
Final Thoughts
I like the creative possibilities of anamorphic. Everything just looks different.
You just can't go wrong. With the SIRUI anamorphic lens you get another, low-cost option to add to your toolkit. If you've always wanted to shoot anamorphic, but we're scared off by the price, well this could be your jumping point.
Not once did I feel this was a cut rate product. That's really saying something for $499.
I like the creative possibilities of anamorphic. Everything just looks different. The world around us in anamorphic looks different than spherical. The nuances, the bokeh and cool flares are all interesting to experience, and may even up-level the look of your projects, be it a wedding film, corporate work, music video or commercial. We're always searching for ways to make our videos look like they were shot with Michael Bay budgets.
Here's a couple of stills below from an anamorphic project I'm working on here at Stark Insider. Certainly nothing fancy. And no, I did not hold a flashlight to the lens. And no, I also didn't run out to the streets of San Francisco at night and shoot headlights. I guess having worked on this during the pandemic this was simply more of an in studio effort.


You can see above some gentle blue flares (not too crazy). By the way, I heavily graded this as you might tell. I really enjoy trying to destroy images. On purpose or by accident. Either way, I love the look.
(for some odd reason when using Premiere's built-in screen capture icon tool the images don't come out de-squeezed so instead I had to use Windows screenshots, but you get the idea)
Net-net: Anamorphic on a budget. The SIRUI 50mm f1.8 anamorphic lens is highly recommended. At $499 I think you'll have a blast experimenting!
SIRUI 50mm f1.8 Anamorphic Lens

The video shooter's secret weapon

Mounts:

MFT-mount (as tested), Sony E-mount, Leica L-mount, Canon RF-mount, Fujifilm X-mount

Focal Lengths:

24mm, 35mm, 50mm (tested), and 75mm

Who's it for?

High end wedding filmmakers
Music videos
Corporate
Short films
Anyone who enjoys creative possibilities of a fun new tool in their bag

The Good:

Solid build quality
Image has pleasing aesthetic
Subtle blue streaks, not overdone
Good in low light
Easy-to-use focus and iris rings
Pairs well with a camera like the Panasonic GH6 because of its built-in anamorphic functions and IBIS (Note: Given everyone is shooting on smartphones these days, us camera geeks get nice discounts on mirrorless cameras such as the GH6 which is now down 23% from its launch price. Insane value!)

The Bad:

At this price I really can't find any faults

Retail Price:

From $499

Availability: