It's over 2 years old now. Which, of course, is an eternity these days in the ever increasing megapixel-oriented and spec-oriented space known as the digital camera market.
You might be wondering, as I would be if I were in the market for a premium 4K mirrorless camera:
Is the Panasonic Lumix GH5 still worth it? In 2019?
** Spoiler Alert **
Yes.
Basically the GH5 is as good a camera today — a competitive one at that — as when it was first released back in March of 2017.
You can shoot 4K onto cheap SD cards. The footage looks great. You have plenty of variable frame rates. Support for anamorphic lenses if you want to get fancy. And V-Log is an option if you want some flexibility in color grading the 10-bit footage.
That's the short of it.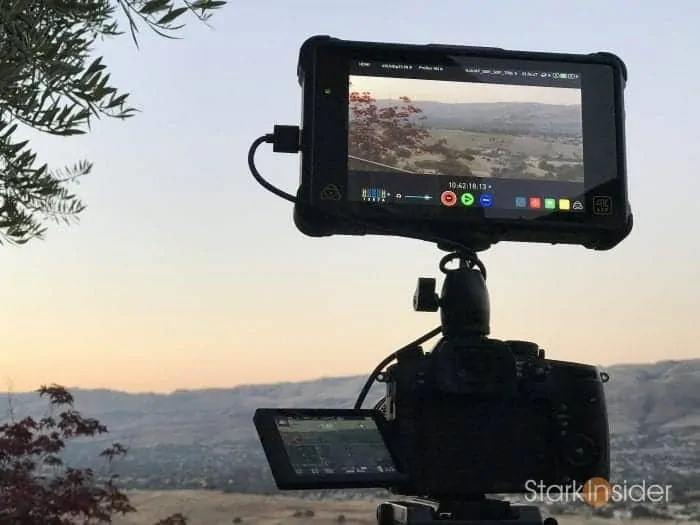 I've been shooting with the Panasonic GH5 since it came out. At the time I was hardened Canon DSLR guy. Going back many, many years. In fact, I started shooting videos here on Stark Insider with an old school Canon Vixia camcorder. I was so desperate to achieve the vaunted "film look" back then I even bought some oddball lens adapter that allowed me to screw on an EF lens and then record stuff that looked more cinematic. The image was flipped upside down on the monitor and the whole thing was wonky as all, but somehow it worked. Then, like a lot of camera people did at the time I soon made the jump to DSLR. EOS 60D. To 70D. And, most recently, to the outstanding 80D.
So as a Canon guy I really didn't expect to like the GH5. I'd pre-order it, shoot a few videos, write a few GH5 articles on Stark Insider about using it and then eBay it for a slight loss and once again pull out my 80D. That was the plan.
But… I never did again reach for the 80D.
After using the GH5 for a few months I learned why everyone had raved about the GH4 and were now raving even more about its successor.
I really can't find any faults with this camera. And it ticks some of my biggest boxes (of which 4K really isn't one truth be told):
Things I love about the GH5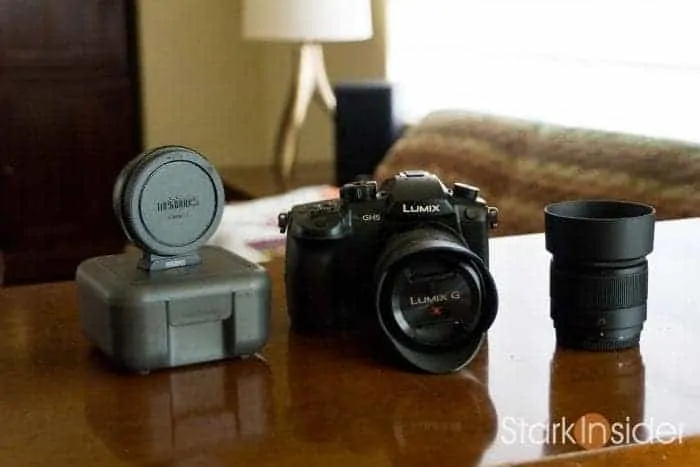 Dual SD card slots — I'm freaky about data redundancy and like knowing I've got a duplicate card in camera that I can pop out and put in my wallet at lunch break and not worry about losing my footage to theft or a camera accident of some kind.
V-Log — gives lots of flexibility to do fun stuff with Lumetri Color (when Premiere isn't crashing of course) and FilmConvert.
Long battery life — this one surprised me as battery endurance on mirrorless cameras is typically not a strong suit. Not so with the GH5. You can shoot for a long time. Spares are inexpensive and small, so no issues throwing some extras in the bag before a project.
VFR up to 180fps — slow motion is great on the GH5. If you want you can go up to 180fps (in 1080p). But I like the look of 120fps. Gorgeous.
Custom buttons are convenient — C1, C2, C3 on the mode dial are an easy way to switch to pre-configured shooting mode. Everything is so fast on the GH5, in that respect it reminds me of Canons in a way.
Waveform monitor — a nice to have and something you don't often see on hybrids.
Joystick and AF switch — the joystick on the rear alongside the the AF mode switch is nothing less than ergonomic joy. Take it to the bank. Want quick AF in shot? Flip the switch. Then back to manual again to get your pull. Magic.
That MFT mount — I should mention the Micro Four Thirds lens mount. I love it. I can put on a Metabones adapter and use all my Canon glass if I want. Or, just stick native, and keep the whole package compact because MFT lenses are so light and small (and generally inexpensive too!)
IBIS — I'm an all manual shooting kind of video guy. So manual focus. Manual ISO, shutter, etc. Forget about automation of any kind including gimbals. I prefer a basic tripod, and maybe occasionally an old school dolly. So In Body Image Stabilization didn't strike me as useful at first. But then I tried it when shooting a short film with Loni Stark called Crazy or Die. I used a Rokinon 35mm for one scene. Handheld. This is a basic cinema lens with no IS built in. And the results were astounding… and I couldn't find any jello or artifacts in the footage. In other words: IBIS on the GH5 is the real deal.
All told, nothing in the above list would necessarily move mountains. Put it all together and, in my view, the GH5 is the most complete mirrorless camera on the market. Even today, in 2019.
But the GH5 is missing this or that… (no it isn't Biff)…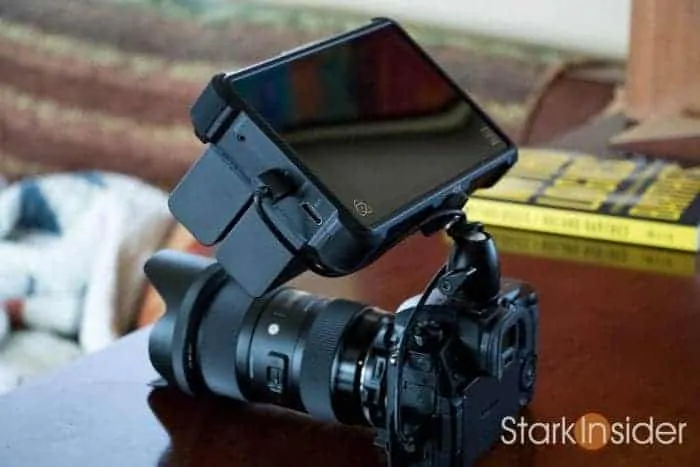 What more could you want?
I can't think of a thing Biff.
And, yet I hear people getting excited about a GH6. Why? What is missing in the GH5 that is preventing you from shooting a music video? Wedding video? Short film? Documentary? Corporate video? Commercial?
Nothing… nothing… nothing. Biff.
Nothing is inhibiting you — us — from picking up the GH5 (or the smartphone in your pocket or purse) and shooting a project.
I will say I don't like where Panasonic chose to put the "Disp" button. It's too easy to accidentally hit with your right hand. It's about the only fault I've discovered after shooting with the GH5 for over two years.
Shot on Panasonic GH5
Crazy or Die
ROME: Waking Up The Vatican
Azul
Only $1,498 for a GH5? The deal is real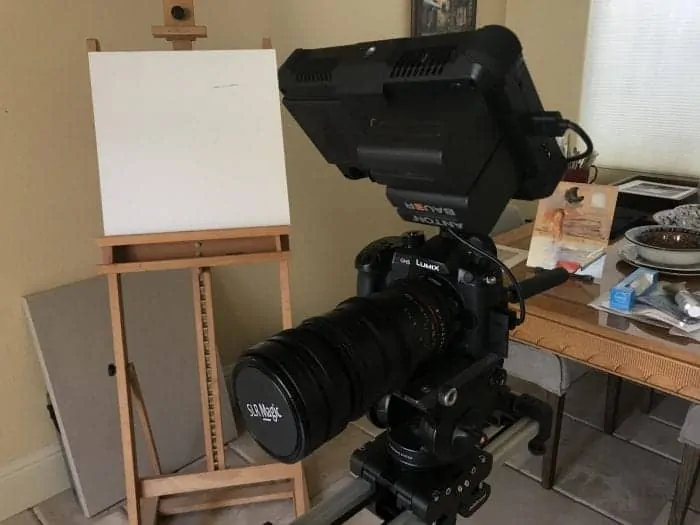 About that price.
The GH5 was a pretty pricey mirrorless camera at launch. It retailed for $1,995 USD. I bought one right away and don't regret it for a second. Like I said my Canon EOS 80D doesn't see any shooting time (except for photos) ever since I got my hands on the GH5 and discovered how fantastic it fit into the workflow here on Stark Insider.
Fast forward a few years. The camera market is in decline (see smartphone). Competition is fierce.
Stark Insider Camera Articles:
Panasonic Lumix GH5
Canon (EOS R / EOS RP), Nikon (Z6 / Z7), Sony (A7 III / A7R IV) and Fujifilm (X-T3) among others are trading blows every other month it seems. And full-frame is the flavor of the month. Which means an old school MFT camera like the GH5 isn't so exciting in 2019.
But you know what is exciting?
The now heavily discounted price for a brand new Panasonic Lumix GH5. Forget the latest and greatest. If you're shopping for a new camera primarily for shooting video (I don't think the GH5 is a great option for pure photography) then this is your camera. Don't get caught up in the (ridiculous) online hubub about which features are missing — they're not. Rather, turn off Reddit, grab a camera and get out there and shoot that great idea you've been thinking about for a few months. I'm sure it's good. Now as Loni Stark likes to remind me about or video projects here on Stark Insider, it's all about the execution.
Yes.
2020 no doubt about it. And beyond… Because your ideas matters most.
Happy shooting!