Wild. Just wild.
There's no beating around the bush. When it comes to the IBIS (In-Body Image Stabilization) on the Panasonic GH5 you're talking world class, best-in-class, amazing, jaw-dropping wow. Holy Moly. Whaaaat? Choose your favorite superlative(s). The hype is real. At least in my experience. Sensor-based IBIS (not digital) on the Panasonic GH5 may just become its own religion.
I've been shooting with Panasonic's flagship mirrorless camera since it was released in early 2017. Truth be told, I was originally planning to compare it to my stalwart Canon 80D, write a couple of blog posts for Stark Insider, lament that it's not good enough to replace my daily camera, and then sell it on eBay and call it a day and continue on my merry way shooting videos on Canon DSLR (yes, in 1080p). Little did I know this generational Canon shooter would soon enough be smitten by the little four-thirds monster known as the GH5. When I started shooting videos for Stark Insider 12 years ago, little did I know I'd find myself using a tiny mirrorless as my go-to camera.
As is always the case when I write about a camera and share my thoughts and experiences — be it the EOS 60D/70D/80D (reliable DSLRs) or RED (that Redcode!) or Sony a6500 (overheating? in Iceland?!) — I always like to put it through its paces, and that means shooting a short film of some kind. How better to test a camera than to actually make a real, honest-to-goodness(non camera review) video? In my experience at least, it's in the middle of job, futzing with lights and gear, and knobs and focus and props that you truly begin to understand the strengths and weaknesses of a camera, not mention the limitations of your talent.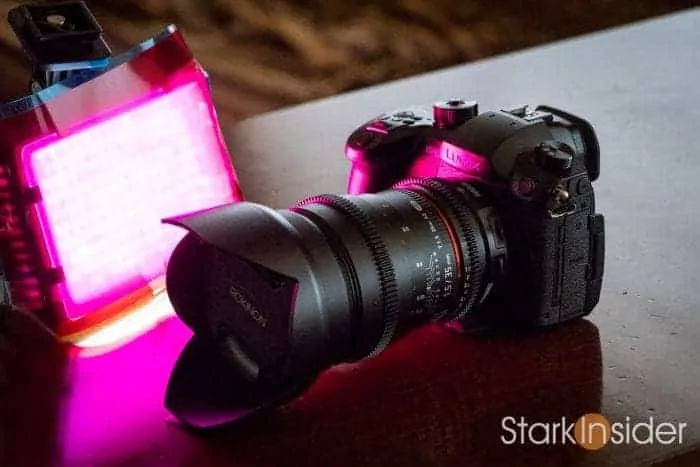 When I got the GH5 I had been developing a short called Create or Die, soon to become Crazy or Die. Ultimately I'd prefer to shoot it on RED. But one scene required discretion. When ever willing Loni Stark had to don a wig, and walk through a grocery store, this was a perfect example of when a tiny DSLR-like body makes a lot of sense. No one batted an eye as I followed Loni around a local store to shoot that scene.
In the end, we shot the entire short on the GH5. I tested slow motion, and loved the result. Just turn the dial to C1 and, boom, I was shooting 4K/60 (another twist to C2 and C3 gave me increasingly higher variable frame rates in body).
But, above all that there is to like about the GH5 (and there is plenty), it was the IBIS that simply blew me away.
So, with IBIS there must be a trade-off? Right? Right?! Well, apparently not.
Yes, you can get lenses that are stabilized. They're pretty much a necessity for run-and-gun video, especially when shooting on a Canon DSLR. But the thing about IBIS — that is stabilization in the camera body itself, not the lens — is that, in theory at least, I could take a non-stablized cinema lens, and use it on the GH5 and not get dreaded micro-jiggles, even when shooting handheld. In practice, it worked far better than I could imagine on the GH5. These close-ups of Loni reading the Little Prince to stuffed animals were all handheld. Sans tripod. I used a wonderful Rokinon 35mm cine EF lens with a Metabones Speedbooster Ultra (0.71), and just rested by hands on the bed, and let the GH5 IBIS do the rest: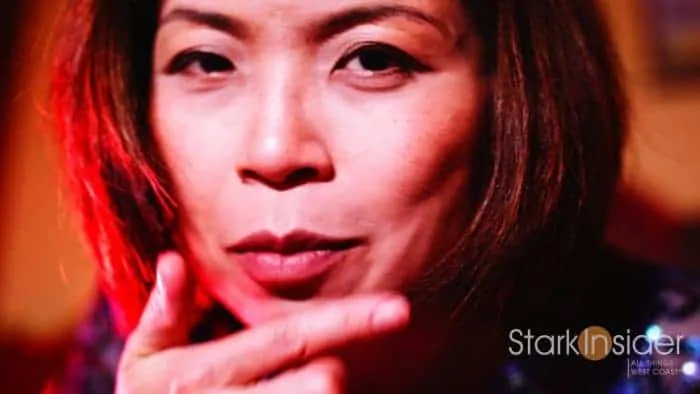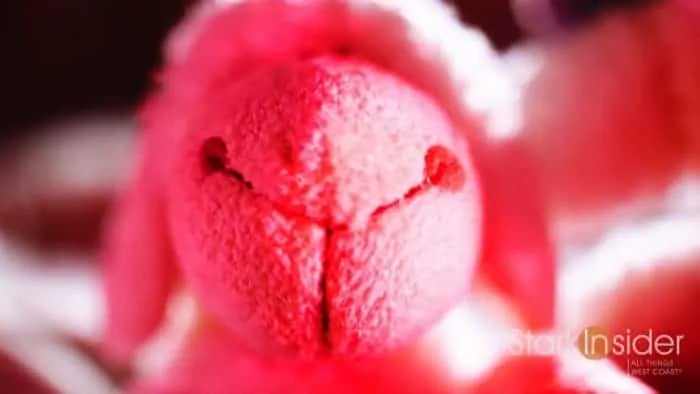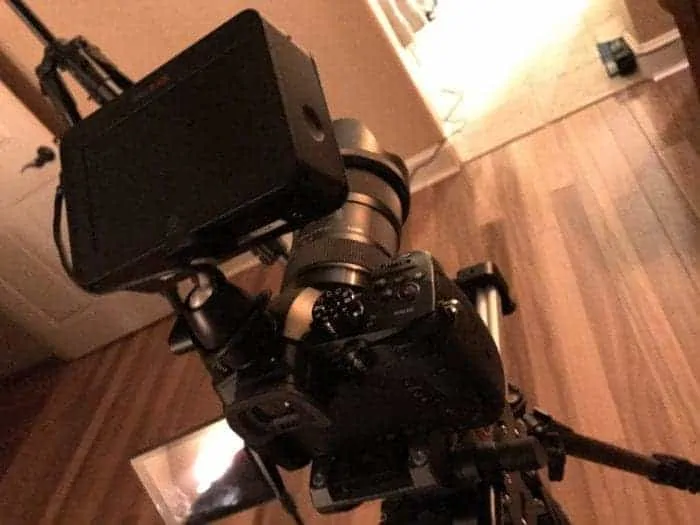 So, with IBIS there must be a trade-off? Right? Right?!
Well, apparently not. At least not that I could see when reviewing footage.
I'm sure if you zoomed in 400% and compared a scene with IBIS on and then off, there'd (have to?) be some resolution difference. Surely? Either way, it doesn't matter, because the result is simply fantastic. It's so good that you can even simulate jib and slider and crane and various gimbal-oriented moves. Just use your creativity and you can save a lot of time and money getting some pretty advanced shots that would not be possible just a few years ago without requiring crew and rigging up.
A while back I shot Paris and Iceland with a Sony a6500. I like that APS-C camera for its stills, quite nice. And, yes, the 4K video is sharp and clean. However, the a6500 IBIS can't hold a candle to the GH5. It's jello city. If you whip the camera, even at medium speed, you'll get jello, jello, jello. I no longer own an a6500.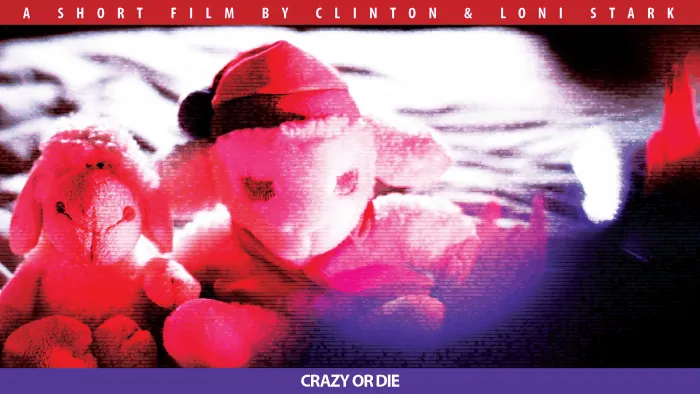 Meanwhile, I've been keeping my eye on all the full-frame action in the market taking place this year. Amazing stuff…
Nikon Z6/Z7. Canon EOS R. And, earlier this year, Sony A7 III.
Then there's also the new and (very) compelling Fujifilm X-T3 with uncropped 4K video, 10-bit and that gorgeously cinematic Eterna film sim. Not a full-frame mind you (X-T3 is APS-C) and missing IBIS, but talk about bang for the buck in such a small package.
In short: so many amazing camera bodies!
Each has their pros and cons. From $1,500 (USD) for the Fujifilm (steal I think) to about $2,000 or so for the new Nikon, Canon and Sony, who knew you could get so much camera for the money — there's really no excuse not to be shooting your stuff, whether it be music or wedding videos, travel docs, short films, wildlife videos… whatever the case may be, the tools are here, and they're astounding in their capabilities.
But I'm doubting any of them can touch the GH5's party trick that is stellar in-body image stabilization. I don't know how Panasonic does it, and I'm hesitant to completely enshrine myself in total hyperbole (too late) when I call it magical.
Happy shooting!
Crazy or Die
What is essential is invisible to the eye
A short film by Clinton and Loni Stark
Gear: Panasonic GH5 mirrorless camera, Rokinon 35mm T1.5 EF cine lens, Sigma 18-35mm f/1.8 EF lens, Metabones Speedbooster Ultra (0.71), Atomos Ninja Blade monitor, Manfrotto tripod, Edelkrone slider and skater, Genaray LED light panels, a smoke machine (that didn't do much), a $10 neon rope from Amazon, a wig (that did a lot), an ever willing wife and some stuffed animals (?)…
Also see: Crazy or Die director's commentary with Clinton and Loni Stark