Blackmagic Design announced a battery grip for its Pocket Cinema Camera 4K that could make it more enticing for video shooters looking for a compact setup.
Priced at $245 (USD) the grip connects to the bottom of the Pocket 4K — similar in design to other grips we've seen before on DSLRs.
The grip accommodates two additional batteries that can, according to BMD, power the camera for over two hours. Given that the run time on the camera without the grip is pretty poor, clocking in at 40 minutes or as others have reported even worse depending on the settings and shooting mode, this looks to solve a lot of pain.
One thing to note is that the grip uses Sony L batteries (in a slide out tray), and not the Canon EP-6 battery which is used inside the Pocket 4K itself. Consider this a good thing. Sony L batteries are ubiquitous. Many camera accessories including LED lights and monitor/recorders use them. Chances are you probably already have some lying around. Further, they're dirt cheap and there's a tonne of choice found on places like Amazon.
Net-net: the battery grip for the Pocket 4K is very much welcome. Yes, the price for the grip itself is a little steep. But given that it will get the job done, without having to rig up a custom DIY Franken-rig, I'd say it's worth the price and makes the Pocket 4K Cinema Camera a more compelling option.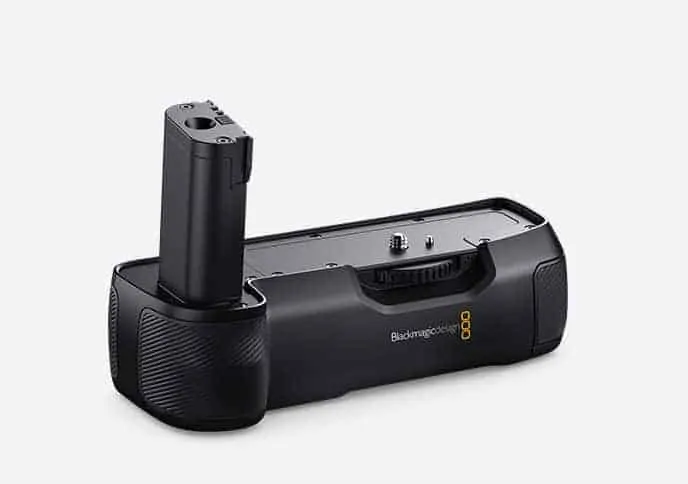 Speaking about options, but what about the (now legendary) Panasonic Lumix GH5?
I suspect those in the sub $2,000 cinema camera market will be looking very closely and cross-shopping the Blackmagic Pocket 4K Cinema Camera alongside the GH5. And probably with the outstanding Fujifilm X-T3 as well.
The latter for me is a no-go because of the proprietary X lens mount, which means I can't use all my existing Canon EF/EF-S glass. So it's just not a practical choice. If I were starting from scratch the X-T3 would be certainly a strong consider.
That then would leave the Pocket 4K vs. the GH5.
I've been shooting on the GH5 since its release a few years back in 2017. I never expected to enjoy shooting on a mirrorless as much as I do with Panasonic's flagship mirrorless. I had heard all the fuss about the GH4. So finally — as a hardened Canon EOS DSLR guy, with the 70D and 80D — I gave it a go with the GH5. Man, that's a stellar camera. Battery life. 10-but 4:2:2 video files. Dual SD cards. And some sort of freaky magical In-Body Stabilization (IBIS) that can stabilize shaky handheld shots so well that you can even use unstabilized cinema lens (like a Rokinon 35mm) and get great results.
But I will say on the downside the GH5 can produce video-ish looking footage. I can't say exactly why. To me, though, it feels less organic and film-like then say, a RED, or Blackmagic.
So even though I've never used a Pocket 4K (I've shot on the Micro Cinema Camera and loved the image, but certainly not the ergonomics) it does tempt me. I especially like the idea of easy to edit ProRes files. For some reason GH5 files do not play well in Premiere and I have to generate proxies which is a minor pain.
The Pocket 4K doesn't have IBIS. On the other hand, it has a large 5-inch screen, shoots RAW, and, to my eyes at least, has a prettier, more filmic image.
Battery life complaints are pretty much now addressed. Just add the battery grip. Even though it adds $245 to the price, all told you're still in the same ball park for the Pocket 4K + Grip as the GH5 body which is now discounted to $1,500 USD. Either way, both cameras (and the X-T3!) are incredible values. Imagine all this capability in a DSLR or mirrorless camera, say, just 3-5 years ago? Crazy.
For now, I'm going to keep on keeping with the GH5. At least for shooting video footage for Stark Insider when traveling and when I need a discrete option.
Stark Insider
Camera, Videography and Filmmaking Articles

By Clinton Stark
If Premiere Pro adds support for BRAW (Blackmagic's answer to RED's RedCode R3D with variable compression choices) then I might just forgo IBIS and replace my GH5 with a Pocket 4K.
Watching founder and CEO Grant Petty at NAB in Las Vegas I couldn't help but think the camera world is a better place thanks to him and their innovative products which have challenged an otherwise traditionally staid industry (i.e. Canon and Nikon). Prices continue to drop. Resolution and image quality increase almost annually it seems. And there's so much astounding capability in camera bodies and lenses these days. Not to mention: we have free platforms like YouTube and Vimeo and social media to push our stuff out to the world.
The Blackmagic Pocket Camera Battery Grip is priced at $245 (USD) and will be available in August.
Happy Shooting!