Not surprisingly, the new Blackmagic Design Pocket Cinema Camera 4K has been hard to buy. Well, actually that's not entirely true. It's actually easy to buy, and rather I should say, hard to actually get. Meaning most online retailers take Pocket 4K orders, but don't fulfill them typically for weeks, and, more commonly, months. Chalk it up to popularity combined with carefully managed production lines (my guess: to optimize inventory management and supply chain).
That seems to have somewhat changed.
As of today, I received an email from B&H Photo Video that states the much-loved and much-hyped Pocket 4K camera is now — honest to goodness — in stock. That should mean no wait times. Place your order now (Pocket 4K $1,295 USD on B&H Photo Video), and you should receive the camera in the typical time it takes to ship to your location.
As for the Pocket 4K camera itself. I think this is a superb camera for those interested in cinematography, filmmaking and/or film school. It's not an easy to camera to use, say compared to a traditional mirrorless or DSLR. However, with great power comes great responsibility. And the challenges of shooting with a pure cinema camera — no IBIS, limited auto-focus, RAW/BRAW — means the user's skill is what matters most. Oh: a good story sort of helps too.
For me shooting videos here on Stark Insider I'm still all about the Panasonic GH5. I like the idea of the hybrid. So, when I'm travelling I can shoot high quality 10-bit 4K video in VLog, but, in a pinch (actually, in a twist of a dial), I can capture some decent stills too. Plus, battery life on the GH5 is terrific. And let's not forget the fully articulating screen which makes capturing shots from low and high angles far easier. I think for similar convenience on the Pocket 4K you should get an external monitor.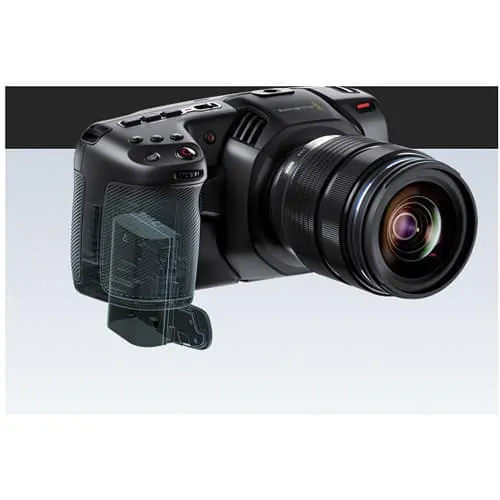 In any case, those sitting on the fence, debating whether to get a Pocket 4K now might be a good time. Early bugs have been mostly worked out. Blackmagic added their own twist on compressed RAW, called BRAW. That means you can shoot very rich footage into smaller file sizes, and still have the ability to color grade aggressively in post. Best of all, the camera is actually in stock — at least here in the U.S. at B&H.
Blackmagic Pocket 4K.
Panasonic Lumix GH5.
And others too like the fabulous Fujifilm X-T3 and Sony A7 III and Canon EOS RP.
There's incredible choice these days for those looking for videography tools.
Differences that matter across the cameras at the end of the day will depend, of course, on the types of projects you shoot.
Recent Videography & Filmmaking Articles
on Stark Insider
Regardless, don't sweat the details. Because everything else in your production will likely matter more: lighting, composition, acting, set design, sound and editing, craft services (no one works well on empty stomachs!), etc. In the end, imagination, not technology is the true enabler.
Pocket 4K for me, though, remains a solid option for filmmaking students, indie shooters, and other more narrative-based type projects (i.e. music videos).
At only $1,295 Australia-based Blackmagic Design have delivered an incredible bargain in the world of cinema cameras with the feature-packed Pocket 4K. Don't forget the package also includes a license for DaVinci Resolve Studio. So much to dig into here.
Happy shooting!
Research/Buy: