GH5 video shooter Clinton Stark rambles, stumbles, and shares his first impressions and thoughts about the new Canon EOS R full-frame mirrorless camera.
So you might have heard? Canon apparently has a new camera that (just) a few people are talking about. And talking and talking. And ranting and ranting. And screaming and screaming. Opinion there, opinion there, opinion everywhere. Just about anywhere online: YouTube, forums, blogs, social media. It's all Canon EOS R, all the time. Some of it is good, some of it is of the ambivalent variety, and a lot of it hells-bells-all-out rage; especially the kind we've come to, if not love, at least expect about the internet in 2018. You thought missing your train was a bummer, try not getting 4K/120fps/10-bit/4:2:2/HDR/FlyingMonkeySauce. Mercy! How can we go on?!
Yes, the new Canon EOS R mirrorless camera is here — and is surely one of the most controversial new cameras in recent memory. As we all know too well, this is Canon's first-ever full-frame mirrorless camera. It's been a long time coming. Sony has been here for quite a while and is doing strong business with its Alpha A7 range, which has become increasingly difficult to keep track of given Sony's penchant for releasing a new model every other Monday. A7R, A7S, A7 (regular?), Mark II, Mark III, R, S, etc. All I know is the Sony A7 III ($1,998) is a stellar full-frame mirrorless. With the EOS R and the Z6, Canon and Nikon are respectively looking to steal some mirrorless thunder from Sony in an increasingly hot market segment.
I've been shooting with the EOS R for a bit now, testing photo and video mode, handling the thing, trying to get a feel for how good it is.
** And most importantly: Can the Canon EOS R replace my Panasonic GH5? **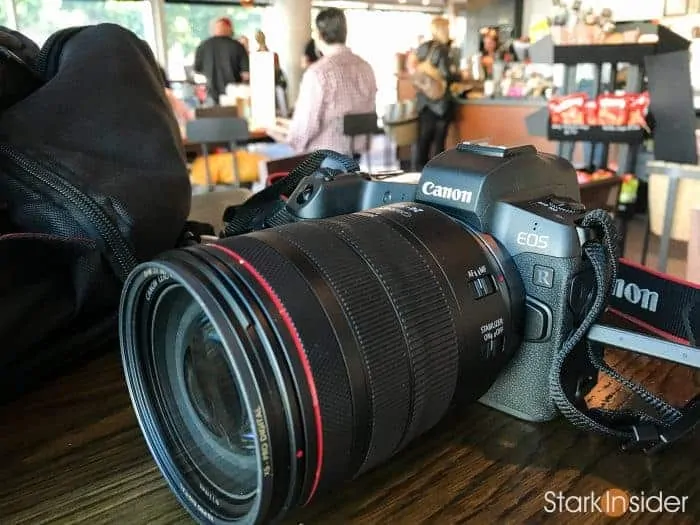 Ironically I'd might've said this would be a first look coming from a generational Canon shooter. I'm one of those guys, yes. My grandfather (Canon TL). My father (AE-1). Me (T2i/60D/70D/80D). All of us Canon zombies. But in 2017 something called the Panasonic GH5 came along. I had heard all about the GH4, but never bit. The GH5 was too good on paper to at least not see if the hype was real, and if it could replace my 80D. Those who follow Stark Insider know all too well that I'm pretty smitten with the GH5. I know I'm not alone in that regard. I bring the GH5 everywhere with me, shooting video around the San Francisco Bay Area. Up to Vancouver and Seattle. Down to the Baja. And, even, recently, to the Vatican where the GH5 performed amazingly well — see ROME: Waking Up the Vatican.
Given the EOS R is a milestone camera for Canon and the camera market overall I had to give it a shot. Based on the specs I wasn't exactly convinced.
Given the EOS R is a milestone camera for Canon and the camera market overall I had to give it a shot. Based on the specs I wasn't exactly convinced. It's missing dual SD card slots, has a limited 4K video mode, and lacks many of the advanced video features found on the GH5. Still, this is Canon. There's amazing DPAF (Dual Pixel Auto Focus), "Canon Color," and some nifty looking innovations like a customizable touch bar and lens control ring.
This is a quick look at my first impressions of the R, mostly from the perspective of a GH5 shooter. Nothing too formal, just some casual, initial observations and thoughts.
Look soon for more in-depth thoughts on the EOS R including more comparisons with the GH5 and other cameras making the scene.
You can see my work on the Stark Insider Vimeo and YouTube channels. Or just watch Crazy or Die below shot on GH5 and forever hold your peace:
Shot on Panasonic GH5: CRAZY OR DIE
CRAZY OR DIE
A woman struggles with perception, reality and acceptance. What is essential is invisible to the eye.
A short film by Clinton and Loni Stark
Gear: Panasonic GH5, Rokinon 35mm Cine, Sigma 18-35mm, Panasonic 12-35mm, Generay LEDs, a wig, defective smoke machine, and stuffed animals (?).
Canon EOS R: First Impressions from a GH5 video shooter
Canon EOS R: Design, Handling, Ergonomics
Well, it looks like a Canon and feels like a Canon. Just more svelte, more designer, more powerful. In a nutshell that's about it.
Pick up the EOS R and you're immediately in familiar territory. Feels a bit 5D, maybe a bit 80D here and there (the battery and SD card slot action). Build quality is very good. No complaints there. I've had no issues with the GH5, but everything about the Canon's hardware just feels slightly more robust. Does that mean much in terms of comparing the two? Probably not, just, again, some first impressions.
Design-wise, it would seem the EOS R is the way forward for Canon. In Canon designer's eyes that seems to mean no control dials on the top plate — at least none that sit on top. There are two recessed, however. One on the left for power (on/off), and one on the right for selecting mode and adjusting various settings. There is no dedicated mode dial. And the two dials that are located on the top sit almost flush with the surface. It's a clean, modern look. In a way, it's the anti-thesis of something like the new (and fantastic) Fujifilm X-T3, what with its plethora of very specific control dials on top.
Canon EOS R: Key Specs

30.3MP Full-Frame CMOS Sensor
DIGIC 8 Image Processor
UHD 4K30 Video; C-Log & 10-Bit HDMI Out
Dual Pixel CMOS AF, 5655 AF Points
3.69m-Dot OLED Electronic Viewfinder
3.15″ 2.1m-Dot Swivel Touchscreen LCD
Expanded ISO 50-102400, 8 fps Shooting
Wi-Fi and Bluetooth, SD UHS-II Card Slot
Multi-Function Bar, Dual Pixel RAW
Ergonomically the EOS R is near perfection. There's a few odd decisions (more on that below), but this is a very comfortable camera to hold. The grip is excellent, larger than most of the competition, with a deep enough recess to afford lots of leverage. On the rear there's a resting spot for your right thumb where you can further solidify grip without inadvertently hitting any controls. Slide your thumb to the left and you have immediate access to the trick multi-function touch bar (M-Fn) which is operated by touch, and to the right the AF-On button.
Canon EOS R: In the Field 
I ran around the streets of San Francisco this morning with the EOS R and the 24-105mm F/4 RF. Photography is not my thing, mainly I shoot video, but I do like the idea of full-frame 30MP stills when I need to grab some photos in addition to some video on a project.
I've never been too impressed with the GH5 when it comes to photos. The EOS R is a completely different league in my view for photography. I believe this is the wheelhouse of the EOS R. From the lightning fast and accurate auto-focus, to the beautiful color and extensive controls, this is a camera that really shines for photography.
Speaking of controls, there's no mode dial. Instead you push a "mode" button on the top right and then spin the dial. The small LCD shows the mode. Choose the one you want (including the new, interesting Flex mode) and push "mode" again to lock it in. Those that change modes a lot on the run might not like the extra steps. For me, no big deal. But… I do love being able to quickly switch to C1, C2, C3 on the GH5, to get quick access to VFR. I mapped 60fps, 120fps, 180fps to each custom mode and it's a snap to rapidly switch as needed on a shoot.
The EVF. I expected to not like it. I prefer old-fashioned optical goodness. Thing have changed. EVFs are very, very good now. On the EOS R the EVF is fast, extremely sharp. No issues, and I'd no longer worry about EVF vs optical.
I really like the 24-105mm RF. I've used the (gen 1) EF version for run-and-gun in and around San Francisco for years. On the 80D. C100 Mk II. and even occasionally on RED. Yes, at f/4 it's not going to be great in low-light (not an issue really on the C100!), but for daytime around town it's peachy. On the EOS R the new 24-105mm feels great. Subjective, I know. The whole package feels Ferrari-esque. Odd thing to say. But the quality and performance and fun-factor, all there. Outstanding combo.
Canon EOS R: That M-Fn Thing
But that M-Fn bar. Man M-Fn thing. On paper I'm sure this looked like a killer idea. After all, we all like to customize our camera bodies to the end of time, so that it fits like a glove. A programmable touch bar? Kind of like the one on the new MacBook Pros? Brilliant! Great idea! Well, maybe…
The problem is that there's no tactile feedback. Without it, our fingers and thumbs are sort of lost, floating around searching and feeling their way, mostly not successfully (though there is onscreen confirmation if you're sliding or tapping the left or right side of the touch bar). There's 3 ways to interact with the multi-function bar. You can swipe it. You can left press. Or you can right press. Dig into the menus and you can customize this thing up the wazoo. All three actions can be assigned specific functions for both record mode and play mode. White balance. AF mode. Video functions such as peaking. There's a lot here. And, to be fair, it might be too early to judge as I just haven't had enough time to set this M-Fn thing up to my preferences yet.
Still, I do know that it's a finicky thing, very sensitive, and prone to accidental presses. And, the on-screen confirmation font is so very small that I find it not so easy to use. In this regard, I much prefer (so far) the GH5. In about the same location on the back of the camera the GH5 gives you a focus switch (AF/MF) with honest-to-goodness tactile feedback. And, also, just below, a superb little joystick. I also prefer the GH5's dedicated buttons on the top for WB and ISO — much easier and faster and more intuitive to use compared to the EOS R touch bar.
I should note there's also a M-Fn button, located on the top plate. That I do like. Push it and you can use the two fore and aft dials to set a variety of functions. It's fast, tactile and makes sense.
I'll reserve final judgment, but for now I'm not sold on the M-Fn touch bar. I can't help but think if Apple had designed this feature it would at least include haptic feedback of some sort. I think that might help.
Canon EOS R: That Lens Control Ring Thing
The Lens Control Ring Thing, on the other hand: awesome.
By now you probably already know, the new RF lens system and its related Canon RF lenses now feature an extra fly-by-wire control ring. On the 24-105mm for instance you now have three controls on the lens itself: zoom, focus, and a customizable control ring. You can set that ring as you like in the settings. Aperture. Shutter. ISO. And so on. I really like this idea. In practice it works exactly as you'd expect. Get accustomed to the control ring and I suspect many will miss it when switching to other non-R/RF camera bodies.
Canon EOS R: Photos
Some shots with Canon EOS R and 24-105mm f/4 RF lens.
INDOORS
OUTDOORS
Canon EOS R: Video (and thoughts vs. GH5)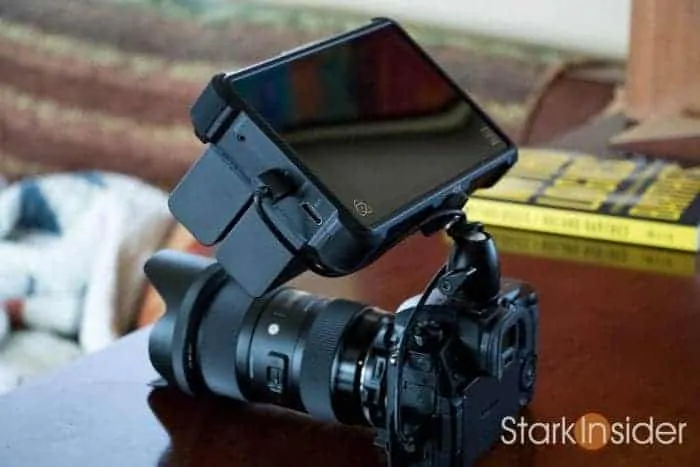 Yes, Canon has 4K video. But, you might've heard it's cropped. True story. Does it really matter? Maybe. It probably depends on what you shoot. Landscape and travel shooters and those that need expansive fields-of-view… look elsewhere (Sony A7 III?), as I believe the crop will dramatically limit your compositions. For narrative and YouTube Vloggers I'd be less concerned. Still, odd. For $2,299 you're paying for full-frame 4K right? You get it for photos, but not video. (rage!)
There's other concerns when comparing 4K EOS R video to the GH5.
The GH5 has 4K 10-bit 4:2:2 internal. You can also do 4K/60 internal at 4:2:0 or output it at 4:2:2 via HDMI, to something like the (superb) Atomos Ninja Inferno monitor and recorder. With the Canon you're limited to 4K/30 at 4:2:0.
Canon no doubt wins on auto-focus. If you're a Vlogger the EOS R could be a really compelling option.
Canon no doubt wins on auto-focus. If you're a Vlogger the EOS R could be a really compelling option. DPAF is as amazing as you've heard. Nothing in my experience comes close (though Sony is getting there). For me, though, I've got my GH5 in manual mode, for everything including focus, all the time. As much as I like DPAF for my needs on narrative, music video, travel videos, and run-and-gun I manually focus and rely on focus peaking.
Regarding memory, Canon missed the mark with only 1 SD slot. The competition have two, including the Sony A7 III, Fujifilm X-T3 and, of course, the Panasonic GH5. On the road in places I may never, ever be able to shoot again without great trouble and expense (i.e. the Vatican in Rome) I need the piece-of-mind that having a redundant SD card provides, capturing a copy of every file. Just in case. Also, when I break for lunch I can slip that 2nd SD into my wallet, and know that if my gear is stolen I've got my footage. You might say, or I might say, Clinton, you shot with 80D/70D/60D/T2i and all of them only have a single slot. Yes, true, I would tell myself. But this is 2018, and manufacturers are giving us more robust features, including dual memory slots. Except, Canon. Sigh.
Canon EOS R: Can it dethrone the GH5 for video?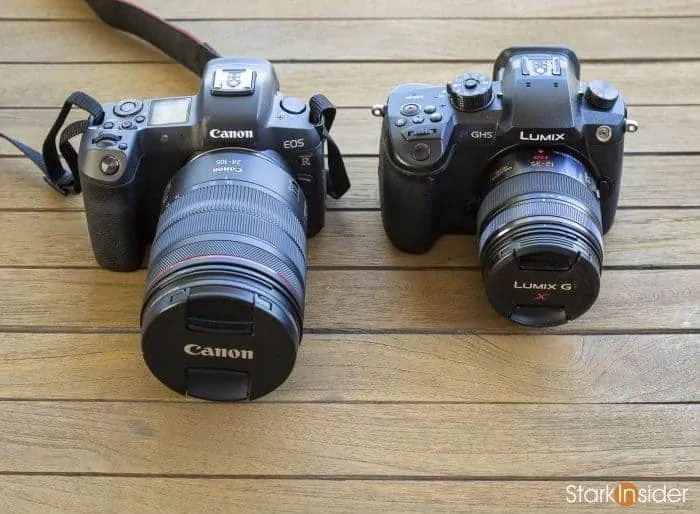 My early thoughts are no. No, the Canon EOS R can not replace the GH5 for serious video shooters.
There's an exception. For Vloggers and YouTube selfies, the EOS R might be great, thanks to the amazing DPAF, and the flippy, full-articulating screen. At $2,299 it's not cheap, but it seems these days YouTubers don't mind forking out that kind of money in their quest for YouTube stardom. For that market, I think Canon has a winner.
But, dog, the GH5? Wow. Deal of the century. For what you get that's just astounding. The funny thing: consider if the GH5 came out this month as a brand new model. What would we be saying? We'd say that for video shooters the GH5 is trouncing just about everything (except possibly the A7 III). That an 18-month old camera can still go toe-to-toe and then some is truly remarkable.
In my books it's hard to see anything else on the market now, including the EOS R, as a suitable replacement for the GH5 for serious video.
In my books it's hard to see anything else on the market now, including the EOS R, as a suitable replacement for the GH5 for serious video. Don't forget the GH5 supports anamorphic modes and has de-squeeze, plus Waveform monitor, excellent VFR modes and countless other details that make it a formidable camera. And: the GH5 has IBIS that works exceptionally well, meaning you can use a non-stabilized lens like a Rokinon Cine and handhold it with pretty mind-blowing results.
These are supposed to be my first impressions of the Canon EOS R… but I guess I have to keep it real, even if my assessment is early and requires my hands-on time. As you might see in the YouTube comments… that GH5 tho.
Canon EOS R: Final thoughts (for now)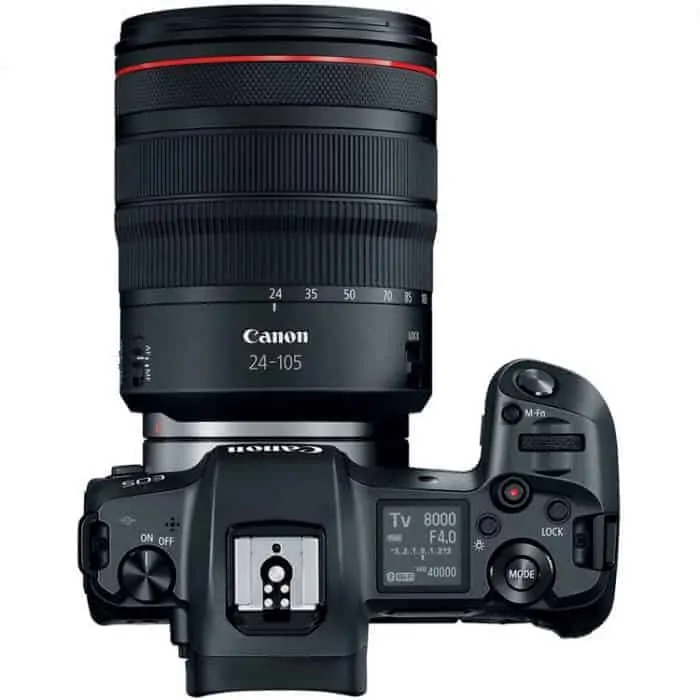 I think of it this way:
For photo shooters who do occasional video or For Vloggers/Selfie shooters, the Canon EOS R is definitely worth a look. This is a 30MP full-frame Canon that costs $2,299. Pretty amazing considering the Canon 5D IV goes for $3,499. Between the two I'd easily go for the EOS R (and that new RF mount and incredible, but pricey lenses) over the 5D. I'd buy the RF/EF adapter and be on my way.
For serious video, though, I still believe the GH5 is it. Image too clinical? Maybe. Lens choice is a factor there. And if need be, just add grain and process in post — why not start with a nice, clean image and then do with it as you please? On the other hand, these days a sharp, clean image is preferred for most commercial work.
Other solid choices for video in this price bracket include the Fujifilm XT-3 (wow) and the Sony A7 III (also, wow).
I prefer the GH5 and the MFT lens mount as you can do so much with it. Throw on some vintage C mount lens, no problem. EF lenses, sure. Tiny native MFT lenses to shoot discreetly, easy.
Either way, there are some incredible camera options out there today. Most of the buying decision will likely come down to personal preference and also the availability of lenses available in any given system (RF, E, X, MFT) to meet your specific shooting needs.
A quick aside: It seems Canon makes a lot of people angry. Really, really angry. So angry that this camera — or any other — doesn't give these internet psychos enough to complete their video or film project. Rage! Canon! Rage! Canon! Rage! I need more specs! 8K! Rage! Can't. Complete. My. Film. Canon! Rage! (eyeroll).
Camera & Filmmaking Articles 
By Clinton Stark
Price-wise here's another thought.
This EOS R kit I'm shooting with costs $3,399. Not an insignificant chunk of change. That includes the body and the superb 24-105mm f/4 RF lens. Add an adapter so you can use your existing Canon EF/EF-S lense and the total comes to a — whopping — $3,499 USD.
For about the same amount of money, you could have (almost) the best of both worlds and buy a discounted Panasonic GH5 for outstanding 4K video and a discounted Canon EOS 80D for outstanding stills and DPAF when you need it. Total there would be $1,698 for the GH5, and $1,399 for the 80D with the 18-135mm kit lens. Total $3,097. Granted the 80D is APS-C, not full-frame, and the 24-105mm RF is possibly better than the 18-135mm (though I have my doubts!) you get with the 80D. And keep in mind you'd still need to factor in a MFT lens for the GH5 or an EF adapter of some sort. Regardless, you get the idea of what's possible. If you want full-frame you'll need to pay the piper one way or another. If you don't then there's a lot of better-priced options you might want to consider before really breaking the bank. I have an 80D and a GH5 currently and will likely stay the course.
As an all-around full-frame mirrorless camera the EOS R is going to please a lot of people. No doubt it will sell like crazy. It's already the #2 camera with the most interest over on dpreview. You can trust Canon quality. Rock solid. Excellent design and ergonomics.
However, based on my early impressions, it falls short of topping something like the GH5 for serious videography work and filmmaking. I suspect that was never Canon's goal anyway, and there's likely a more powerful R just around the corner, or somewhere on their roadmap. Panasonic too has the juicy looking S1 and S1R full-frame bodies coming in 2019. Either way, I'll keep shooting on the R for a bit even though my gut is telling me that the GH5 is likely to continue to see heavy rotation here on Stark Insider.
Happy shooting!