In short, yes. Of course it can: the upcoming, unreleased Blackmagic Pocket Cinema Camera 4K can replace a Panasonic GH5.
How can we know this when the heavily anticipated camera isn't even out yet (Blackmagic says September)? We know this because it has a sensor that captures a moving image when you hit record. It's a camera! Just like the GH5. Therefore it can replace it… so too can an iPhone, a RED, Canon, Sony, and so on. Cameras are just cameras.
Well, maybe not.
Facetiousness aside, I think many of us will be comparing the Blackmagic to the outstanding GH5 because we are big fans of having a convenient and compact package we can readily toss into a bag that captures really high quality footage with lots of dynamic range and, well, and with a look that is… "organic-y" (filmic?).
So when the Pocket 4K ships in September I'll be immediately comparing side-by-side with my GH5 and likely making a decision going forward to use one or the other for travel videos here on Stark Insider.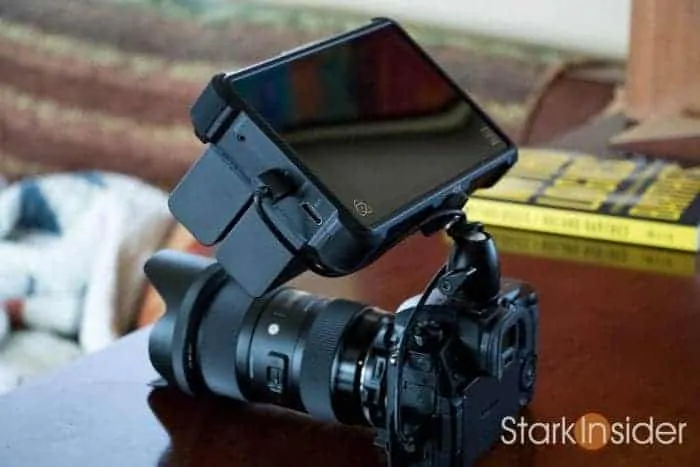 Here's some things we know to be true about swapping out a GH5 for the Pocket 4K.
What we'll give up:
Battery life. We can all pretty much know for sure the Pocket 4K battery will be very short. The original pocket didn't last along at all, typically about 20 minutes or even less, and that was only for a 1080p device. With 4K and a 5-inch (!) built-in display the Pocket 4K would seem, in theory at least, to draw even more power. I'm sure they'll be plenty of power solutions so this one doesn't bother me as much as others.
No stills. This is obvious, but bears mentioning. With the GH5 you get an 18MP stills camera thanks to its hybrid design. That's handy for event videographers, wedding shooters and others who want to capture nice 4K video, but then at the twist of the dial to be able to capture some photos as well. Of course, with the Pocket you could always snag a still from a video if needed.
Less compact. The GH5 is quite small. Coming from Canon DSLRs it's amazing how much capability Panasonic crammed into such a tiny (and robust) package. Once you rig it up with a lens, monitor and other accessories it can become less nimble. Still, if you've ever worked with Arris and REDs and high-end Sonys then you know that your back will thank you when shooting on something like a GH5 (or iPhone!). The new Pocket 4K isn't exactly massive, but it's definitely bigger than the original and features a new and controversial body (7inches wide) that aesthetically might not please the design gods.
What we'll (likely) gain with the Pocket 4K:
RAW and ProRes up to 120fps. Very nice.
That Blackmagic Look. I do really like the image on the GH5. There's a nice modern quality to it, and you can go for a modern clinical (i.e. razor sharp) look or, with tweaking in post, can push it (thanks to the 10-bit files) to produce something more organic. Lens choice will help too of course. But there's something very special about the vaunted Blackmagic Look. Turns out whatever their putting into those Australian waters can, indeed, produce magic.
Mini-XLR for high quality audio. On the left side port array you'll find a Mini-XLR connector. This means the camera can take XLR devices and capture very high quality right into the camera without the need for recorders or cumbersome adapters. Definitely a plus. The GH5 has an optional XLR adapter that sits on the hot shoe on top. But it costs money and adds bulk. Just something to consider.
USB-C recording. Media these days is generally expensive. I'm surprised that the markets didn't see much downward pricing movement in 2017, and, so far, into 2018. Cfast cards are still pricey as are high speed SD cards (V90). Thankfully, with the Pocket 4K you'll have the option to record to an external SSD using the USB-c port. I love this option. I record to SSDs all the time using Atomos recorders and really appreciate the convenience. Unplug it. Connect it to your computer, and, boom, you're editing away.
Super large built-in 5-inch monitor. What?! 5-inches?! For a built-in monitor?! Yes. Again, that water. True, it doesn't tilt or rotate, so you're limited in that respect. But how nice will it be to have such a large screen right there on the camera itself. If the screen is as good as it is on the Ursa Mini Pro it should really help with focus, exposure and composition thanks to its generous proportions. Caveat: impact on battery life.
All of this is just specs and theory. The GH5 is here and now, and battle-tested, and runs a very stable firmware that's already at version 2.
Regardless I pre-ordered the Pocket 4K within as soon as B&H had the product page up. Given how much Blackmagic has invested and learned in this space, I expect this portable cinema camera to be a smash hit (according to B&H it's already a "best seller").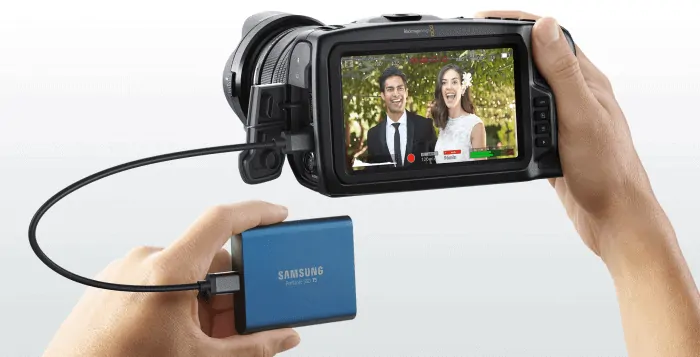 If all turns out I can't see how I wouldn't want to bring the Pocket 4K with me instead of the GH5. Stills aren't important to me. The Blackmagic OS is wonderful and easy to use. And there's a bevy of high frame rate options that should make it a very enticing offering for those interested in commercial shooting, music videos, and sports.
Oh, one more thing.
Price.
$1,295 USD. Wow. That's pretty incredible. $700 less than a GH5 body. Put it another way: you'd need to fork out 54% more cash to buy a very capable Panasonic GH5 over a Pocket 4K. Food for thought.
In about 4 months or so we'll find out if Blackmagic's successor to the original and much-loved Pocket will perform as advertised. I'm banking on very positive reviews. Again, BMD's experience in this space. And… that Australian water.
You can pre-order the Blackmagic Pocket Cinema Camera now. Shipping is expected 2018.