A special Stark Insider report and video, documenting the new "Waking Up the Vatican" tour. With Clinton and Loni Stark in Rome, Italy.
They call it a once-in-a-lifetime experience. After the two hours were up, I'd have to agree — this is not mere hyperbole.
"Waking Up the Vatican" (Video) is a new tour offered by organizers at TripAdvisor (Viator) and it's a pretty unique thing alright. The idea is that you get the Vatican all to yourself, that is one hour before it opens to the public.
I knew that the Vatican was a popular travel destination, but I did not know it was 25,000-people-a-day popular. Yes, the line-ups are indeed Godly. Unless, you sign up for Waking Up the Vatican and get to the meeting spot for 6:00am (I recommend coming at least 15 minutes early, just in case).
So, how good is this new Vatican tour?
In a word, divine.
Or awe-inspiring. Out-of-this-world. Or, simply, incredible.
Choose your favorite adjective or cliche that elicits glee — and especially that satisfaction you get knowing you splurged on something that turned out to be worth every dollar.
And this coming from a guy whose Sundays growing up were mostly about football. But with over 9 miles (!) and 1,400 rooms (!) the overwhelming nature of the long hallways, the soaring ceilings decorated to the hilt and the abundance of art that is just about everywhere you look, Waking Up the Vatican does truly feel like something special. When they talk about "the feels" I think this a textbook example.
In Photos: Waking Up the Vatican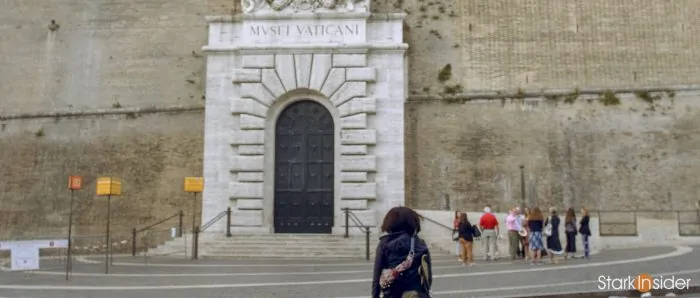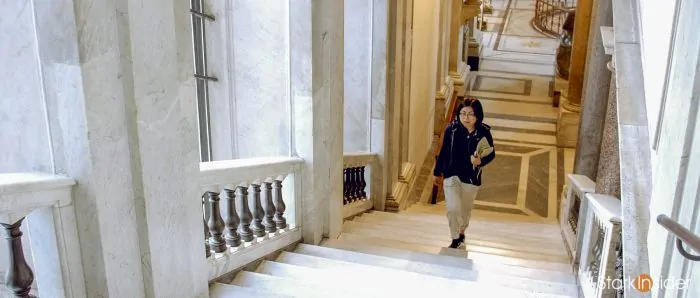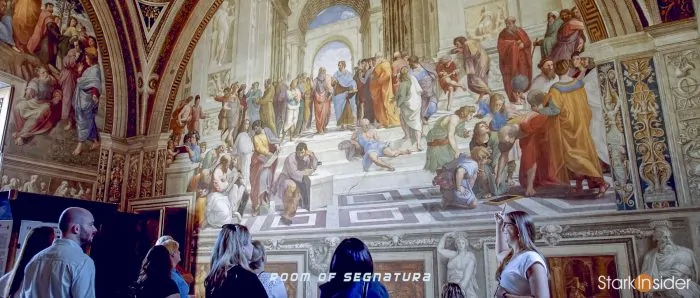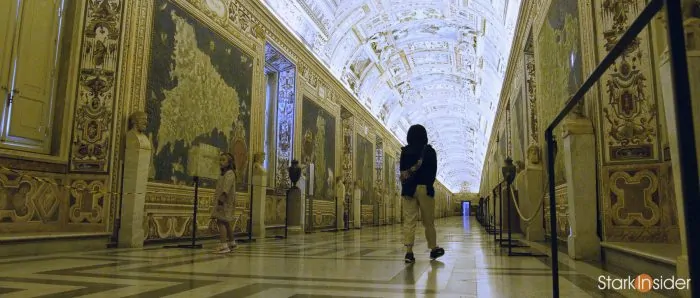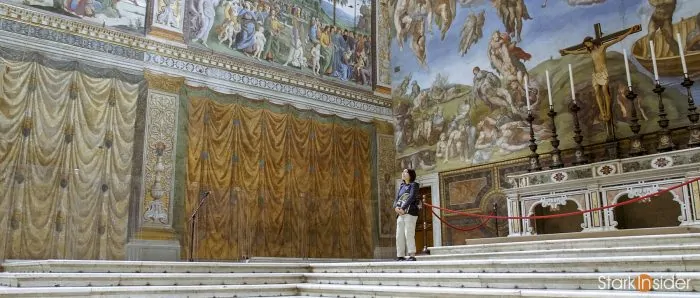 I think that slightly euphoric trance also has to do with the absolute, complete lack of other people, aside from a few staff. The tour size is limited to just 20. So your viewing angles are mostly free and clear, and photos you take are likely to be clear of random butts and cut off heads.
We met our small group at the meeting spot in front of the Vatican. From there a friendly and extremely knowledgeable tour guide met us. Once we mingled a bit, the door opened, we were led up an escalator and the tour began, and lasted for roughly two hours, where we were then led to a brunch in the middle of a gorgeous courtyard plaza. The tour is primarily focused on the Vatican Museums, and the pièce de résistance, the Sistine Chapel.
Waking Up the Vatican: Did You know?

Vatican Museums have over 9 miles of artifacts and 1,400 rooms.
Over 25,000 people a day, or 5 million people a year, visit the Sistine Chapel.
The new St. Peter's Basilica took 120 years to complete.
Those 60 minutes go fast. You're so busy processing everything, taking in all the history, that, for me at least, when my wife Loni and I headed back to the streets of Rome, our imaginations were in a slightly dreamy state. Oh, and this is where you see line-up hell. On the way out, around 7:30-ish, the masses of humanity begin zig-zag formations outside the Vatican — if you just took the Waking Up the Vatican tour this is where you can cackle diabolically (to yourself).
Things to Do In Rome

Taking a break in Rome. Photo: Lida Meyer Photography.

Here's a short list of just some of the places we visited on our summer trip to Rome:

Group tour of the Colosseum (Of course!)
Walking Tour: Pizaa Navona (Bernini's Fountain of the Four Rivers)
TopBike Tour of the Appian Way (Amazing)
Borghese
Pompei (Ruins! Ruins! Ruins!)
Palazzo Barberini (Beautiful building and installations, happened to catch Shirin Neshat's haunting short film Illusions & Mirrors starring Natalie Portman playing here)
Day trip: Florence, Tuscany, Siena and Pisa
Cinecittà (These movie sets are a bit out of the way, but you can get there easily by train. You might want to check if any films are in production to make the tour more interesting. This is where they shot many famous films and TV projects. More recently, HBO's series Rome was shot here, and the massive sets still stand today)
Food Tour of Trastevere (Excellent, by Eating Italy Food Tours)

Profondo Rosso Store in Rome, Italy.

Profondo Ross Store in Rome (Because Dario Argento. If you're a fan of the great Italian giallo genre, led by films like Suspiria (1977), this little shop of horrors owned by Argento himself is a treat. Others may not necessarily share your excitement for leather gloves, fake stage blood and eyeball props.)
Of course, I just had to bring along a 4K camera and try to take video of the experience. In this case I used the Panasonic GH5. Compact and discrete, it's increasingly our camera of choice for shooting Stark Insider videos and short films and travel docs. You can watch the result, ROME: Waking Up the Vatican at the YouTube embed below.
Vatican Museums & Sistine Chapel
Points of Interest and Maps

Courtesy: CityWonders
For Loni and I there were many highlights of our trip to Rome this summer — so much culture, history … and inexpensive, phenomenal wine. Waking Up the Vatican would be high on that light of indelible memories. Yes, it's a splurge tour. No question. However, given the opportunity I would jump on it, because it's something you'll likely never forget, and after the Colosseum, Forum, Pompeii and other hugely popular Rome sights and sounds, it will give you a nice respite from the crowds. This spiritual journey is certainly zen, but I'd suggest it's definitely out-of-this-world.
Waking Up the Vatican

What: 2 hour tour of Vatican Museums and the Sistine Chapel
Special feature: Size limited to just 20 people, takes place before the Vatican opens to the public. Plus: helping the clavigero and his team open doors with some 2,797 keys and watching the expansive hallways awaken from the dark.
Who: TripAdvisor.
Stark Insider rating: 5 out of 5 stars, highly recommended.
WATCH: ROME: Waking Up the Vatican
ROME: Waking Up the Vatican
Poetry. Philosophy. Justice. Theology.
A short film by Clinton and Loni Stark
Shot on location: Rome and Vatican City, Italy

Rome: A few parting tips

If you see a water spout around town in Rome, feel free to drink up. Or to fill up your water bottle (especially convenient during hot summers). They are perfectly safe, and  thousands are scattered across the region… a wonderful city service.
Needless to say, bring very comfortable walking shoes!