UPDATE 09.16.2018: My pre-order is in. Canon EOS R it is. I'm not convinced it will replace the GH5 as our standard bearer for Stark Insider videos, but that 30MP sensor (5D Mark IV) with DPAF in a compact body is pretty tantalizing. Plus, it's one thing to actually shoot real projects with a camera in hand, and another to endlessly wax poetic about specs and missing features on forums. Boo hoo! I'm especially interested to see if the 4K 1.7x crop on the EOS R is really that big a deal. I'm accustomed to 2x on the GH5, plus we shoot mostly narrative here, not landscape, so FOV is certainly less an issue (RED even crops substantially as you reduce resolution).
Canon officially took the wraps off its first ever full-frame mirrorless camera. The new "R" starts at $2,299 (USD) for body only, and $3,399 for a kit that includes the new RF 24-105mm F4 L IS USM lens.
That "RF" is the designation for Canon's new mirrorless mount. You can still use your EF and EF-S glass with one of three adapters: Canon Mount Adapter EF-EOS R, Control Ring Mount Adapter and Drop-in Filter Mount Adapter (which can accomodate an ND filter ring behind the lens).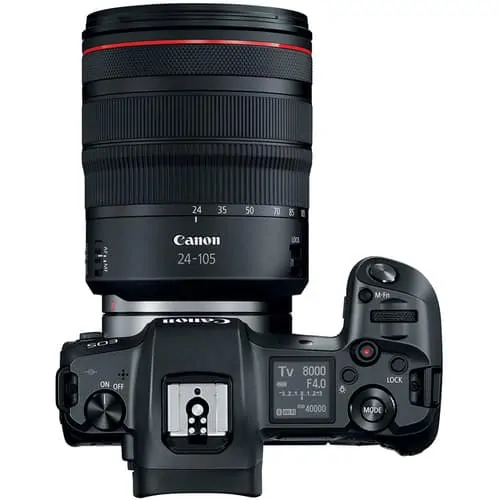 In addition to the 24-105mm, Canon will ship several native RF lenses including a very nice and very pricey 28-70mm f/2 which should have impressive low-light capability.
Speaking of low-light, Canon says the R will be able to auto-focus exceptionally fast, even at EV-6. If you know anything about trying to focus in extreme low light situations, if this turns out to be true, it will be a feature that many should love.
As for video, there's 4K. Not exactly a gimme, this is 1080p loving Canon afterall. Thankfully, though, you can shoot 4K UDH up to 3,840×2,160 and 30fps (no 60fps unfortunately). A little bit of a surprise was the ability to record 10-bit 4:2:2 to an external recorder — this is a feature many assumed Canon would not deliver. Still, the lack of 4K/60 and that 1.7x crop in 4K will leave many video shooters shaking their heads, and possibly looking elsewhere (more thoughts on that below).
In addition Canon threw in a few nifty party tricks:
Multi Function Bar. Sitting on the rear of the camera, where you'd normally find a joystick or similar controller, is a horizontal touch sensitive slider. You can slide your finger to control various settings, choose options and the like. My guess is that you'll also be able to use the Multi Function Bar to target focus subjects using Canon's exceptional Dual Pixel Auto Focus (DPAF).
Fv Exposure Mode. This looks quite innovative. Canon is offering a new program mode called Fv. From what I can tell, Fv is like a greatest hits, combining Av (aperture priority), Tv (shutter priority) and manual into a single mode that can dynamically adjust based on what settings you override.
Adapter with ND Filters. Bingo. Another nifty feature is the optional lens adapter that not only lets you use your existing EF and EF-S lenses, but provides a slot for ND filters. Video shooters should especially appreciate this feature, as we'll be able to leave all our various screw-on filters at home. Very convenient and not to be underestimated in my books.
There are definitely some misses that many of us were hoping for in the R:
Only a single SD card slot (also like the new Nikon Z6 mirrorless full-frame)
No IBIS (In-Body Image Stabilization)
1.7x crop on 4K video
Lack of 4K/60fps for slow-motion (GH5 has it)
Still, this is a 30MP full-frame camera  — for just over $2K — from Canon with the stellar DPAF system. Battery life remains a question mark, as, of course, does overall performance. Early reports suggest ergonomics are solid, with typical Canon handling — meaning, controls are well placed, and the camera feels good in hand.
Pre-orders begin next week. Canon plans to ship the EOS R full-frame mirrorless in October.
Canon EOS R: For Video Shooters
Okay, with the official stuff out of the way, let me riff a bit.
I've been shooting video here on Stark Insider for about 12 years. I started with the DSLR revolution, which began with the Canon 5D Mark II, a full frame monster that boot-started HD video with interchangeable lenses. At the time, a revelation. Given it's equally monstrous price tag I had to settle for a Canon EOS Rebel T2i. Amazing camera in its own right. From there it was a typical DSLR upgrade journey: EOS 60D to 70D, to, most recently, the 80D.
With the Panasonic GH5, my world forever changed in 2017. It had just about everything a video shooter could want. Soon enough I found myself using the GH5 for our run-and-gun videos. It's a great, compact travel camera too that shoots quality 4K 4:2:2 video. Plus: IBIS, dual SD, anamorphic modes, 4K/60, video tools like focus peaking, waveform, and, on and on the feature list goes. All for $1,999 (USD). Outstanding.
And wouldn't you know it, the Canon EOS R comes in at about the same price as the GH5. Though, given the GH5 has been on the market since early 2017, you can find pretty sweet deals now.
The EOS R is also priced similarly to some key competition.
Nikon's new Z6 full-frame mirrorless with its new Z-mount is going to be a strong offering that I'm sure many video shooters will cross-shop. At 24.5MP you give up some resolution, but in return you get IBIS and 12fps (not so critical for video shooters). If you're deep in SD cards, you'll possibly lament the fact that with the Z6 you'll need to invest in pricey XQD memory cards. Like Canon, Nikon only included a single SD card which… makes me sad.
Sony's A7 III is likely the most formidable direct competitor to the new EOS R. Sony has been in the mirrorless game for several years. And like Apple and Google, it seems to have adopted a rapid, annual upgrade cycle. New models come fast and furious. Unlike old stalwarts Canon and Nike, Sony keeps innovating, iterating on each new model release — while each may not be ground-breaking, the incremental improvements lead to impressive refinements. The A7 III is also $1,998 and has 4K video, IBIS and a 24MP sensor. The screen is not articulating which is a downer for many. But you get dual SD card slots, SLog3 and a tonne of tech. No doubt, the A7III is an impressive full-frame mirrorless. That might explain why it stocks out regularly on sites like Amazon an B&H.
Best for 4K Video: Canon EOS R or Nikon Z6 or Panasonic GH5 or Sony A7 III?
If I were cross-shopping in the $2K range for a video-centric camera body, these are the 4 models I'd consider: Canon EOS R, Nikon Z6, Panasonic GH5, and Sony A7 III.
Let's face it. All are really amazing cameras. Yes, the GH5 is a MFT mount. No matter. If you have $2K to spend, these bodies will likely be compared and cross-shopped. None of these cameras are going to crimp your creativity or prevent you from shooting a short film, travel doc, music video, wedding video, etc. There are differences to be sure — most will be personal, and no body here will suit all shooter's needs.
SHOT ON PANASONIC GH5: Waking Up the Vatican
SHOT ON CANON DSLR: Wrong's What I Do Best
I'm already a GH5 video shooter. It's hard to beat. I don't even think the upcoming Blackmagic Pocket 4K can touch its all-round performance and reliability. For stills, though, the GH5 is mediocre. Focusing is slow and not always accurate, especially compared to my 80D. I long for decent 4K video with all the filmmaking tools we want, plus a stills shooter in a single body. The EOS R is a strong contender in that regard.
So here's how I see it currently (based solely on the specs of the EOS R, we need to see if it does perform as advertised):
Nikon Z6 — if you're a Nikon shooter, this will be a good choice. Very solid looking camera. I'm just not a Nikon kind of guy, and have invested in Canon glass so this is out for me.
Panasonic GH5 — still the 4K king for those that only care about pro video. This is the camera that made me reconsider Canon DSLR for video… my 80D is now stored away, poor guy.
Sony A7 III — I think this is going to be Canon's toughest competitor. Full-frame, with outstanding technical features, and image.
That leaves the Canon.
Canon EOS R — My guess it will sell like hotcakes. You get all that Canon goodness – reliability, quality, speed, ease of use, all in a smaller body. And it has 4K, 10-bit 4:2:2. And ND filters if you want. Outstanding stuff.
For buyers not invested in existing systems and interested primarily in shooting video I still give the not to the GH5, especially at its discounted price.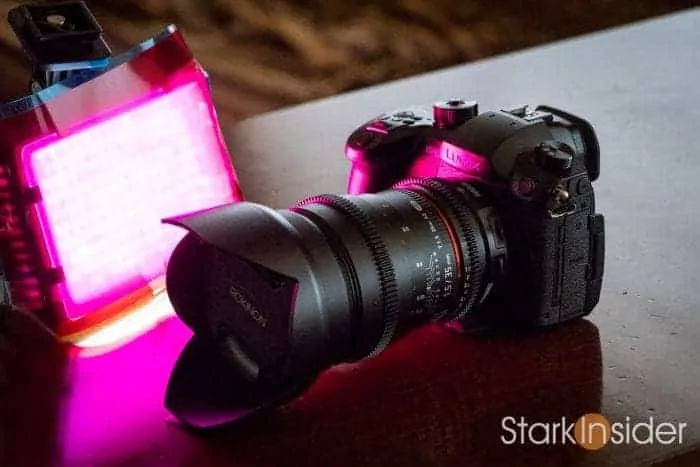 If stills is your thing with occasional video I'd skip the GH5 and take a close look at the Nikon Z6, Sony A7III and, of course, the Canon EOS R.
In the end I'm sticking GH5. But I might just give that R a whirl, and see if Canon can win me back.
Canon EOS R
Key Specs

30.3-megapixel CMOS sensor camera
Canon DIGIC 8 processor
Dual Pixel CMOS AF system
5,655 manually selectable AF points
8fps burst mode
RF Mount Compatible with RF Lenses and EF/EF-S Lenses
Built-in EVF with 3.69 Million Dots, Vari-angle Touchscreen LCD and Dot-matrix LCD Panel
ISO range of 100-40,000, expandable to 102,400
USB 3.1 in-camera charging support
Built-in Bluetooth and Wi-Fi providing easy sharing to compatible smart devices and social media sites
Single UHS-II SD card slot
CR3(RAW/C-RAW) and Dual Pixel RAW Support
Dust and weather resistant
Buy: Canon EOS R body