If you're headed on vacation and want to take high quality video here's a top 10 list of cameras that are worth your consideration.
From $199 all the way up to $2,998 (USD) there's many great choices if you're looking to shoot videos on your next vacation.
Yes, you can use your smartphone. Most top end Androids and iPhones produce pretty images, and thanks to their compact size are easy to take into museums, restaurants, and just about anywhere discretion helps. Plus there's the added benefit of internet connectivity. That makes sharing your travel adventures on Twitter, Instagram, Snapchat and Facebook a breeze.
But this Top 10 list is for those who want the absolute best image quality for video — at least as good as you can get in a DSLR or mirrorless-sized body.
If things like dynamic range, color, the ability to adjust images after the face, high frame rates (for slow motion), long battery life, removable storage, and the flexibility and creative possibilities of interchangeable lenses matter to you then please do read on.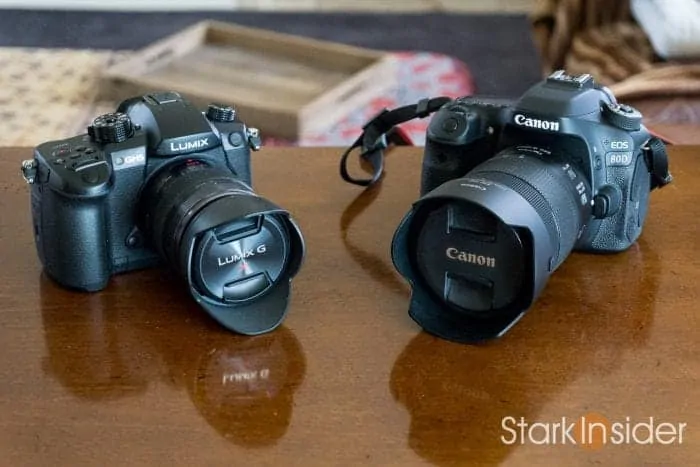 As always, when I make recommendations here on Stark Insider, it's only for gear I've used. In this case all I've either rented, borrowed or owned all 10 of these camera bodies. The exceptional ones — like the Panasonic GH5, for instance — are keepers.
I've been shooting video — short docs, experimental stuff, interviews, travel videos, short films — for about 12 years. You can find my stuff in the usual places including YouTube and Vimeo. Here's a recent travel video/short film we finished using 9 different cameras over 5 years:
Travel Video: 3 Days in Sonoma ft. Loni Stark
Gear: Panasonic GH5. Canon C100 II. Blackmagic Micro Cinema Camera. RED Scarlet-W. Canon EOS 70D. Canon EOS 80D. Serveral Android phones. Sigma 18-35mm 1.8 ART lens. Panasonic 12-35mm.
Location: Sonoma County, California
Director: Clinton Stark
Okay, you're set to travel, be it for vacation or business or in search of love? Here's 10 cameras I think will help make your journey even more special.
Top 10 Cameras for Shooting Vacation Videos
(in no particular order, all prices USD)
1. Canon Rebel T2i (used)
Best for: Just about everything. Good quality stills. Great video potential for the price.
Watch out for: Only shoots 1080p HD video. Older model.
Buy: Amazon or eBay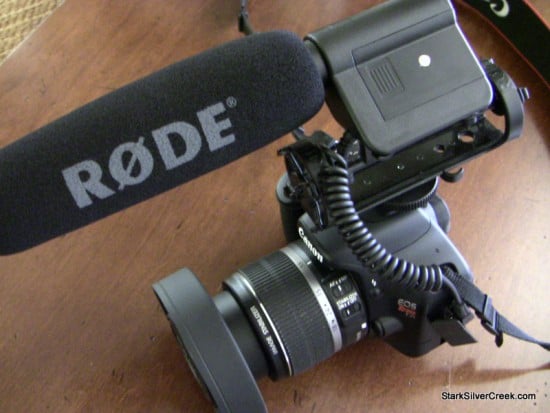 Kind of odd to recommend an older Canon DSLR for video? Yes and no. Sure if you have a bigger budget, you'll probably want a 70D or 80D or even the Panasonic GH5 if you can stretch that much. But for around $200 the T2i can be incredible. You get a 18 megapixel sensor which does reasonably well in low light. The real trick is to add a third party piece of software called Magic Lantern. That will unlock all the features — zebras for exposure, focus peaking for dialing in focus, cropmarks — you'll want for advanced videography. The T2i is a famed Canon DSLR model for a reason.
2. Canon EOS 80D
Best for: Oustanding auto-focus. Responsive touch screen. Long battery life. Top notch ergonomics.
Watch out for: Lacks 4K video.
Buy: Amazon
Canon took everything it learned about crop sensor DSLRs (APS-C) and pretty much perfected the formula with the EOS 80D. Featuring a 24.3 megapixel sensor, the calling card here is auto-focus. Canon calls it Dual Pixel. You can call it magic. It's best-in-class at locking in on subjects at your choosing. From there it will track them, automatically keeping them in focus across the frame. Hands down, Canon beats all in this regard. If you want 4K video elsewhere, but for a versatile travel companion the 80D is worth a look.
3. Panasonic G7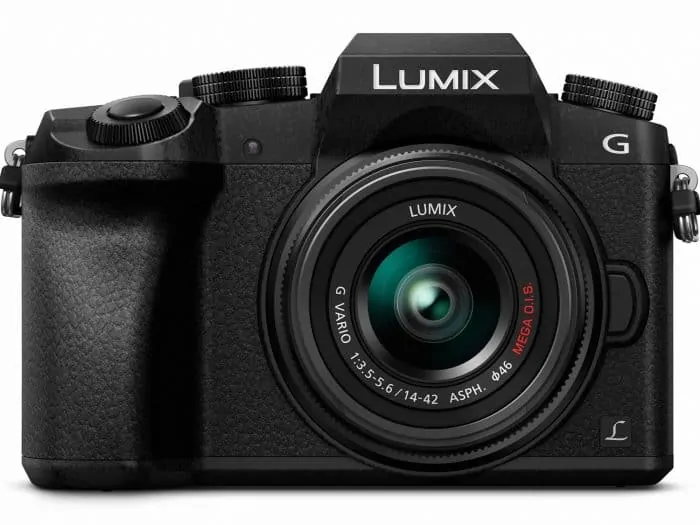 Best for: Low-cost 4K video shooting with almost all the bells and whistles. Micro Four Thirds lenses are compact, travel friendly.
Watch out for: Plasticky build.
Buy: Amazon
The Panasonic G7 ticks a lot of boxes. 4K video. Fold out, fully articulating screen. Compact design. Solid ergonomics. Even better the price has dropped substantially since it first hit the market. No question, though, even today the G7 is a strong contender for your next vacation. You'll especially appreciate not only the tiny size of Micro Four Thirds lenses (the G7 uses a MFT lens mount), but their relatively tiny prices too. Given this is a mirrorless camera, battery life won't be as good as what you'd find on Canon or Nikon bodies. No matter, extras are inexpensive and small. You may lust for the top end GH5, but the G7 could serve you just fine for now.
4. Panasonic Lumix FZ80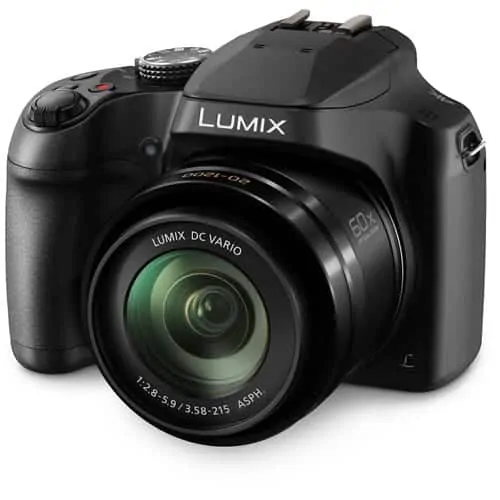 Best for: All-in-one shooter, for those not interested in swapping lenses.
Watch out for: Could be challenging in low light.
Buy: Amazon
Another killer deal. The marquee headline with the Panasonic FZ80 mirrorless camera is its built-in 60x optical zoom. At this price point and in a body this small, that's almost unheard of. That reach will come in handy on a safari, or when grabbing video on streets of Paris, Tokyo or Rome, or just about anywhere you want to get up-close, without sacrificing the ability to get wide, landscape shots when needed. One catch, however. The built-in lens is rated at F2.8-5.9. As you zoom in you lose light. During the day this won't be a problem most of the time. You could be challenged in low light situations, such as dark interiors or at night. Something to keep in mind — it may or may not be a deal break depending on your planned shooting locations.
5. Nikon Coolpix a900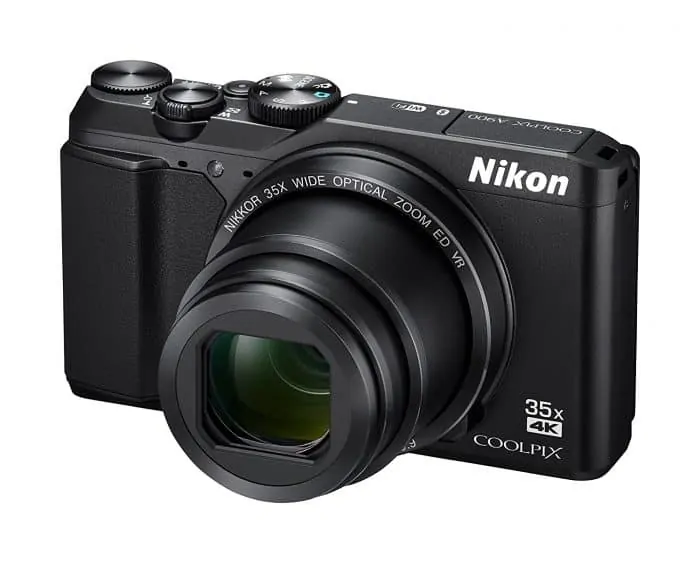 Best for: When simplicity and compact size matter most.
Watch out for: Battery life not the best.
Buy: Amazon
Simplicity is key here. The Nikon Coolpix A900 is a traditional point-and-shoot camera. It's easy to use and very small so you can easily keep it in your pocket or purse or toss into a backpack with no fuss. Compact form notwithstanding, you still get a nice 20 megapixel sensor which is nice for stills, and UHD 4K (up to 30fps) for video. The LCD fully tilts so it's also suitable for YouTube Vlogs and selfies.
6. Olympus OM-D E-M10 Mark II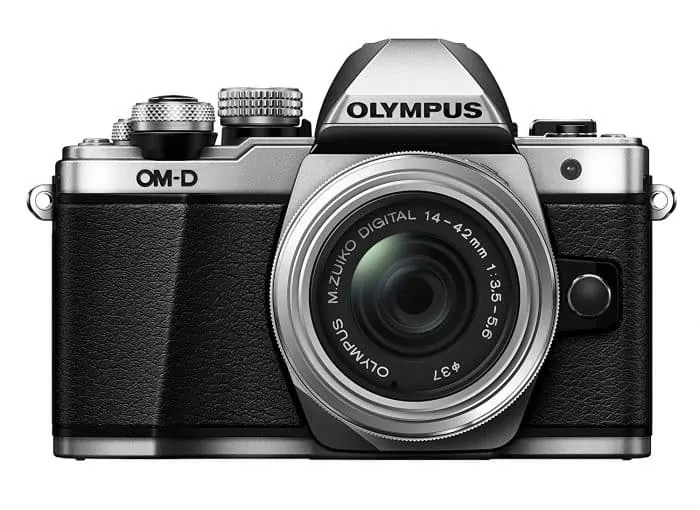 Best for: Steady shots thanks to built-in 5-axis image stabilization. Discrete shooting with silent mode.
Watch out for: Tricky menu layout takes some learning.
Buy: Amazon
Along with Panasonic, Olympus is the other big name when it comes to makers of Micro Four Thirds camera bodies. If aesthetics matter to you, then you've found your match. Olympus makes some lookers. There's a a real vintage feeling with this OM-D E-M10 Mark II (oh, that name!). Especially in silver (see photo above). Thankfully beauty is backed by brains. There's a nifty 8.5fps burst mode for capturing action shots in a pinch. And, of course, 4K video, but with the added benefit of an oustanding 5-axis image stabilization system. In my tests, you could closely emulate gimbal and tracking shots even handheld. Pretty hand when you're on the road and want to get smooth video footage without lugging all sorts of extra (and heavy) gear.
Tips for Shooting Travel & Vacation Videos

Here's a few things to keep in mind before you set out on your next trip.

Extra batteries. You will need extras, especially if you have a mirrorless camera which typically draw more power. I've found that the original manufacturer's batteries have best run times. But I typically buy far cheaper ones made by the likes of Wasabi, Newmowa, etc.

Portable tripod. For travel I like those tiny tripods that are only a few inches long that can be attached to things. Also monopods can be useful.

Lens cleaning kit. Don't forget to do a quick clean before any shoot.

Extra lens cap. I always like backups of just about everything. That includes the lens cap. If you lose it on the road, you could find yourself scrambling for a way to protect your lens. Just bring an extra.

Hard drives for backup. My workflow on the road involves 3 backups. One on the SD card (I never format them until back home). And two on 4TB hard drives. I use Hedge on my MacBook to backup nightly to the external drives. On critical shoots, when I use a camera with dual SD slots (Panasonic GH5, Canon C100 II) I use relay record. That way, if I go for lunch or need to temporarily leave my camera somewhere I can slip one of the SDs into my wallet… just in case.

Consider a camera with dual SD slots. See above. You want to sleep better at night right?

ND filters. Essential when shooting outdoors. A pain in the butt, screwing them on, changing them and storing them. Still, they're needed to keep exposure in check on bright days. I just buy a large variable ND, such as a 67 or 77mm. Then I use cheap step-up rings to adapt them for various lenses.

Iceland. Shot on Sony a6500.

Research in advance camera policies for museums, art galleries, zoos, landmarks and other destinations. Most will have a policy posted on their web site. I find that if I use my innocent-looking GH5 I can shoot practically anywhere these days. So long as it's not rigged to the max with a shotgun microphone and external monitor you should be okay. But always good to check in advance to avoid any surprises.

One other quick tip: There's YouTube videos for everything. Everything. And they're often very beautiful. Drone shots. Jibs. Sliders. Gimbals. On and on. You might want to see what's out there already for a particular location or city or destination you're headed to, and creatively figure out a way to be different. Chances are, the world doesn't need another drone shot set to a royalty free track we've all heard a million times before.
7. Blackmagic Pocket (or Micro) Cinema Camera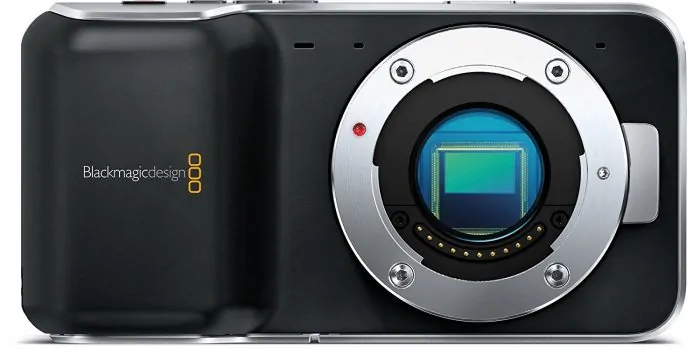 Best for: Aspiring filmmakers.
Watch out for: Trick ergonomics. Footage requires post production workflow. If you don't know what I'm talking about here, please move on to others on this list.
Buy: Amazon
A serious choice. If you love film, film history, film school and/or the artistic and creative possibilities of video in general, you'll want to look into Blackmagic cameras. Specifically, I like the Pocket and Micro models. Both cost $995 and produce some of the best images going on any camera, even those costing thousands more. You need to know what you're doing here — this is pretty much the opposite of a point-and-shoot. There's no stabilization, very few advanced features. Instead, it's all about capturing a filmic image with lots of dynamic range. Grab some extra batteries though. And allocate all the extra money you'll need to get it properly rigged. If you see travel videos as an opportunity to create art then start with Blackmagic.
Note: Blackmagic Design recently announced a new 4K version of this camera. The Blackmagic Pocket Cinema Camera 4K is due Septemeber 2018, so if you can wait and want the higher resolution, it's something to consider.
8. Sony a7R III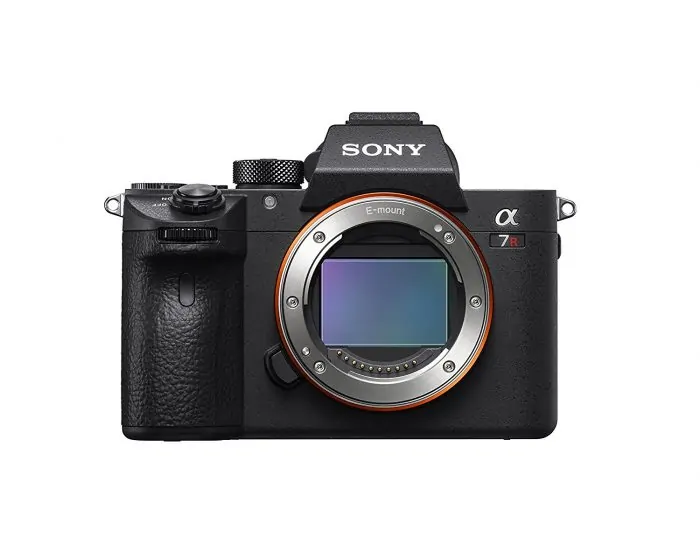 Best for: Landscape shooters. Superb low light performance. Lots of megapixels make for best-in-class stills as well.
Watch out for: Price! And battery life.
Buy: Amazon
Okay, so you have money to spare. Behold the mighty Sony a7R III. Quite a beast this thing. Starting with that massive 42.4 megapixel sensor. What does that mean practically? For one, incredibly high resolution stills. But the other, more specifically interesting for video applications, is that big sensor means lots of light gets in, making this mirrorless wonder an wunderkind when there's next to know light. Check out some of the reviews and YouTube tests and you'll see that the a7R III can practically see in the dark. Because it's a Full Frame sensor you'll get a wide field of view. A great choice for landscape and travel shooting to be sure. Just don't blame me when your credit card statement comes in.
9. Sony a6500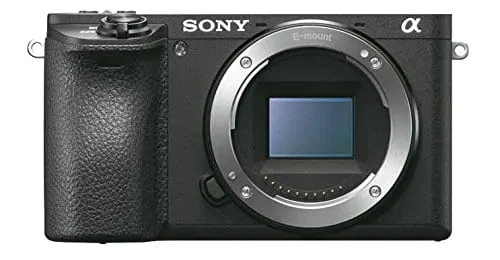 Best for: Compact 4K video shooting with image stabilization.
Watch out for: LCD not selfie or Vlog friendly, and can be hard to see in bright sunlight.
Buy: Amazon
Recently, I used a Panasonic a6500 extensively when shooting in Paris in Iceland for Stark Insider. With a 18-105mm lens I was set to capture just about anything, from stunning views from the Eiffel Tower of the rain soaked streets of Paris to the spectacular (and very cold) waterfalls in Southern Iceland. Stills were excellent, and the 4K video footage impressive. The a6500 has 5-axis IBIS. However, move the camera too fast and you will get some jello distortion (the GH5 does better here). And I can confirm, as others have reported, the camera did over-heat on me (though only once) when shooting for an extended period. Did I mention this happened in Iceland? In winter? So, yes a few caveats. Regardless, this is still one of my favorite APS-C cameras for shooting travel videos.
10. Panasonic GH5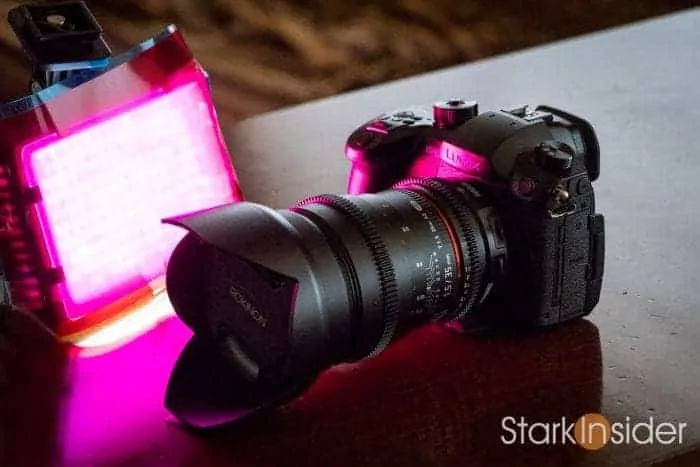 Best for: Just about everything. Good quality stills. Great video potential for the price.
Watch out for: Only shoots 1080p HD video. Older model.
Buy: Amazon (incredible camera for the money).
I saved the best for last. For me, at least, the GH5 does it all. I was hardcore Canon DSLR guy. Then I decided to give the GH5 a shot when it came out in 2017. All that hoopla about its predecessor, the GH4! Why the fuss? I quickly realized that this followup mirrorless flagship is worthy of the hype. For our narrative and experimental stuff on Stark Insider I'll always prefer to shoot on RED when possible — that Redcode is magic — but for just about everything else, especially travel and vacation, there's almost nothing the GH5 can't do. Dual SD slots. 4K 10-bit (wow). IBIS that works extremely well. Variable frame rates up to 180fps. VlogL (paid option). Focus peaking. Waveform monitor. Ergonomics well thought out, including conveniently placed and programmable Custom buttons. I could go on and on. Panasonic nailed it. Low light is not a problem if you use a Metabones Speedbooster and fast lenses. I particularly like Rokinon primes, and the epic Sigma 18-35mm ART 1.8.
Here's a short film we shot on the GH5:
Short Film: Crazy or Die ft. Loni Stark
Gear: Panasonic GH5. Rokinon 35mm T1.5. Sigma 18-35mm 1.8 ART lens. Genaray LED panels. Edelkrone slider and skater.
Location: Studio and the San Francisco Bay Area
Director: Clinton Stark
Final Thoughts: Best Cameras for Shooting Travel Videos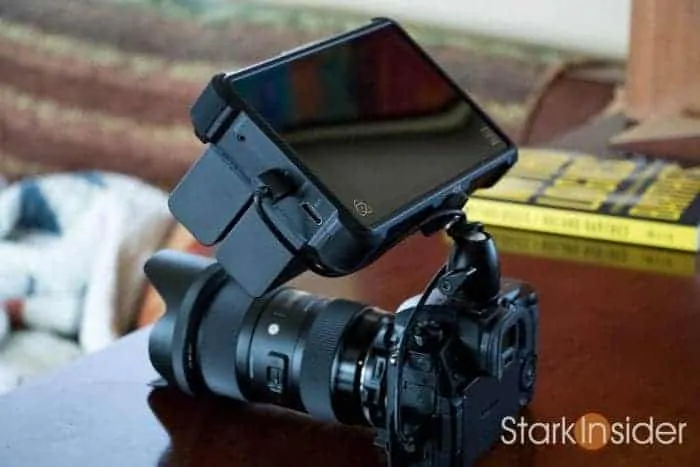 This list could easily be 10 or 20 entries longer. And no doubt you'll have your own favorite depending on your situation and goals.
For me it's the GH5 because it does so much well and is extremely reliable, rain or shine.
RELATED:
Camera Articles on Stark Insider
But you don't need to break the bank to take your travel videos to the next level. A used Canon T2i? Olympus body? Simple point and shoot from Nikon or Canon? Sure thing, all will give you more capabilities than most smartphones.
About the only thing left to say is:
Don't forget to push record.
Happy shooting!