If you're just venturing into the world of videography, the seemingly infinite number of accessories and various add-ons can seem overwhelming. And you thought selecting a camera body was difficult?!
Once you have the camera itself, the journey is only just beginning. To maximize performance and the quality of your footage you'll likely need to buy some camera accessories. Some are obvious — a good shotgun microphone and tripod are good examples — while others might be further down the list, but still essential for getting the job done.
Whether you're shooting on a new mirrorless camera like the Panasonic GH5 (best in its price class) or Sony Alpha a6500 (very good compact 4K video camera) or perhaps a DSLR like the Canon EOS 80D (outstanding auto-focus), I've rounded up 5 must-have accessories that will take your camera's abilities to the next level. The good news is that these are body and brand independent. So if you upgrade or change camera bodies, your investment is protected.
I've been shooting video for Stark Insider for over 10 years. I started out on a good old Canon Vixia camcorder. When the DSLR revolution hit in 2012 with the ground-breaking 5D Mark II I jumped on board. I couldn't afford Canon's full-frame monster, so I opted instead for the Rebel T2i. From there I slowly climbed the range from a 60D to a 70D and now to a 80D. This year I've been mostly using the brilliant Panasonic GH5 for our videos here on SI — while occasionally using a RED cinema camera for shorts and projects where I have time to light and compose. Here's an example of a recent video I shot:
All this to say, I own all 5 of these recommended accessories and have put them through the paces over the years. I only ever recommend stuff I use, and stuff that is well made, and stuff that performs well. Good stuff!
1. Rode Videomic Pro R+ Shotgun Microphone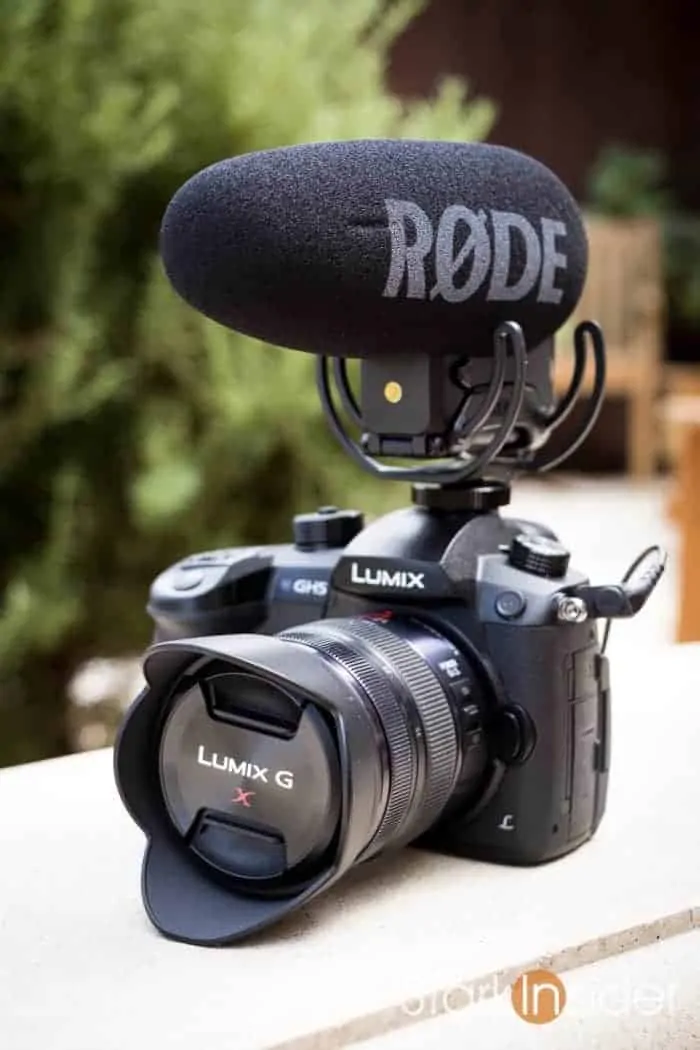 Why: Good audio for video production is essential. Rode delivers high performance for the money.
Buy: Amazon
Want a low cost shotgun microphone without breaking the bank? Rode is your answer. I've been using a Rode for as long as I can remember. Great sound, long battery life. And, best of all, very low price (relatively) to the competition. This new Pro mic improves on the original design with a better suspension system so that you don't inadvertently capture handling noise while recording.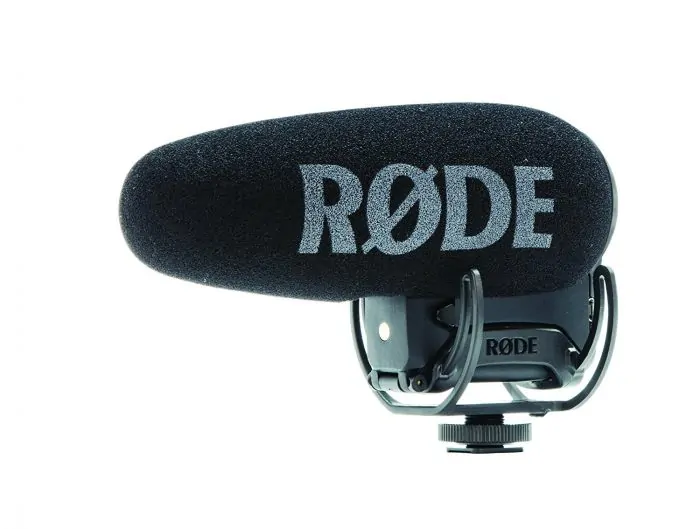 Also see: Hands-on review of the Videomic Pro R+
If you have slightly more to spend and don't mind using a 3.5mm to XLR adapter (which will add bulk to your rig) then you might want to consider stepping up to the superb Sennheiser MKE600.
2. Zoom H6 Field Recorder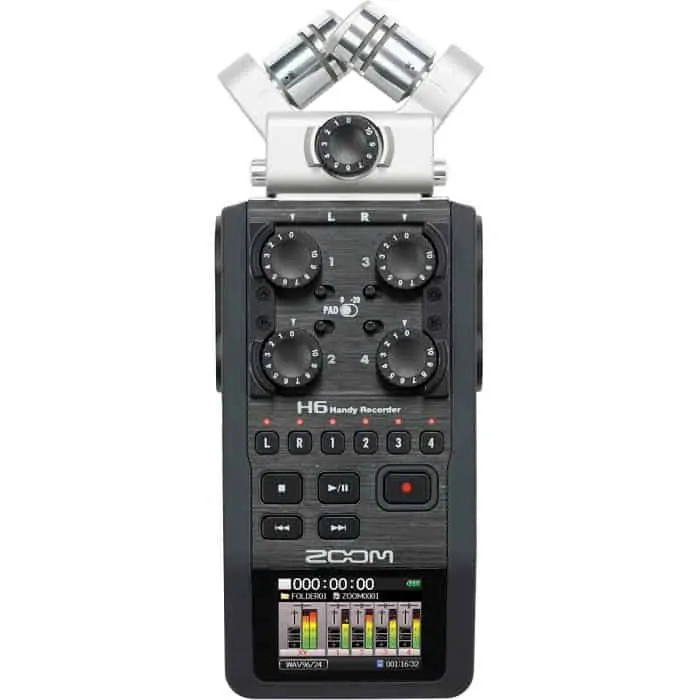 Why: The H6 is handy for many audio applications. Use it to record a concert, or to pickup ambient audio, or plugin in mics and use it for interviews or to record ADR for filmmaking.
Buy: Amazon
While we're on the topic of audio, you may also at some point want to consider a compact field recorder. I like Zoom products and use several models (mostly the H1 for interviews and H6 for recording live event audio) and have never experienced a failure, not even once.
This H6 is handy for many applications. It has 4 XLR inputs, and it also has a built-in microphone on the top that features a modular design so you can swap in different types of mics depending on the particular outcome you're looking for. I especially like that the LCD is color with easy to read input gain level markers. Also, the H6 records to inexpensive SD cards. Pop a 128GB in to it and you can seemingly record forever. I use re-chargeable AA batteries and get decent record times, though you should bring a backup set to get you through longer sessions (or even consider AC power if recording in studio).
3. Genaray
LED-7100T 312

Light Panel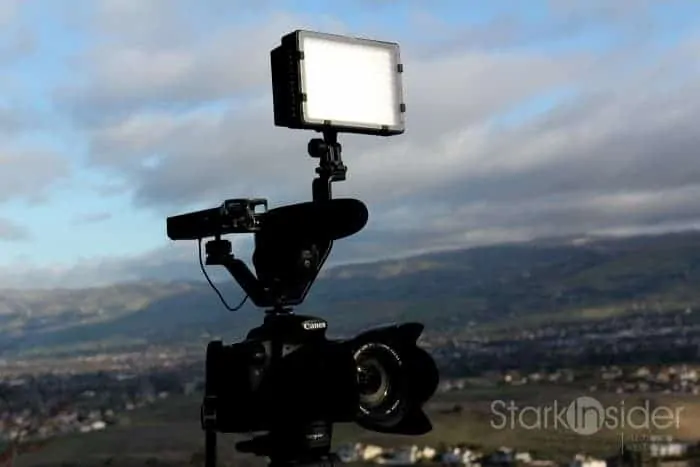 Why: Genaray LEDs deliver clean light with little to no color cast. They're also robust. I've dropped them countless times and not had any fail. Battery power is from ubiquitous and cheap Canon or Sony batteries (I use long-lasting Sony NP-F).
Buy: Amazon
We've covered basic sound gear. Now lets shift our attention to light. You could take entire classes and spend hours (and days and years) on the subject of light and still not even scratch the surface. The key here is: shadows and light. Most of the time, especially for narrative, you'll want an image with deep shadows and bright highlights — to really get an image that pops. Other times, though, say for events and interviews you may want to just light things up as needed. So lighting also really depends on the project. I've had great success with these low cost Genaray LED light panels: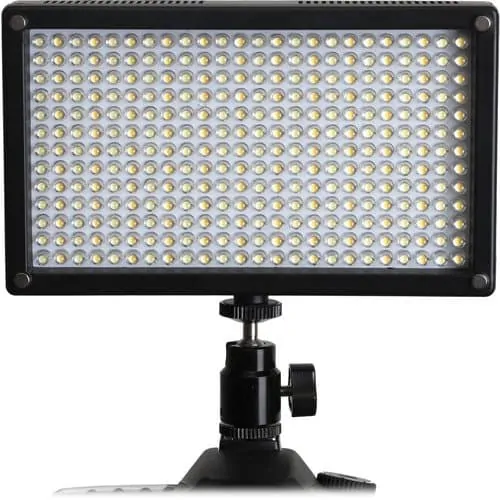 I've used a single one on camera (in the hot shoe) for interviews and street shooting. I've also placed several on tripods and various locations to light scenes for our Stark Insider shorts with decent results (even going so far as to tape on home made gels to get Refn Red and purple looks). I like Genaray because they're lightweight, produce an even light without ugly color casts found on lesser models, and go for hours on cheap Sony NP-F batteries. Let there be light!
4. Manfrotto 
190CXPRO4 

Carbon Fiber Tripod and 

Manfrotto MVH500AH  Pro Fluid Head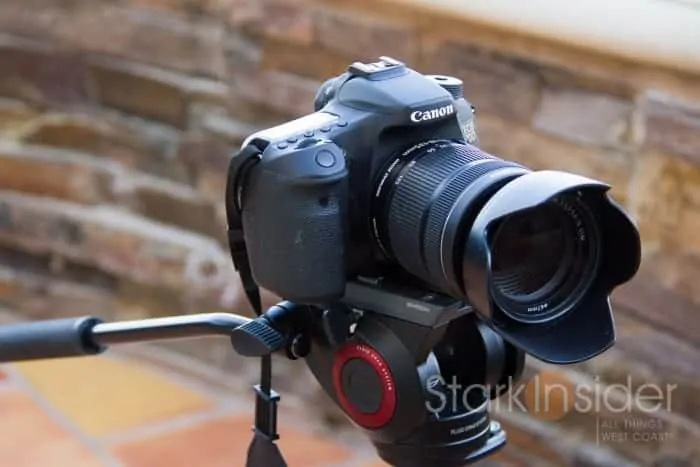 Why: Manfrotto offers exceptional build quality at a reasonable price. Widely used quick release plate means broad compatibility with third party products. Easy to use.
Buy: Manfrotto 190CXPRO4 on Amazon, and Manfrotto MVH500AH Fluid Head
I started out with a dirt cheap Targus tripod I bought from Costco. You can do the same. Use it. Then upgrade when you've saved a bit. I will say: don't underestimate the importance of a well made tripod. After all, if you've spent money and time to get on location the last thing you want it to get unusable footage because your camera was wobbly or you couldn't efficiently position the camera where you wanted to because of a tripod design limitation. So when I upgraded from a Targus to this Manfrotto, it was like all of a sudden life as a video shooter was infinitely easier. Instead of futzing with legs, or trying to steady the darn thing, I was spending more time composing shots, and focusing on the task at hand, and not trying to tame the gear.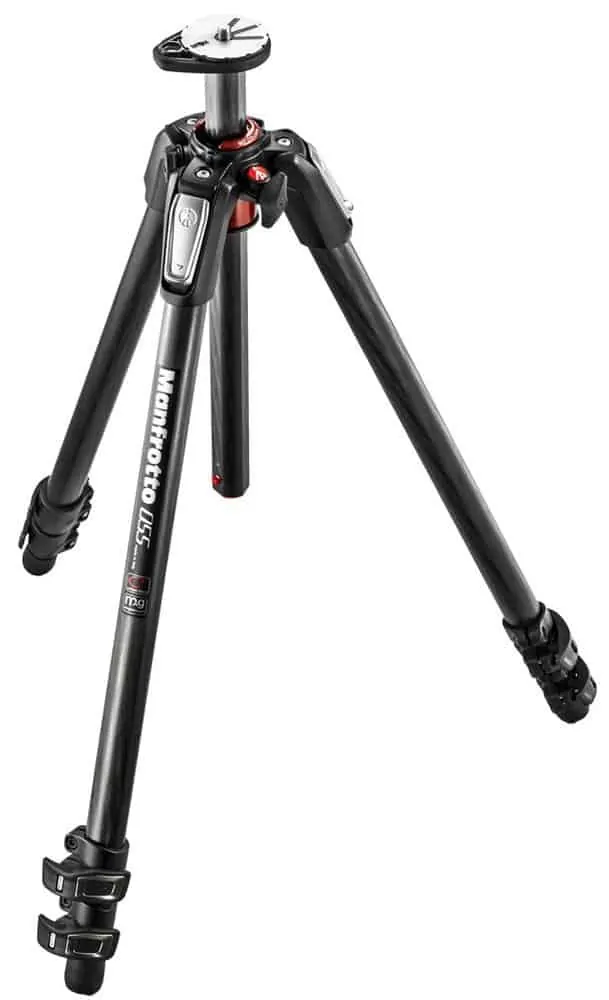 I like this Manfrotto tripod and head combination for several reasons.
First, it's one of the industry gold standards. Meaning, you can find lots of compatible third party accessories, like quick release plates for example. Second, it's rock solid. And, finally, it can do just about anything you want in terms of camera positioning, including being able to swing horizontal so that you can get overhead shots without the tripod legs getting in the way. You can spend more and you can spend less, but I find this Manfrotto tripod/head combo just right for most work. Highly recommended.
5. Atomos External Monitor/Recorder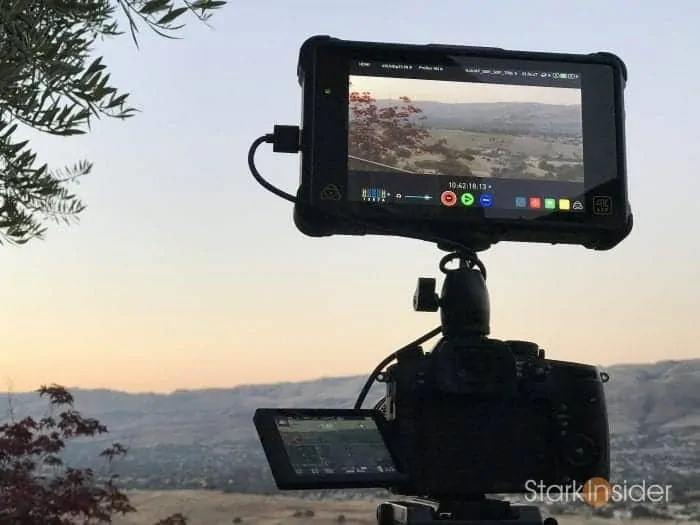 Why: An external monitor provides a larger screen enabling you to compose and focus more effectively. In addition you can take advantage of ProRes file formats and, often, longer recording times.
Buy: Atomos Ninja Blade, Atomos Ninja Inferno (Amazon)
Finally, if you're getting serious about videography or filmmaking, at some point you'll want to invest in an external monitor or monitor/recorder. I particularly like the products Australian firm Atomos make. An external monitor will give you extra screen space so you can better gauge focus. They also come with a host of exposure and assist tools that make life easier.
For those on a budget, consider the highly capable Atomos Ninja Blade. You get a 5-inch display and can record to low cost SSD drives. Choose one of three Apple ProRes file types (LT, 422, HQ) or DNxHD and you'll benefit from recording easy to edit files that have superb quality.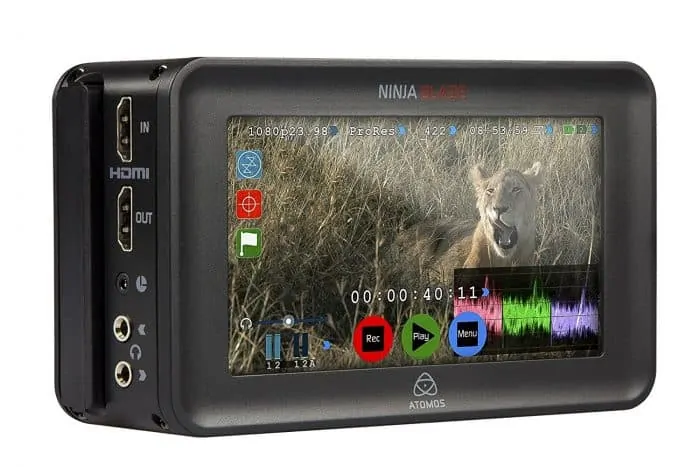 Those with a little more to spend, and for those times when additional bulk is not an issue, consider the Atomos Ninja Inferno. Here you get a larger 7-inch display over the Blade. You also have the ability to record 4K/60 10-bit 4:2:2 which is a beautiful thing if you own a Panasonic GH5: gorgeous slow motion is yours for the taking. Just be sure to load up on lots of batteries as the Ninja Inferno does draw a lot of power.
There's other great choices out there too. SmallHD makes superb monitors (without recorders). Either way, once you start shooting with an external monitor it's hard to go back to the tiny built-in screen on your DSLR or mirrorless camera. Whether you're shooting wedding videos/films, events, landscapes, travel docs, short films, music videos, or plain old interviews, an external monitor/record will make life that much easier for you.
Baby Steps…
5 must-have camera accessories for DSLR and mirrorless video shooters
There you have it. 5 camera accessories to get you jump-started into videography and filmmaking.
One idea to keep in mind is to start small. Invest in an accessory and use it and learn it… over and over. Practice a lot. You'll make mistakes. Eventually, though, it will become second nature and you'll be able to move on to the next thing, like a better light or mic or tripod. Just don't be that person that shows up to the gym with all shiny, brand new stuff!
But… what about drones and gimbals and sliders and…?
Yes, yes of course. Go go gadget! There are an array of fantastic products that will help you move your camera in amazing ways — ways that previously would've required helicopters and other very expensive equipment.
Drones and gimbals, in particular, have brought high production value to indie shooters. However, if you're getting started I'd probably try to master the basics first. The problem with buying too much of the fancy stuff, aside from cost, is that you need to learn it all. And you need to charge batteries… lots and lots of batteries. And you need to transport it all. And you need to set it all up. And on and on. In short order you may find yourself overwhelmed. It really depends of course. If you want steady handheld shots for the street then by all means get a handy little gimbal. Just remember there is no substitute for great sound, composition and, above all else, story.
Happy shooting!