UPDATE 4.9.2019:

It's official. The highly anticipated Blackmagic Design Pocket Cinema Camera 4K has been revealed. And the BMD team gave us pretty much everything, but the kitchen sink.

Full 4/3″ sensor. 4K. Dual native ISO (like the new GH5S). 13 stops of dynamic range with 3D LUT support. 5-inch display on the back (fixed sadly). Canon batteries for power. SD/Cfast recording. Prores + BMD RAW (hopefully eventually support for Apple's new ProRes RAW. Same OS as Ursa Mini Pro (great touch UI). Design is definitely DSLR-ish, and not in the tradition of the tiny original Pocket — this is not necessarily a bad thing. HFR: 4K/60 and HD/120 (windowed) internal. USB-C port for power or recording to external SSD (nice!). Lockable power port. Mini XLR with phantom power. 4 built-in microphones. Full-size HDMI connector. And a DaVinci Resolve Studio License… a nice, added bonus, worth $299 if purchased separately.

Shipping September 2018 (I'd say 50/50 chance given Blackmagic's record in hitting ship dates).

Verdict: winner! I'd say this, along with Apple's ProRes RAW, are the 2 biggest NAB Show 2018 highlights for budget and indie filmmakers.

If all turns out, I'd definitely use the Pocket 4K for Stark Insider travel videos and other times we need a compact form factor to be discreet. It could be so-long GH5… maybe.

Press on the new Pocket 2.0 camera from around the web:

You can now pre-order the Blackmagic Pocket Cinema Camera 4K on B&H Photo for $1,295 (USD). My order was placed in a nanosecond; so many features for such a comparatively low price!
Our cinematic dreams are coming true.
Photos out of Las Vegas today show a huge billboard teasing a new Blackmagic Pocket Cinema Camera 4K (via RedShark News). If true, this could be big news.
The original Pocket camera became a darling among budget videographers and filmmakers. Small form factor, option for RAW file capture, built-in LCD screen, and outstanding — dare we call it "filmic"? — image turned the Pocket into a sensational hit for Blackmagic. At only $995 (USD) it was utterly amazing value for the money. That many still use it today is testament to its forward-thinking specs and design.
But… one thing was missing:
4K.
Given that's it 2018 and the 4K train has departed, the faithful had long hoped Australia's Blackmagic Design team would give the little camera attention and release a sequel with updated specs. That day is near. On its Facebook page, BMD says it will hold a press conference on Monday, April 9, 2018 at 9:30am PDT where surely all the details will flow.
Here's hoping that in addition to 4K the engineers have found a way to give the Pocket better battery life and a more legible display in bright light. Yes, isn't that always the way? More, more, more. Either way, along with Apple's ProRes RAW announcement, this NAB is turning out to be a solid one for camera and video nerds.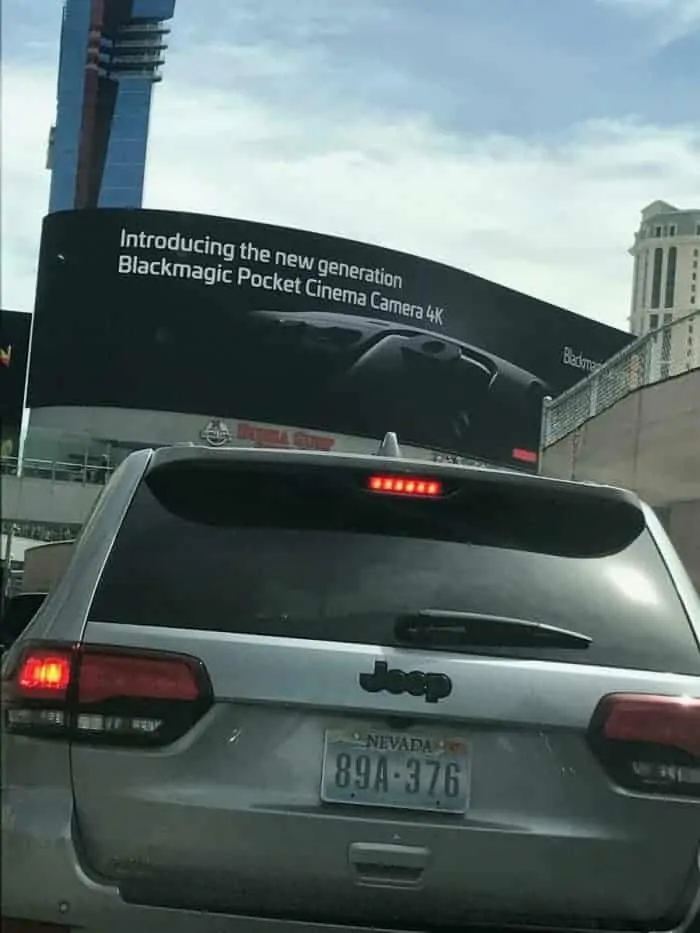 I used the Blackmagic Micro Cinema Camera on several projects for Stark Insider over the past few years. It's an interesting camera; sort of like the Pocket, but without the built-in screen. Recording to cheap SD cards and with a beautiful sensor it produced outstanding results — even if ergonomically is was far from  something like a GH5 or plan old DSLR camera body.
Many of the scenes at the "Magical Retreat" just north of San Francisco, under majestic redwoods, from our SI short 3 Days in Sonoma were shot with the Micro. I especially like that its Super 16-sized sensor made it a match made in heaven for the famed vintage Angenieux 12-120mm lens. A modern day equivalent might cost around $75,000. In other words: prohibitive. But I picked one up for about $600 on eBay. Though it's from the 1960s the optics are very pretty to my eyes. And I can crank away thanks to a handle. So I can get — or try to get — De Palma style superzooms. And that's what I tried to do for a few of the scripted bits in 3 Days in Sonoma.
3 Days in Sonoma
9 cameras + 5 years of footage = 3 Days in Sonoma, a sprawling wine country epic with Loni Stark
Magical Retreat scenes shot (when stuffed animals attack for instance) on Blackmagic Micro Cinema Camera (BMCC) with Agenieux 12-120mm lens, Sigma 18-35mm and Lumix 12-35mm.
Scenes Shot with Blackmagic Micro Cinema Camera and vintage Angenieux 12-120mm lens
Videos below jump to 2 sequences shot on BMMCC with a vintage Angenieux 12-120mm lens. Cranking that manual zoom for joy.
4:24 – Fireplace and Opening Canvas Showdown:
9:48 – Stuffed Animals (?) Attack Loni Stark at Night:
All that to say, it will be very interesting to see what Blackmagic does with the Pocket 4K. The original Pocket was already a legend amongst the filmmaking community and bloggers, so here's hoping the company shakes up the industry once again!
Lead Photo of Blackmagic Pocket Cinema Camera 4K: Courtesy RedShark News.