What is the best lens for shooting video with the Canon EOS 80D (or 70D) DSLR camera?
It seems that's one of the most pressing questions of our time.
Given the 80D uses Canon's famous EF mount — which seems like it's been around forever — there's a seemingly never ending amount of choice when it comes to lenses.
But, what if you could only choose one lens? And what if you were on a budget?
I can't say there really is one "best" lens. There's too many situations, and too many creative decisions to be made for any given shoot. You might need a wide establishing shot. Or maybe you want some tasty bokeh too add some cinematic flare to your video. Or, maybe a dramatic close-up that could only be made possible with a 100mm macro is what you're after.
When all is said and done, though, and you're a run-n-gunner like me, using the 80D in the streets, and on location, and traveling light, often you don't have the luxury to swap lenses or carry a boatload of (heavy) gear. You need one lens to rule them all.
In that situation, here's what I think is the best carry around lens for the 80D and 70D for shooting video:
Canon EF-S 18-135mm f/3.5-5.6 USM Lens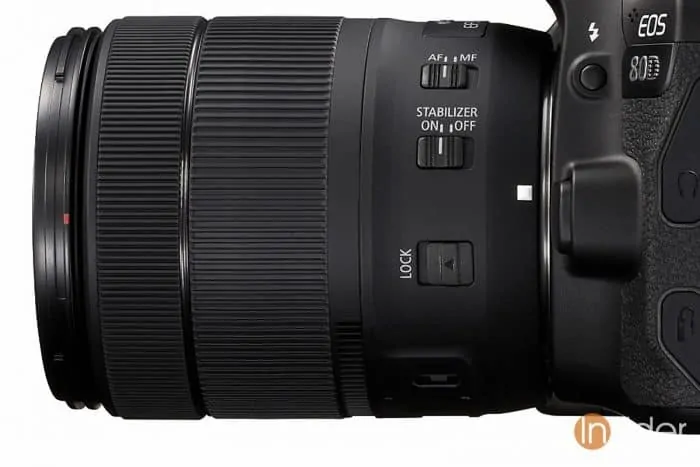 Yep. A kit lens no less.
This handy 18-135mm zoom, however, is no ordinary lens. This is the second-gen version (the first came out in 2013 with the 70D). Canon has refined this glass quite nicely. So much so, in fact, that in my testing it performs even better than its "L" series 24-105mm lens.
At only $599 I think it's a pretty sweet deal too.
Performance aside, there's several other things I like about this particular zoom:
Image stabilization is superb
USM autofocus is almost completely silent – so much so that you don't need to worry about a shotgun mic picking up noise
Switching to manual focus is a snap thanks to the AF/MF switch which is easily accessible using your left thumb
Range is incredibly handy: 18mm at the wide end gives plenty of establishing shot possibilities, and 135mm at the far end is great for close-ups and getting nice depth of field on artistic compositions
Relatively distortion free and sharp (for the price)
Here's some videos I've shot using the Canon 18-135mm kit lenses — both with the STM version on the 70D and, more recently, with the STM on the (superb) 80D.
This is Stark Insider
Canon EOS 70D
SkyTrain Vancouver (Outtake)
Canon EOS 80D
Brie Larson Interview at the Mill Valley Film Festival
Canon EOS 70D
Pentatonix Interview
Canon C100 II (A) and Canon EOS 80D (B cam, wide shots)
Yes, there is no one "best" lens. Still, I believe if you're on the go, and can only take one lens with you, the 18-135mm by Canon is a pretty solid choice (others seem to agree, it has 5/5 on Amazon, and several glowing reviews on camera sites). The rest is up to us. To find interesting subject matter, take creative risk, and tell compelling stories. Or at least try. As I like to sometimes say (using my best Dicky Fox impression): "Create. Or die, my friends."
Happy shooting!