Stark Insider is shooting a new short "Crazy or Die" with the new Panasonic GH5. Clinton Stark shares some thoughts on the camera and using it to shoot video as part of the ongoing Stark Insider series about the GH5 camera.
It's all GH5. All week.
And possibly all year.
I can't recall a camera ever getting this much attention before. YouTube videos. Reviews and more reviews. User reports across Instagram, Facebook, Twitter, and Snapchat. Auto-focus debates here and there. And, of course, lots and lots of test photos and videos. And… Vlogs.
Yes, hype is the Panasonic Lumix GH5.
The eagerly anticipated mirrorless camera, following on the heals of the GH4 loved so very much among the filmmaking community, landed in the U.S. last week, and promptly stocked out.
Pretty impressive, given this is not a cheap camera. At $2,000 (USD), you're starting to get near full-frame territory. Stretch a little and a buyer could instead opt for something like the well-reviewed Sony a7S II or a7R II. Both superb FF cameras. Me? I prefer shooting crop. Since I shoot experimental stuff from time-to-time, run-and-gun, some narrative shorts, events and interviews, I don't need the wide Lawrence of Arabia look on my shots. Landscape and travel shooters I suspect would feel different, and prefer the full-frame look.
Perhaps the only other camera that has stirred the pot so feverishly was the Raven 4.5K camera from RED Digital Cinema. That one came in at a then unheard of price (for RED) of around $7,000.
My first impressions of the GH5 are (very) positive.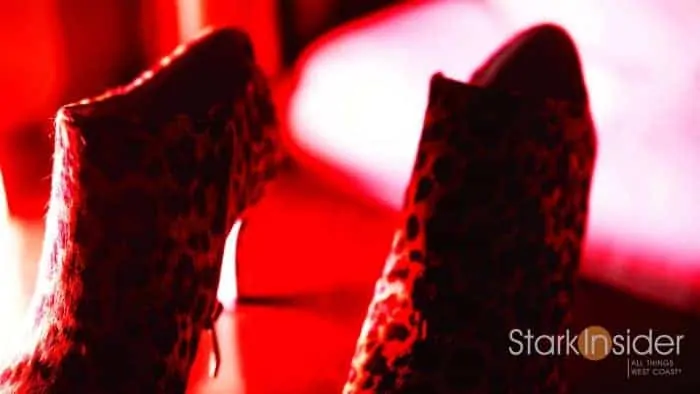 Above all else, the image wins me over. I was expecting it to be very digital. One thing I immediately did when I setup my GH5 was to turn down sharpness and noise reduction (to -5 each).
Video footage out of the camera in 4K 10-bit 4:2:2 looks stellar. I've never been a proponent of 4K resolution (more storage, slower workflow, higher costs, etc.). With the GH5 that might be changing. As could my long-standing relationship with Canon DSLRs (60D, 70D, and now 80D). I know that I could not push the image as far with an 80D, or even C100, as I can with the GH5 files.
Panasonic GH5 Coverage on Stark Insider
The first real test, however, comes when I actually shoot something with the GH5.
Why shoot test charts and still life, when you have a spouse who can dress up and read lines you give her? Other "camera tests" I've shot over the years include: All American Apple Pie (All she wanted to do was bake a pie) shot on RED Raven and A Gift From Me To You (Oh No Little Loni!) shot on Canon C100 II.
So I storyboarded a bit and then started shooting a new short film (more likely, "experimental short") over the weekend. Loni Stark was up to the task. After having her study outtakes of Naomi Watts performing (amazingly) in Mulholland Drive, I set-up the lights, and dressed up the "set" and then hit record on the GH5.
Quick tip:

GH5 10-bit 4:2:2 files don't play nice yet with Adobe Premiere Pro. You can barely scrub the timeline (I'm on Windows i7 with NVIDIA 1080 graphics card).

But proxies work great. Try that in Premiere (ingest proxies).

You can then edit HD proxy files on the timeline and have Premiere automatically export the 4K originals.
Scene 1 of Crazy or Die is mostly done. We have 2 more to shoot. And then I'll need to work on the sound design, something I'm trying to improve with on Stark Insider videos.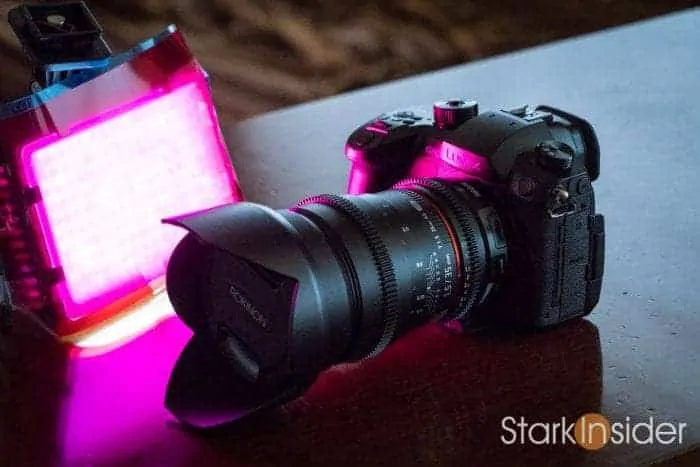 Here's some looks from my upcoming short.
Note: yes, I graded (as you can see in my stills below I used that term loosely) to the extreme using FilmConvert and Lumetri in Premiere. And I was amazed at how far you could push the 10-bit files — into the land of the surreal. Hmmm. Imagine that. Impressionism. With a GH5?
Panasonic GH5: Looks from upcoming short CRAZY OR DIE
Panasonic GH5. 10-bit 4:2:2 4K 150 Mbps. Rokinon 35mm and 85mm. Sigma 18-35mm. Random DIY Refn lighting. FilmConvert. Lumetri. Shot by Clinton Stark. Featuring Loni Stark… and friends.
Looks: "Crazy or Die" (Scene 1)
Coming Soon!
CRAZY OR DIE — by Clinton Stark